This beautiful thing that I am showing to you is called mango kheer and it is in the business of making summer meals a scrumptious affair. It has only 4 things:
Ripe mangoes : Sweet and firm ones are preferred as you are chopping them in to very fine cubes. If you have ripe mangoes that are already set with wrinkled skin then you just forget making this version of mango kheer and go for mango rasayana that has puree in it. The whole point here is to feel the mango bites that are soft and sweet and not to drink or swallow the mango puree.
Coconut milk :You can make your own and we'll be proud of you. A blender or mixer and strainer would do this job easier for you. But if you are a kind of a person who likes NOT to spend ton of time in the kitchen, then canned coconut milk would come handy.
Sugar : It is the sweetener and makes the kheer taste like REAL kheer, I mean lusciously sweet. Based on how sweet your mangoes are, you can adjust sugar. You can play around to get the right taste that your taste buds are looking for.
Cardamoms :It makes mango kheer more flavorful and generally just satisfying and interesting which is just how I like my food.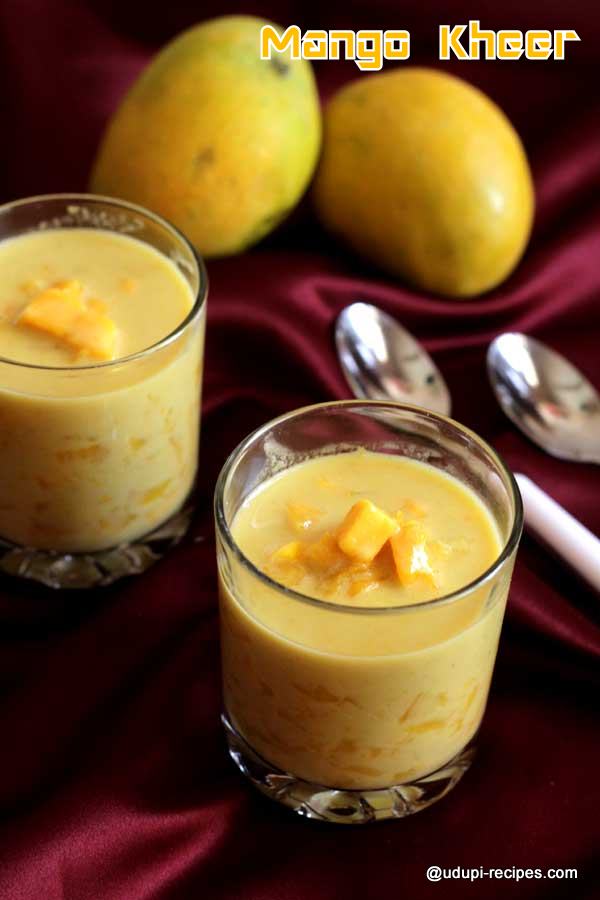 This year summer has made me proud with mango being used in every possible recipe that comes in to my mind. Be it a breakfast it was there as Mango poori, then comes mango kesari as a dessert and as a banana mango swirl popsicle it has rocked the kids after-school-snacking world. It's truly amazing, probably there is no other fruit that can take such a vast form of food. On top of that mango makes every food glorious that it's been part of.  I love you MANGO- the king of fruits.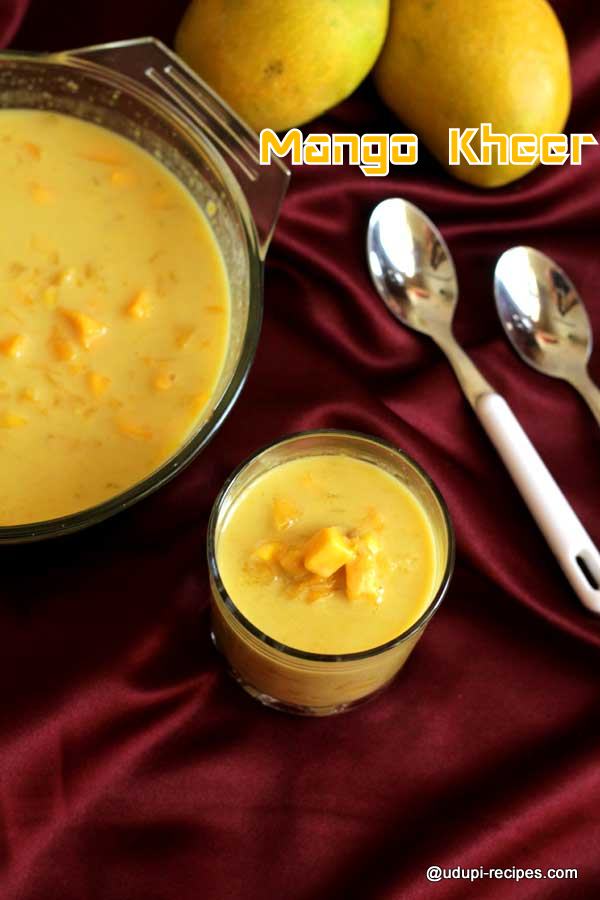 Mango Kheer | Cut Mango Rasayana
Ingredients
Ripe and firm mangoes- 3 nos.
Fresh coconut- Half (or grated coconut 1 cup)
Cardamoms- 2 nos.
Sugar- 1/4 cup
Instructions
Method

Peel off the mangoes and chop them in to very fine cubes. Put them in a wide bowl and combine it wiht sugar.
Next step is to prepare the coconut milk. Grate the coconut and add it to a blender or mixer and grind to fine puree along with 3/4 cup of water and cardamoms. Pour this over fine strainer and squeeze to extract thick coconut milk. Discard the residue.
Pour this coconut milk in to mango bowl. Next grind a ladle full of mango cubes to fine puree and mix with kheer. Adding pureed mango cubes gives nice color to kheer.
Serve this mango kheer chilled and relish.

Notes

This is another version of mango rasayana prepared in Udupi region that has cubed mango rather than pureed one.
Choose the mangoes that are ripe but firm enough to chop fine cubes.
If you want, you can extract thin coconut milk too by grinding the squeezed coconut again. I have added only thick coconut milk.
Thick coconut milk, fine mango cubes and sugar makes a scrumptious mango kheer. I have added pureed mango for enhancing the color. You can skip it.
As no cooking involved, the dessert doesn't last longer. So refrigerate it to extend shelf life.
https://udupi-recipes.com/2016/05/mango-kheer-cut-mango-rasayana.html
All the content in this website are © Copyrighted to – Udupi-Recipes