Lovely green gram laddos, the first ever post-vacation recipe in my real food blogging life of UAE. When I am back after holidays to my own kitchen, it is like I have to actually search for the groceries and ensure the presence of each ingredient to make anything. Generally it is possible that I lack the most common item or totally miss it off because the kitchen is partially set.
Don't puzzle yourself asking about the previous post that is black sesame seeds laddo, which I prepared long back before I left to India. It was not the first one that is made after the holidays. That recipe was in my drafts which I posted immediately as I return.
When I plan to post one more sweet delicacy as Janmashtami  special, I was totally clueless as what to make?? But the green grams lying in my pantry led to this healthy green gram laddo with jaggery. It has only few ingredients which I had in stock.
Green gram laddo can be either jaggery based or sugar based. Sugar based version you can find here. In this recipe jaggery syrup is prepared but you don't have to check the consistency, as jaggery starts boiling you can use the same for laddo. The laddo mix has roasted and powdered green gram, bites of roasted peanuts and cashews. As you combine the syrup with laddo mix and roll in to balls, offering to Lord Krishna is ready as easy as you think.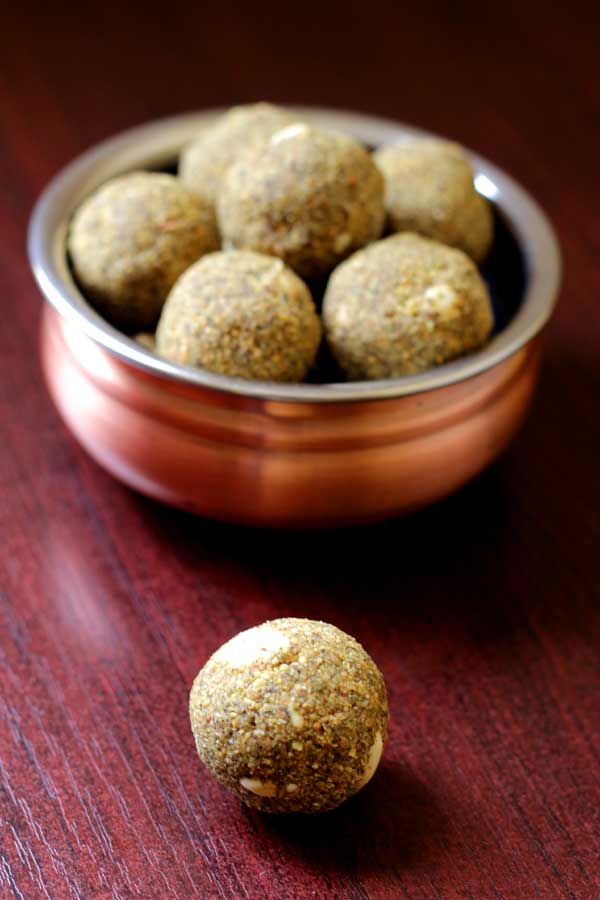 Green Gram Laddo using Jaggery
Ingredients
Green gram- 1 cup
Jaggery- 3/4 cup
Peanuts- 1/4 cup
Broken cashews- Few
Cardamoms- 3 nos.
Instructions
Preparation

De-seed the cardamoms and powder it finely. Set aside till use.

Method

Take green gram in a wide a wok and roast them in medium flame with constant stirring. The green grams turn brown and become aromatic, that is when you need to switch off the flame. Transfer it to a plate.
In the same wok add peanuts and get them roasted too. As the peanuts shed their skin, put off the flame.
Next, add roasted green gram to a mixer jar and powder it coarsely. Remove the skin off from peanuts and crush them using your hands. Keep it ready.
Take a wide bowl and add powdered green gram, roasted peanuts, broken cashews and cardamom powder. Meanwhile in a heavy bottom wok add jaggery and 1/4 cup of water. Cook it in medium flame.
When the jaggery dissolves completely in water and it starts boiling, switch off the flame. Add this jaggery syrup to the laddo mix in the bowl little by little. Using a ladle combine jaggery syrup with laddo mix.
Scoop a big lemon sized laddu mix and shape it in to ball. Continue the process with rest of laddu mix.
Healthy and incredible laddos are ready to offer as Naivedyam.

Notes

Constant stirring is necessary while roasting the green gram, otherwise it will get burnt and taste bitter.
Checking consistency of jaggery syrup is not at all necessary. As the syrup starts boiling you can turn off the flame and use it for laddo.
If in any case jaggery syrup gets soft ball consistency, the laddo will turn very hard. So do not overcook the syrup.
You can powder the green gram to very fine consistency too if you prefer.
https://udupi-recipes.com/2015/09/green-gram-laddo-using-jaggery-shri-krishna-janmashtami-recipe.html
All the content in this website are © Copyrighted to – Udupi-Recipes