New year 2015 is almost on doorstep and it's goodbye time to memorable year 2014. When I look back and review the year 2014 in terms of udupi-recipes.com, it was an interesting year because
a) udupi-recipes has migrated from a free hosted platform to self hosted one, meaning it has moved from RENT house to it's OWN. So GOOD.
b) It's traffic declined significantly and first quarter of the year was a real bummer. Sounds SAD.
c) Blog started earning some revenue in the last quarter of the year,  which is AWESOME.
What makes me proud is that blog continued to grow despite it's low performance and new challenges of new platform. Perseverance and consistency of posting makes the difference and it really pays.
Bottom line: What I have learnt over 2 years of blogging is "Just  keep doing with 1% improvement every time".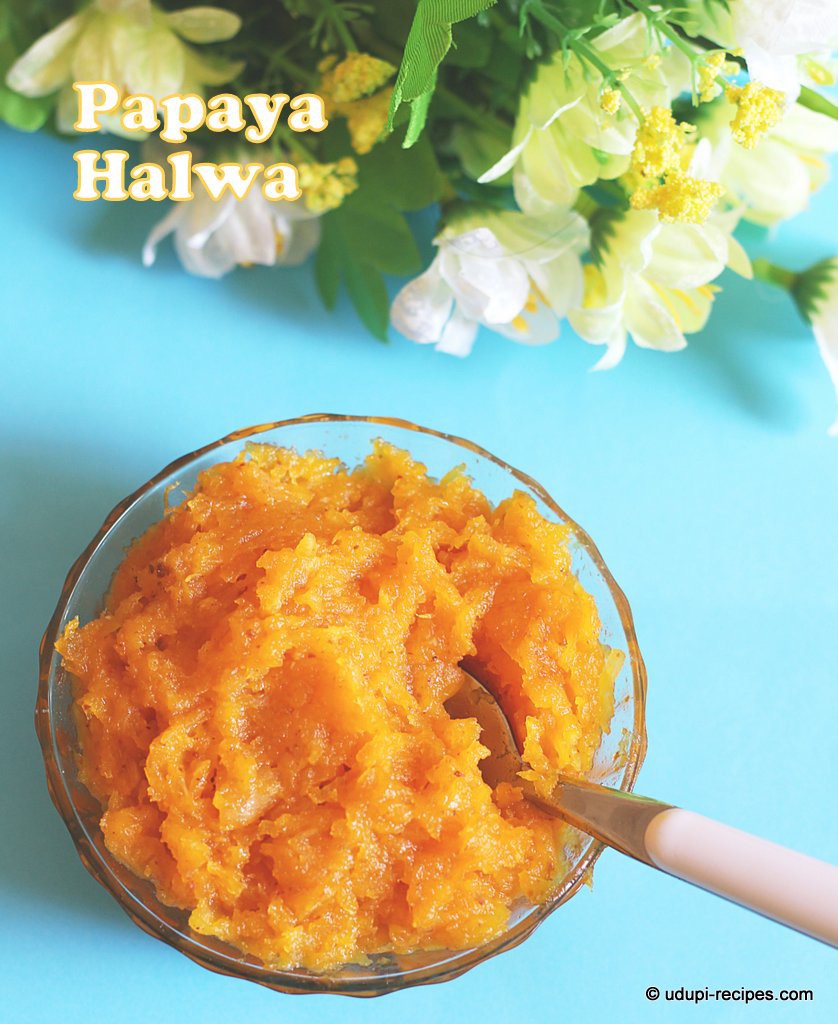 I was in dilemma as to what should be the last post or last recipe of the year 2014? It should be a crunchy snack like palak pakoda or sweet dessert like this papaya halwa? So finally papaya halwa recipe took the front seat with it's fruity flavor, vibrant color and crunchy cashews.
I like to eat fruits as is to be benefited with all the goodness that nature has to offer through these amazing food. Inline with the saying, we all devoured the papaya to the hearts content, till it seemed unattractive as bare fruit. Then I realized the fruit needs to be turned in to an awesome, delicious dessert in the form of halwa similar to pineapple kesari.
Papaya halwa needs basically good, ripe papaya as the main ingredient. If you choose the fruit which is partially ripe or unsweetened, then you have to add more sugar ( Like what I did).  You can grate the papaya (I prefer) or chop,  then cook in low flame in few tsp of ghee. If you have chopped the fruit, you can mash as it cooks to get smooth texture.  The cooking process continues with sugar for next 15 minutes and then combine with almond powder, top it with roasted cashews. Rich, vibrant colored, smooth and melt in mouth textured papaya halwa is soo appetizing.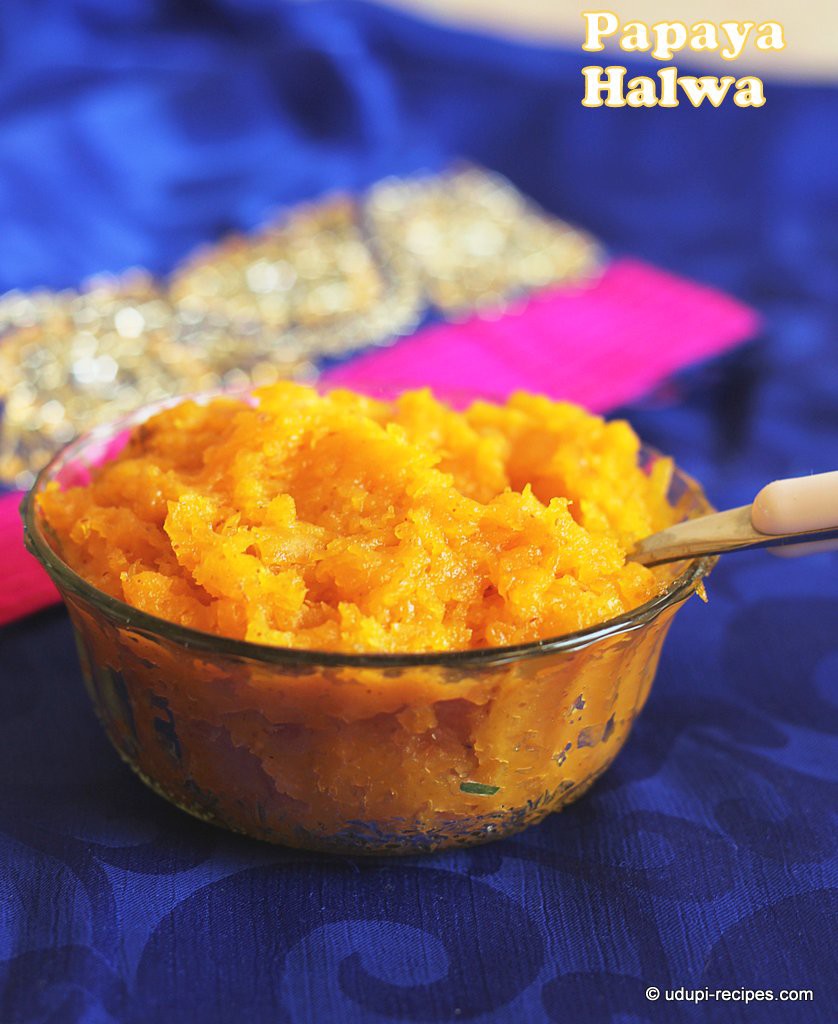 Papaya Halwa Recipe | Halwa Recipes
Ingredients
Ripe papaya grated- 2 cups
Sugar- 1 cup
Almonds- 15 to 20 no.
Cashew- Few for garnishing
Ghee- 6 tsp
Instructions
Method

Heat 3 tsp of ghee in a wide heavy bottom wok and include grated papaya in to ghee. Saute till the papaya gets cooked and becomes soft. It will take around 10-14 minutes.
The papaya would have released it's juice, changed it's color by now. Add sugar to the cooked papaya and continue cooking this mixture in low flame for about 20 minutes. Add the remaining ghee in between. Papaya halwa mixture now comes together as mass and ghee separates.The fruit I have taken was not so sweet, so I had to add 1 full cup of sugar.
Meanwhile finely powder almonds in a mixer and transfer this almond powder to papaya halwa. Combine well and cook for 2 more minutes.By now halwa mixture would have turned thick and non sticky.
Garnish papaya halwa with roasted cashews and serve delicious papaya halwa hot or cold.

Notes

The amount of sugar depends on whether papaya is ripe or semi ripe and also the sweetness of fruit. If you have chosen ripe, sweet fruit for halwa, then you can add less sugar. The fruit I had taken was not so sweet, so I had to add 1 full cup of sugar.
You can even chop the papaya and use halwa preparation. In that case you have to mash the papaya pieces as they get cooked.
You can replace almond powder by unsweetened khoya or milk powder.
Shelf life of this halwa is not more than 2 days, if refrigerated it can be extended.
https://udupi-recipes.com/2014/12/papaya-halwa-recipe-halwa-recipes.html
All the content in this website are © Copyrighted to – Udupi-Recipes