Hello friends,  if you are hungry for the crunchy snack which get well with a cup of evening coffee/tea, then you are on the right space. Because it's weekend and you super women would be planning to stock some crispy things for kids and adults to enjoy. Aren't you? I knew it. Because we are food twins and can read each other's minds so very well. And this instant chakli is for you. No prior preparation friends, if you wish for it now, gets ready in an hour may be. So easy and  so amazingly delicious.
Chakli, chakkuli or murukku however we call it, the process of making perfect ones is bit tricky. Because each ingredient, it's quantity that gets in to the recipe is vital. How each ingredient is processed in the recipe is still crucial. So I usually get more cautious with chakli recipe. Let me clarify it, if you add little more butter in this poha murukku recipe, it easily breaks. Meaning you wouldn't be able to make spiral shape. The butter would have played extensively to turn the dough overly soft. On the contrary, if you add little less butter, then the chakli may turn bit harder to chew.
In this instant chakli recipe, the roasted gram, butter, rice flakes  and rice flour should be  appropriate for the snack to taste perfectly best. Right now as I see the below picture of plateful chakli, my cravings for the same have doubled up. Let me have it with a cup of tea,  wishing your chakli to turn perfect.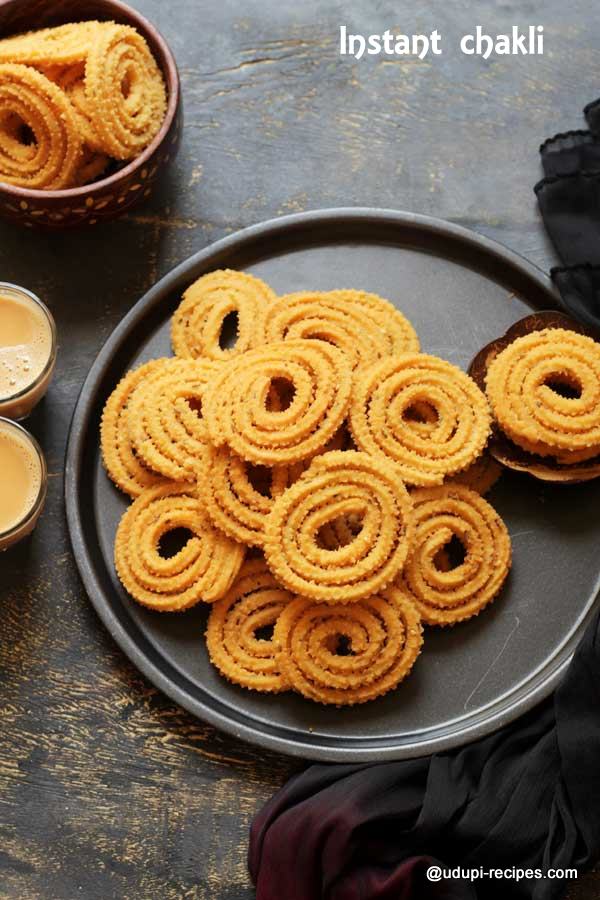 Instant Chakli | Poha Murukku Recipe
Ingredients
Rice flour- 2 cups
Rice flakes- 1 cup
Roasted gram- 1/2 cup
White sesame seeds- 2 tsp
Cumin seeds- 2 tsp
Salt- 2 tsp
Red chilly powder- 2 tsp (optional)
Butter- 2 tbsp
Cooking oil- As needed for deep frying
Water- As needed
Instructions
Method

Take rice flakes in a mixer jar and powder it finely. Sieve it in to a wide bowl.
Similarly add roasted gram to the mixer and powder it. Sieve it also in to the same bowl.
Next add rice flour to the same bowl and give a quick mix. Now all the needed flours in place.
Add salt, red chilly powder, cumin and sesame seeds, mix and then include butter. Using your fingers, mix the butter with flour so that it binds well with all flour. Next adding required water, knead a non-sticky, stiff dough.
The dough should be neither too loose nor too stiff. Fill the murukku press with a portion of dough.
Press spiral murukku or chakli on a parchment paper and keep them ready. Meanwhile heat oil in a wok, when it gets heated drop the murukku in to it.
Deep fry them in the oil till they are golden in color. Turn them in between so that they cooked evenly. Once done, remove from oil and drain over kitchen tissue paper.
Crispy instant chakli / poha chakkuli is ready to serve as tea time snack.

Notes

I have used thick rice flakes, you can use thin variety too.
Sieving the powdered riceflakes and gram is very important, otherwise you end up having bites.
Butter should be appropriate. If you use less, the chakli would be harder on the other hand if you use more the chakli will not hold shape.
To check the oil for deep frying, drop a pinch of dough. If it raise to the surface immediately then the temperature is right for frying.
https://udupi-recipes.com/2018/02/instant-chakli-poha-murukku-recipe.html
All the content in this website are © Copyrighted to – Udupi-Recipes