This crispy snack happened in my kitchen for a reason.  Wheat flour murukku wasn't a thing that I planned for. This month, on a random weekend when I was busy shopping for summer vacation, a little thought of inviting my friend for dinner came up. Yes, one of my friend is expecting a baby, so I had to make her happy by feeding some delicious food. Which I usually do for most expecting moms that are near and dear to me.  And I didn't want to break that rule for the sake of vacation shopping. So we just drove back home deciding the menu for special dinner that day.
Since it's a feeding for a mom-to-be, the menu has to include murukku or chakkuli. It's a kind of tradition here in Udupi to feed chakkuli to a pregnant woman. So I was in dilemma as to which murukku to choose from. Because it's such a snack that demands time and I had many other food to be whipped up. So to keep it simple I made wheat flour murukku which involves no grinding like conventional ones.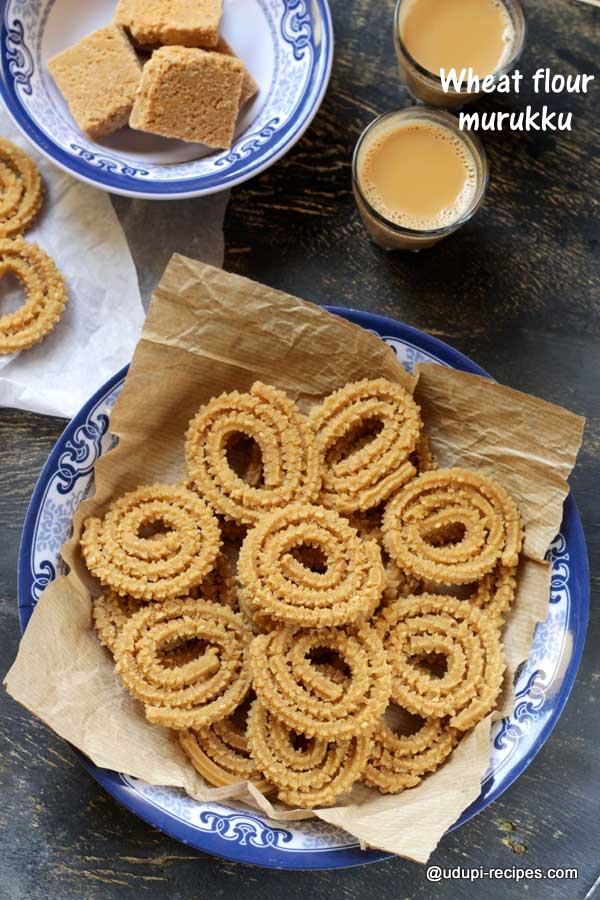 In order to make dough, all it needs is steam cooking raw wheat flour. Steaming helps in suppressing the gluten of the flour. And it helps to knead a stiff, no-cracks dough. And that's it. Your dough is ready to be pressed as murukku. It took no less than 35 minutes to make a batch of 20-25 chakli. And the dinner was successful with scrumptious food around. So how about you trying this wheat flour murukku at home?
Wheat Flour Murukku | Godhihittina Chakkuli
Ingredients
Wheat flour- 1.5 cup
Salt- 1.5 tsp
Roasted sesame seeds- 3 tsp
Cooking oil- Enough to deep fry
Water - As needed
Instructions
Preparation

Sieve the flour using a fine sieve over a white cotton cloth. You have to tie the flour using the same cloth like a lump.
Keep the tied flour in steamer and steam cook it for about 10 minutes. When you untie the steam cooked flour, it would have turned hard like a rock. Let it cool for few minutes.

Method

Break the flour using fingers, sieve it once again and collect it in a wide bowl. Add salt to this.
Next add sesame seeds and make stiff dough from the flour adding water in steps. After steam cooking, the wheat flour would have lost it's stickiness, so the dough won't stick to your fingers.
Divide it into two portions and fill the murukku press with this.
Next press the murukku over a piece of square paper in a pattern shown below. Heat oil in a wok and as it gets heated up, slowly slide the murukku from paper in to oil.
In medium flame deep fry the murukku, cook both sides and remove when they turn golden brown. Drain them over kitchen tissue.
Repeat the process with rest of the dough. Easy and instant wheat flour murukku is ready. Store them in airtight container and enjoy for weeks.

Notes

You can use Idli steamer or pressure cooker to steam cook the flour. I used Idli steamer and steam cooked for 10 minutes.
If you are making in large quantity, you have to extend steam cooking for few more minutes.
Do not try to break the flour immediately after steam cooking and let it cool down for 5 minutes.
I usually use square paper while pressing the murukku so that I can easily slide them in oil without altering the shape.
You can use either black or white sesame seeds. But roast them before use.
To check oil, drop a pinch of dough and see if it raise to the surface immediately. If so, the oil is rightly heated and you can start deep frying.
Always keep the flame medium when you are deep frying.
https://udupi-recipes.com/2018/06/wheat-flour-murukku-chakkuli.html
All the content in this website are © Copyrighted to – Udupi-Recipes