Hi there!!!!    Welcome to Udupi-Recipes. I am Sumana. I hail from Udupi, a place of Lord Krishna.  I born in Udupi and got married as well here. Udupi is a town in south-west Indian state of Karnataka which is famous as "Parashurama Kshetra". Udupi cuisine is a world renowned cuisine of south India.
Cooking is my passion and so is Stitching. I always love to do cooking and stitching adventures. Although Udupi recipes are my specialties, I do try all types of vegetarian regional recipes including north Indian. Cooking is arts, science as well as Maths.  This site focuses on wide variety of dishes that are prepared in Udupi, Karnataka region with self-explanatory pictures. From traditional specialities to everyday, easy-to-make delicacies and juices, it unravels the diverse range of cuisine.
Each and every dish explained here has been tried and tested many times. I have learnt many recipes of this site from my mother, grandmother, cookbook, cookery show and of course from all people who are near and dear to me. If you have any queries regarding recipes of this blog kindly use comment section.
Udupi cuisine comprises dishes made primarily from grains, beans, vegetables, and fruits. The wide range of dishes of this cuisine involves the use of locally available ingredients. It adheres strictly to the Satvik tradition of Indian vegetarian cuisine, using no onions or garlic, as well as no meat, fish, or shellfish.
The full course Udupi meal is served on a plantain leaf, which is traditionally kept on the ground. The dishes are served in a particular sequence, and each dish is placed on a particular spot of the plantain leaf.
The global Indian dish masala dosa has its origins in Udupi. Saaru, a spicy pepper water, is another essential part of the menu, and so are dishes of jackfruit, breadfruit, colocasia leaves, raw green bananas, brinjal (mattu gulla), alasande, and mango. Adyes (dumplings), ajadinas (dry curries), and chutneys, including one made of the skin of the ridge gourd, are specialities.
Interests
As said earlier stitching and dress designing is one of my favorite hobbies.  Thinking of new, creative saree blouse designs and executing them in to realities is my all-time leisure activity. Yes, I have huge collection of wedding saree blouse designs.
My collection of few saree blouse designs and tatting designs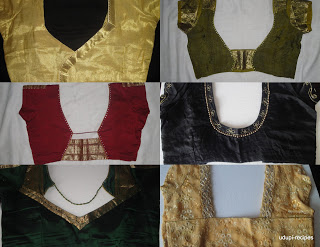 Tatting Designs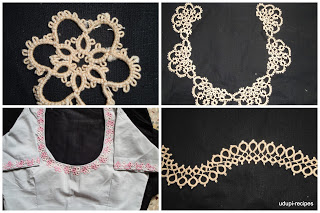 There is lot of work put in cooking, shooting and editing food photos. So I deserve the credit for it. Please don't use the photo without permission. I want udupi-recipes to be a positive environment for my readers, my family, and myself, I reserve the right to remove offensive, inappropriate, or generally rude comments.
Thank you for your time. Take care.