One thing that has been known to elevate my happiness of snacking life is crispy and crunchy  deep fried goody like this Ragi nippattu.  It keeps me snacking while preparing meal and dinner. Meaning, jar full of deep fried goodies sitting right in front of my vision insist me to snack on during random hours. Am I getting too crazy here? Seems so. All right, this ragi nippattu can potentially make you a crazy person too. Let me keep my fingers crossed.
In my life I give bonus points to any recipe that is idiot-proof easy to make and can be stored for long with all flavor, texture and taste being intact. More bonus points for recipes that need minimum ingredients which are easily available locally. And right now, this ragi nippattu is racking up the bonus points.
Food stuff that can be prepared beforehand for any time snacking are good-to-go during guest visits. You can do most of the kitchen stuff before they actually arrive and later you can sit on your couch eating yummy thing along the side of your guests. Which is what I love to do. How about you guys?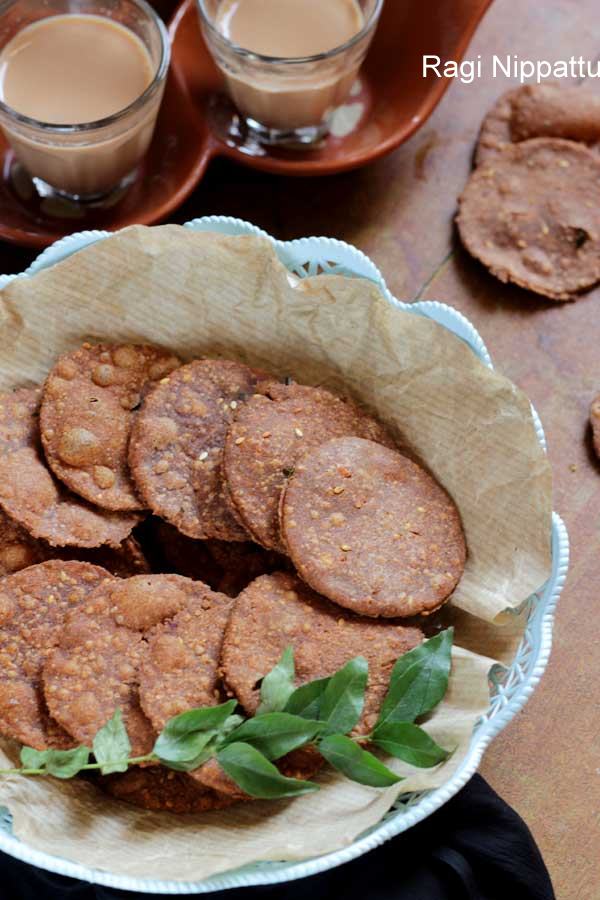 Ragi Nippattu | Finger millet Nippattu Recipe
Ingredients
Finger millet flour (Ragi flour)- 1 cup
Rice flour- 1 cup
All purpose flour- 1/2 cup
Medium rava(semolina)- 1/4 cup
Peanuts- 1/4 cup
Roasted gram- 2 tbsp
Red chilly powder- 3 tsp
Salt- 2 tsp
Roasted sesame seeds- 2 tbsp
Curry leaves- Few
Asafoetida(hing)- 1/4 tsp
Cooking oil- Enough to deep fry
Instructions
Preparation

Take peanuts in a mixer and coarsely powder using pulse mode and transfer it.
Similarly powder roasted gram too and keep aside. Measure finger millet flour, rice flour, maida and semolina.
In a wide bowl add all the flours, rava, powdered peanuts and roasted gram. Also add salt, red chilly powder, sesame seeds, hing and chopped curry leaves. Give a quick mix.
Next add 2 tbsp of hot oil in to the same bowl and mix. Adding water little by little, knead stiff dough for nippattu.
Now divide the dough in to lemon sized balls. Grease oil on couple of alluminum foil sheet and keep them ready.
Keep a alluminium foil sheet over the papad making press with a dough ball and cover it with one more sheet of alluminum foil. Then press gently.
Carefully transfer the rolled nippattu in to hot oil and deep fry them in medium flame till it turns crisp. You can keep a batch of rolled nippattu ready before frying.
Repeat the process with all the dough. Crispy ragi nippattu is ready to munch on.

Notes

The dough consistency is very important. It should neither too loose nor too stiff. So add water carefully.
Nippattu shouldn't be very thick, in that case it will not be crispy.
You can either use alluminum foil or banana leaf or polythene sheet to press nippattu.
After pressing each one, you may have to grease oil. Otherwise nippattu may stick to alluminium foil.
Deep frying in medium flame is recommended.
If stored in an air tight container, it stays crisp for many days.
https://udupi-recipes.com/2018/10/ragi-nippattu-finger-millet-nippattu.html
All the content in this website are © Copyrighted to – Udupi-Recipes