Let me tell you about this classic konkani curry that is simple yet can make your house smell good and comfy. It has the flavor boosters like cumin and pepper, I already told this in the title right? This curry is going to be my comfort food for the month of October I must say. The name jeera pepper daal sounds too straightforward.  The authentic name given to this curry is varNa in Konkani,  which is what captivated my attention initially.
Konkani food has always fascinated me since many years. It is because Udupi has major population of Konkani people and they have distinct tradition and cuisine all together. My neighbor in Udupi has made me taste various delicacies that  she used to cook so affectionately. A decade ago as a teacher, I had many colleagues who belong to Konkani community. And I had got the opportunity to attend their marriage and relish the unique food that they serve in the feast. So as it was all lingering in my mind, I carried a good, fool-proof Konkani recipe book from my native this year. I am halfway through it and love to cook most of the yummy food.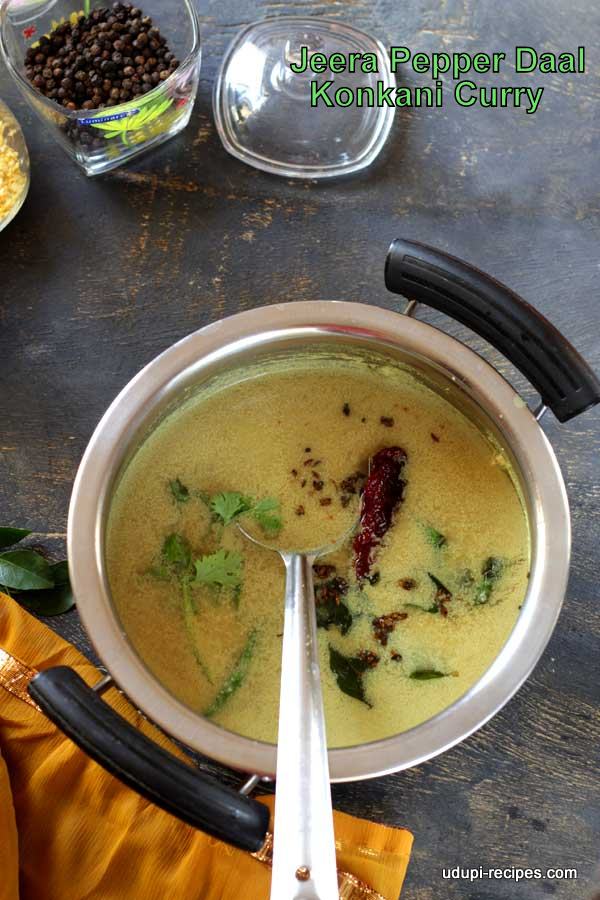 This jeera pepper daal has yellow lentils, coconut, pepper and cumin(jeera) as main ingredients. The cooked and mashed lentils are combined with coconut plus spices puree. The combination tastes too delicious which I ever come across. Loved the authentic taste of VarNa. Try yourself to know..
Jeera Pepper Daal – VarNa – Konkani Curry
Ingredients
Split green gram lentils(moong)- 1/4 cup
Fresh grated coconut- 1/2 cup
Cumin seeds- 1 tsp
Black pepper- 1/2 tsp
Turmeric powder- 1/4 tsp
Tamarind- Small bite sized
Uncooked rice- 2 tsp
Green chillies- 2 nos.
Salt- 1.5 tsp
Lemon juice- 2 tsp

To temper

Cooking oil- 2 tsp
Cumin seeds- 1/2 tsp
Mustard seeds- 1/2 tsp
Red chilly- 1 no.
Curry leaves- Few
Instructions
Preparation

Take the lentils in a bowl, rinse thoroughly with enough water. Adding 1/2 cup of water, pressure cook it for 3 whistles, then in simmer 5 minutes.

Method

In a tempering pan, add a tsp of oil, cumin seeds and pepper corn. Roast them for few seconds till the cumin turns color.
In a mixer jar, add grated coconut, roasted pepper and cumin, turmeric powder, tamarind and rice.
Grind them together to fine puree adding required water.
Next, mash the cooked lentils and add it to the cooking vessel. Throw in slit green chillies. Let it cook for few minutes. Then include the ground coconut puree from above step.
Adjust consistency by including some water. Add salt and bring it to nice boil. Switch off and squeeze lemon.
Heat a tsp of oil in a tempering pan, add cumin, mustard seeds and curry leaves. When the mustard crackle pour it over the daal. Very delicious Jeera-pepper curry (varNa), a Konkani rice side is ready to serve.

Notes

The lentils should be cooked till mushy.
Balance the tangy-ness using both tamarind and lemon juice appropriately.
You can increase green chillies for more spice level.
https://udupi-recipes.com/2018/10/jeera-pepper-daal-varna-konkani-curry.html
All the content in this website are © Copyrighted to – Udupi-Recipes