Hello friends, Diwali preparations are in full swing at my house ( in yours too!!) and in my food heart. I know, I have been talking about the festival and the food for celebration since 4 posts but what else can I talk about? It's only about festival till the end of it. So bear with my rants. After posting 4 sweet recipes in a row, my mouth is like all sweet and sugary. So today I switched over to a crispy snack which is nothing but yummy besan ribbon pakoda. No surprise, this savory snack cleared off in just two days at my home (indicates your mouth actually craves for savory after loads of sweet condiments!!)
When we are at the doorsteps of Diwali, every action like shopping, cooking and cleaning would be in it's peak. On top of these chores, we food bloggers keep ourselves attached to our camera shooting pictures and videos of food. Sounds so funny and weird. But it's the truth of our blogging life.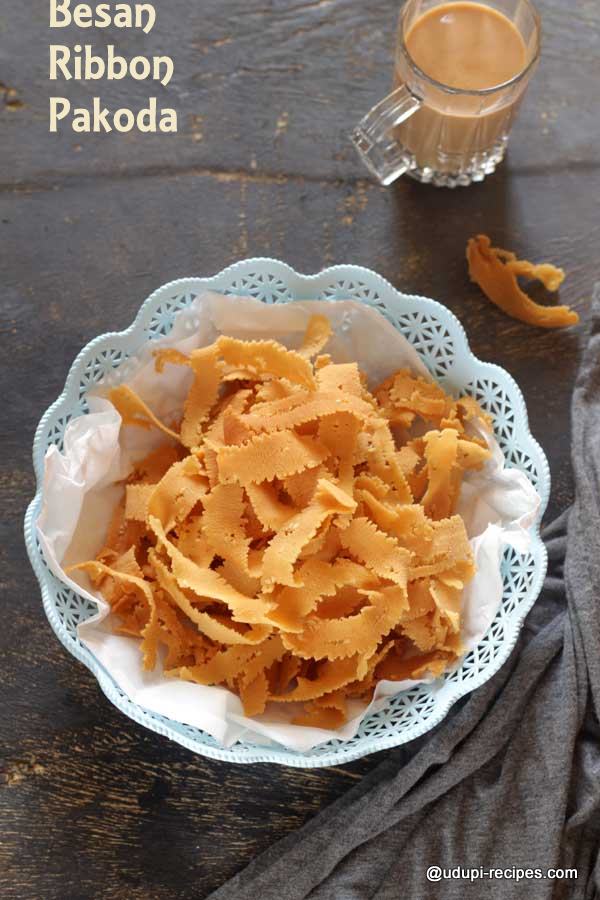 Ribbon pakoda isn't new. It had happened last year Diwali season too, but the recipe was bit lengthy involving lentils. Cooking and grinding lentils too may put you down as it seems elaborated process. So this year I have come up with an easy version that uses gram flour and rice flour together. So named it as besan ribbon pakoda. The flours, some spices, water and hot oil makes stiff dough which is bit sticky too. Though the recipe has basic spices like salt and red chilly powder, you can play around and use black pepper, carom seeds for extra flavor and taste.
May this Diwali snack with it's crunchy bite satisfy your savory cravings amidst loads of sweets. A cup of coffee or tea with bites of ribbon pakoda is just like heaven on earth.
Watch video: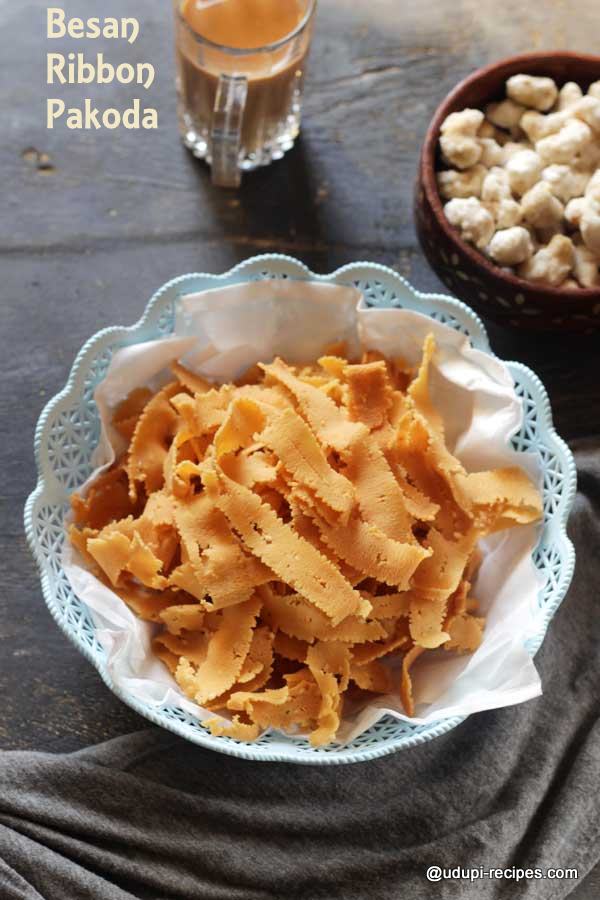 Besan Ribbon Pakoda | Diwali 2017
Ingredients
Rice flour- 1 cup
Gram flour (Besan)- 1/2 cup
Roasted sesame seeds- 1 tbsp
Cumin seeds- 1/2 tsp
Salt- 1 tsp
Red chilly powder- 1/2 tsp
Hot oil- 1 tbsp
Water- 1/4 cup (vary as needed)
Cooking oil- Enough to deep fry
Instructions
Method

In a wide bowl add rice flour, gram flour, sesame seeds, salt, cumin and red chilly powder.
Give all these dry ingredients a quick mix. Next add hot oil and mix once again so that it forms crumble like texture.
Next adding water in steps knead a stiff dough.
Next pinch half of the dough and shape it like cylinder. Fill the ribbon pakoda press with this dough. Meanwhile heat enough oil in heavy bottom wok/kadai.
When the oil gets heated up, press the ribbon pakoda directly in to hot oil. Deep fry them and turn the pakoda to get cooked both sides. When sh...sound seizes, remove the pakoda and drain over kitchen tissue.
Crispy besan ribbon pakoda is ready to munch when you are lazying around.

Notes

Adding hot oil makes the ribbon pakoda crispy. So don't skip it.
You can add the spices according to your preferences. Carom seeds, black pepper are some of the options.
You can even add gram flour and rice flour in equal proportions.
https://udupi-recipes.com/2017/10/besan-ribbon-pakoda-diwali-2017.html
All the content in this website are © Copyrighted to – Udupi-Recipes