Are you a food lover? You have a passion of cooking? Is there a little voice inside your head saying "Why can't I start my own food blog?". Then you have landed up right, to the food blogger resources page. Off late I found it is very obvious to put together resources used by a food blog. This list is ever evolving guide that I will be updating as I discover new resources that are worth to be mentioned here.
Disclaimer: Please note that some of the links below are affiliate links and I will earn a commission if you purchase through those links.
Blogging Platform
Hosting: Hosting is nothing but renting space for your food blog on web. There are basically free hosting and self hosted platforms.
Free hosting: Free hosting means companies host and maintain your blog on their servers with limited services, sometimes supported by advertisements, and often limited when compared to paid self hosting. Apart from hosting they offer weblog software for editing your blog post, handling images, uploading videos, publishing and many more. Blogger.com and WordPress.com are two popular free hosting services.
Self hosting: A self hosted blogging platform is one in which you maintain total control and flexibility on your blog. You can customize your blog the way you want from the theme to the plugins as well as CSS. You need to have custom domain name like udupi-recipes.com or www.udupi-recipes.com and hosting service provider like Bluehost or Godaddy.
---

BlueHost: The Company I chose to host my blog is Bluehost. It is one of the trustworthy and affordable web hosting solution giving space on it's servers to house all your blog's information such as files, photo's and emails. Apart from hosting, Bluehost offers free domain name registration. I have chosen domain name as udupi-recipes.com. You can choose as per your niche…
You can host your blog on Bluehost just for $6.95 per month along with free domain name registration.  It takes just 5 minutes to host your site and you can start right away. I highly recommend bluehost for your blog hosting. Trust me, the service is too good.
---
WordPress– Say, you have hosted your blog on Bluehost server, what next? You need a blogging software such as WordPress to be installed. WordPress leads you to type in, edit and publish your content. Once you have registered with Bluehost, login to your account using the username and password given by them. Under Software/services section, click on WordPress logo and click on Install. WordPress installation is done. It is just that simple. WordPress is amazingly easy software, I am using it for udupi-recipes.com.
---
Free themes for WordPress– Blog presentation designs offered by WordPress are known as themes.  Your blog need to be built based on a theme which provides much more control over look and presentation of material on your website. You can either use a free WordPress theme or choose a paid one. WordPress has a huge number of free themes you can check out them here. Select the best suited theme for your blog, take decision based on the 5 star reviews, forum and support. Currently udupi-recipes.com is on Coraline theme which is a squeaky-clean theme featuring a custom menu, header, background, and layout.
---
Thesis theme– Whether you're running a business website or a personal blog, Thesis is a perfect choice because it enables you to do what other WordPress themes can't. It is a search engine optimized WordPress theme and basic thesis theme is offered for just $87. Thesis makes it easy for you to do the things you need to do to run a successful website. If you want to start with your fully functional website right away, without the hassle of changing it afterwards, then you definitely can go with thesis theme.
---
Genesis Framework– I decided to change my theme to Genesis after having tried my hands with a free coraline theme. Free themes are Free but I took lot of time in tweaking the code to customize the blog as per my need. That is the reason I switched over to Genesis which comes along with a sample child theme through which you can get the blog customized.
---
 Foodie Pro– I have chosen a food blog specific child theme that is Foodie Pro, designed by shaybocks and now it hardly takes few minutes to customize the look and feel of my blog. Foodie Pro provides a great support to most of your customization which I appreciate a lot. I recommend the same to you, if you are interested in ready-to-go site in minutes, then choose Foodie Pro.
---
 Plugins– Plug-in is a software component that adds a specific feature to an existing software application. WordPress has a big list of free plug-ins providing 'N' no. of functionality. Currently udupi-recipes.com has following plugins working behind it.
Ziplist Recipe – Ziplist recipe plugin helps me to format all my recipes uniformly. Just type in your ingredients list and instructions of a particular recipe, leave rest to ziplist. It will take care of formatting. Also you can save recipe in a universal recipe box and take print out of the recipe too. Amazing plugin I must say.
Copy Protect – There is so much stealing of content that goes on that it is really hard to stay on top of it. Recently I found my blog content and images being stolen and they had been reproduced as is without my permission. So shamelessly people do copyright infringement!!!! In order to protect my content from such theft I installed Copy Protect plugin. Images and text on my blog are now copy proof…
Linkwithin– This plugin displays related posts and their associated thumbnails in each post of your blog. They not only improve internal linking, no. of pages per visits but also send some traffic to your site.
WordPress SEO – It is a true all in one search engine optimization solution for WordPress. It takes care of all the stuff that are needed to improve your site's search engine ranks and hence organic traffic.
---
Food Photography– Photography is an incredible tool that can have great impact on your food blog. A photography ebook by Lindsay is a gift to all food bloggers. She has shared some practical tricks and tips of photography like lighting, composition and editing tips that are very easy to read and follow. As a food blog owner you would need to capture beautiful food photos to attract more and more traffic towards it, So tasty food photography e-book would be a worthy investment.
---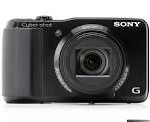 Sony Cyber shot Camera: Initially when I started blogging (2012 to 2014) I was using my Sony Cyber shot camera for food shoot.  I believe that the best camera is the one that you have.  If you are a beginner you can start your food photography with your mobile camera too.
---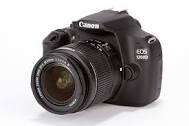 Canon EOS 1200D 18-55mm DSLR– I am delighted to announce that I upgraded my photography gear from point and shoot to DSLR. This Canon EOS 1200D 18-55mm DSLR can take really incredible pictures. It's an expensive camera with which you can control all aspects of photography like aperture, shutter speed and ISO in order to capture pleasant photos. Since the beginning of year 2014, I was craving for this awesome gear and on my birthday I got it as a gift. Soo NICE. It's so exciting to click food photos using this. Serious photography study is on…
---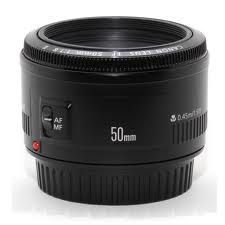 Canon 50mm 1:1.8 – This macro lens is a true food photography lens which isn't cheap but you get what you pay for.  Canon 50mm lens is also known as prime lens meaning you cannot zoom in and zoom out. If at all you want to take a close up shot, you have to get closer by foot.  Food is pretty appetizing at close ups, I LOVE this lens giving macro shot of food that shows natural texture and color. Since October 2014 all food photos are shot using this lens, I highly recommend it if you are looking for a starter lens.
---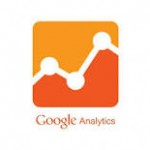 Google Analytics:  Well, when your food blog is up and running, how do you check your traffic and sources of that traffic?  Google Analytics can track all visitors of your blog and represent the type of visitors  like referrals, search engines, direct visits and social sites. You can avail analytics basic service at free of cost. Create an account, add your blog to it and obtain tracking code from Google Analytics.  Paste the tracking code in to every web page that you want to track. That's it. You can get demographics of blog visitors, how much time they spent on your blog,  how many unique visitors, returning visitors and page views over a period of time. Trust me, Google analytics plays a major role in blog, deciding blog popularity as you can co-relate your activities to outcome.
---
Monetizing: Food blog is a kind of online business; you can make money out of it. You can monetize your food blog and earn revenue out of your hard work and time. As you start your food blog, populate it with 20-25 posts and once traffic to your site is significant, then apply to Google Adsense.
Google adsense is the popular publishing network that provides free, flexible way to earn money from your blog with relevant and engaging ads. After approval you will see relevant ads on your website and thus you can earn some commission dollar when the ads get clicked!!!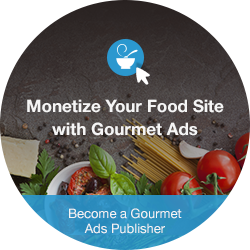 Gourmet Ad is one of best Ad networks that I have worked with so far.  As a publisher, I love Gourmet Ads because the network is exclusively for food sites and it's dashboard is very precise, clear and informative with huge number of downloadable guides that walk you through traffic boosting, revenue maximization, food planning calendar etc.
Gourmet Ad network's Support is way too awesome. Whenever you email the team for assistance, you can expect quick reply from them with accurate answers to your queries. On top of all this, Gourmet Ad network's  payments are released on time which is super exciting for any one to sign up with them as publisher.
---