Hello and Hi, you are looking at a deep fried crispy and spicy snack that can take Diwali festival food to the next level for sure. It's bhakarwadi from North Karnataka that has spicy filling and crispy crust whose looks are similar to spiral. I would say it's a glorious way of satisfying our savory cravings after eating loads of sweet things on the day of festival. Because it's spicy and hot and can awaken the taste buds. This bundle of savory joy can happen in minimal effort, you all very well know my love for good food with minimal effort combo. Right guys?
This is official food season where everyone thinks, makes and eats sweet and snacks. Every sweet stall have their racks overloading with such condiments and you all wonderful ladies too must be in Diwali cooking zone. Exciting food stuff  must be up in your kitchen which I can clearly see through this window. 🙂 🙂 .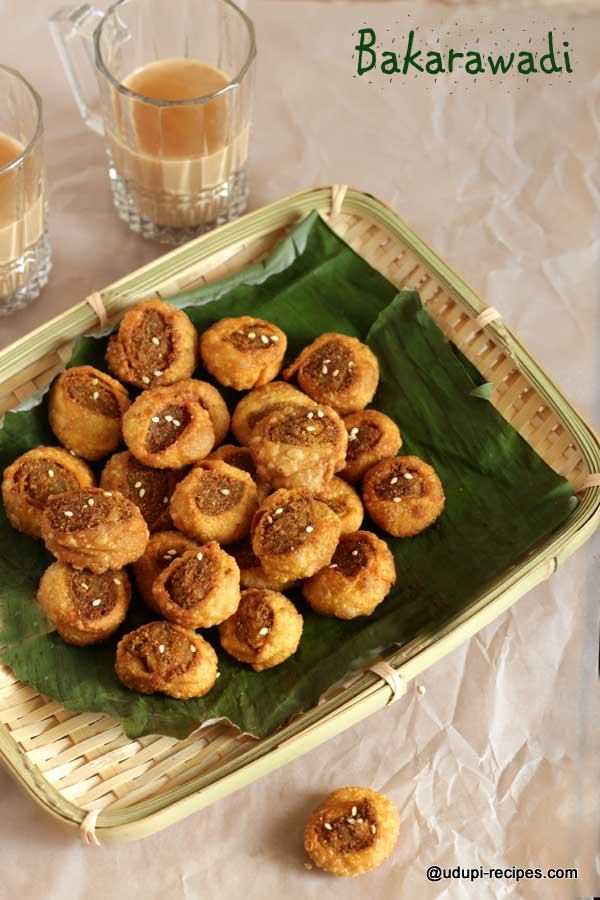 Bhakarwadi recipe is straightforward and insanely easy. All you need is stuffing part and outer crust. Crust is made up of all purpose flour, gram flour and semolina which are mixed with salt to form stiff dough. The interesting part is stuffing where most of the spices of your kitchen would be used up with desiccated coconut which enriches the overall taste of bakharwadi. You can adapt the recipe to make it little more spicy and hot through some green chillies or red chilly powder. I kept it mild as kids hate eating spicy food.
This snack can be a wonderful treat to feed the crowd who assemble at your home as part of Diwali celebrations. Let the magic of this snack make your relations more closer than ever before. I wish you all a beautiful and rejoicing Diwali with the lights of health, peace and prosperity.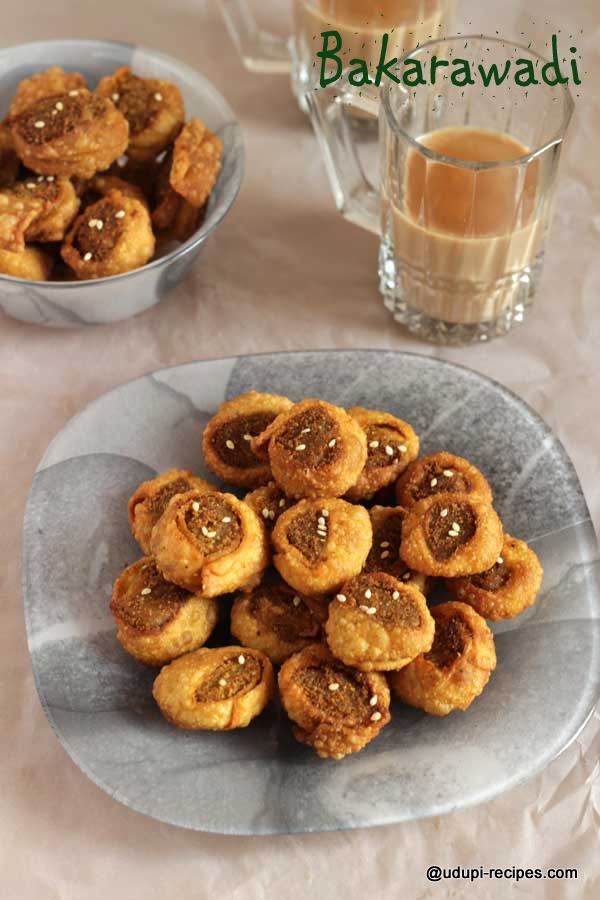 Bhakarwadi Recipe | A savory snack from North Karnataka
Ingredients
For dough

All purpose flour (maida)- 3/4 cup
Gram flour- 1/2 cup
Fine semolina (chiroti rava)- 1/8 cup
Salt- 1 tsp
Turmeric powder- 1/2 tsp
Ghee- 2 tsp
Cooking oil- Enough to deep fry

For stuffing

Desiccated coconut- 3/4 cup
Roasted sesame seeds- 1/8 cup
Poppy seeds- 1/8 cup
Salt- 1 tsp
Red chilli powder- 1 tsp
Coriander powder- 1 tsp
Cumin powder- 1/2 tsp
Turmeric powder- 1/2 tsp
Asafoetida- A pinch
Finely chopped ginger- 1 tsp
Chopped coriander leaves- 3 tsp
Instructions
Method

Mix maida, gram flour, semolina, turmeric powder and salt in a wide bowl. Add ghee and give a quick mix.
Next incrementally add water in parts and knead a stiff dough. I used little more than 1/4 cup of water. Divide the dough in to 4 equal parts and cover it with damp cloth. Let it rest for around 15 mins to 30 mins.
When the dough is resting, it is time to prepare stuffing. Take all the stuffing ingredients in a mixer and powder them together coarsely. You can taste and adjust spices now.
Next take a dough ball, dust with enough flour and roll it thinly like chapati using rolling pin. Smear the rolled chapati with little oil.
Spread 4 tsp of stuffing evenly over rolled chapati, roll from one end to other like a log. Close the ends of log.
Next using a sharp knife cut the log in to 0.5" sized discs and flatten it using your palm. Repeat the process till you finish the dough.
Next heat enough oil in a heavy bottom wok and as it gets rightly heated ( check by dropping pinch of dough in to oil, if it raises to top slowly, the temperature is right for frying) drop few bakarwadi in to it. Fry for a while and flip to cook other side too. When the Sh... sound seizes completely, remove them from oil and drain over kitchen tissue.
Repeat this process of frying till all bakarawadis are done. Yummy and spicy snack is ready for Diwali.

Notes

I have used semolina to bring some extra crunch in to the dough. It was too good.
Roll the dough very thin otherwise it doesn't get fried properly.
The stuffing has to be spicy, you can add some green chillies too. I made them mild because kids don't like much spice in food.
Deep fry them in medium flame as multiple layers should get cooked.
Do not over fill the wok with oil, keep only enough oil to deep fry the snack as some stuffing oozes out while frying.
Crispiness of bakarwadi reduces after a day, so prepare accordingly.
https://udupi-recipes.com/2016/10/bhakarwadi-recipe-north-karnataka-snacka.html
All the content in this website are © Copyrighted to – Udupi-Recipes