My love for these sugary sprinkled, pretty browned peda is out of control. I had been a constant lover of these drool-worthy Dharwad Peda since my childhood. But I had never even visualized that these CUTEST sweet things with all that sparkly sugar on them would get prepared in my kitchen from scratch. Basically I had no idea what could be the primary ingredient that goes in making them.
But it's => LIFE. Hey LIFE, you ought to teach me making all good food that I Love.  As a food blogger every day I make an attempt towards learning, making and devouring good food, however hard it may be.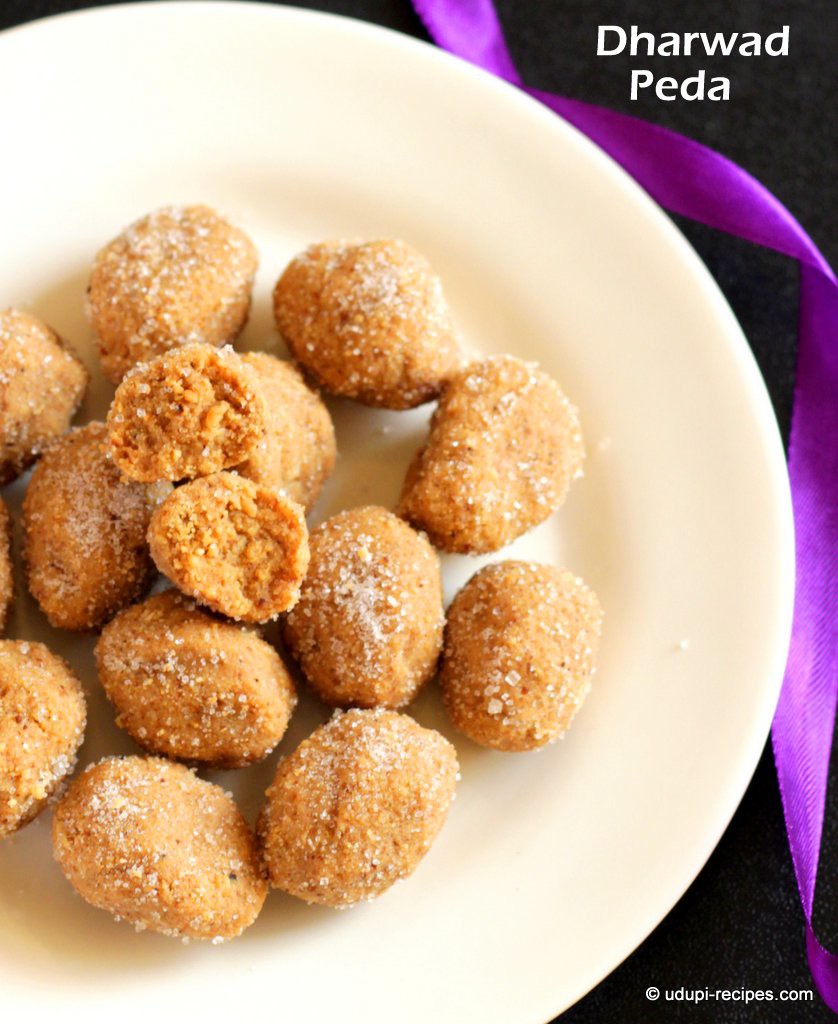 It all happened like this. One of my FB friend had shared beautiful pictures of her kids enjoying home made Dharwad Peda. I read it TWICE, is it Dharwad Peda? Can it be prepared at home? With overjoy, lit face, I messaged her to pass the recipe to fellow food lover (that's ME !!).  She was so prompt to pass the recipe at the very instant but I took a month to trial and get hold on it.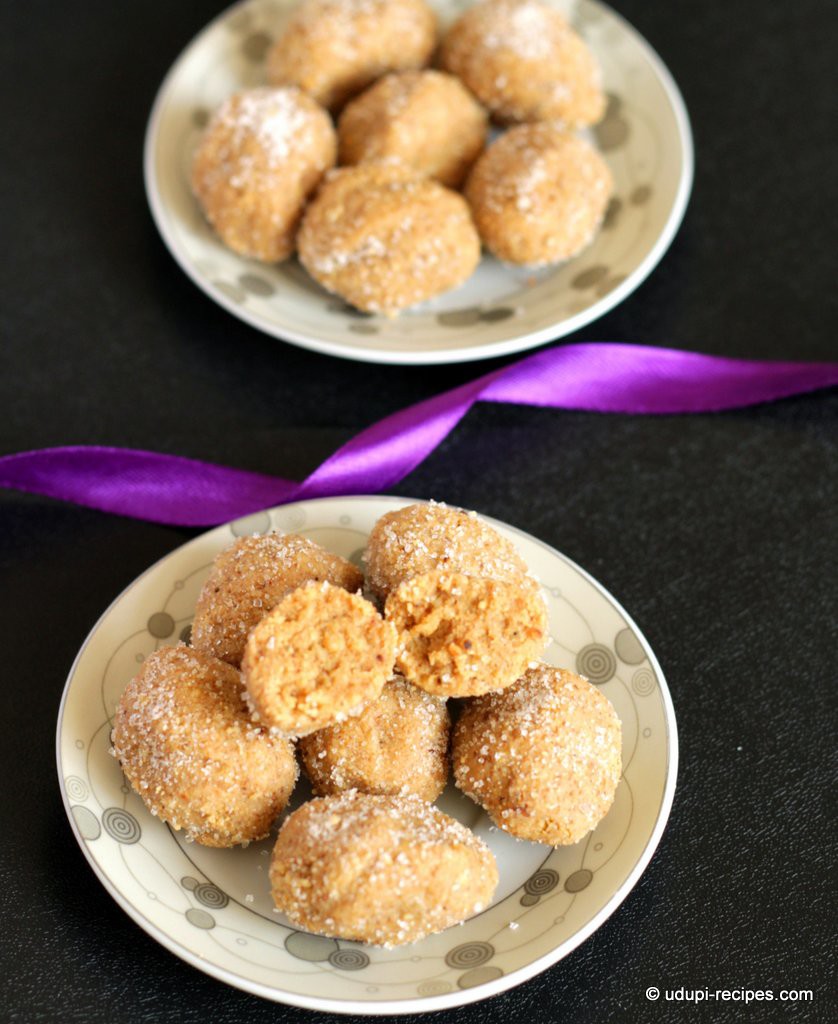 This post on Dharwad Peda recipe has come on right time or was it waiting for right time?? Because I wanted to mark this 250th recipe that I am sharing online through this beautiful udupi-recipes space.  When I look back, I am amazed to see how for I have come by constantly fueling this so called hungry food blog.
Dharwad peda recipe is not so difficult that you think it would be. But it is a time consuming, labour intensive work for sure. I have prepared it from scratch meaning from pure white MILK to pretty brown PEDA. Milk is curdled using either lemon juice or curds to obtain fresh thick ricotta which is going to be primary ingredient in peda recipe. This ricotta is cooked in medium flame till it gets sand like grainy texture and brown color. The brown color can only be obtained after hours of non-stop stirring. You need to reserve some extra milk which you can add little by little whenever the mixture tends too dry, sticky while stirring.
When the final product with all it's grainy texture, brown color and sugar sprinkled sweet thing come to your hand, you feel so proud. That's what I am now.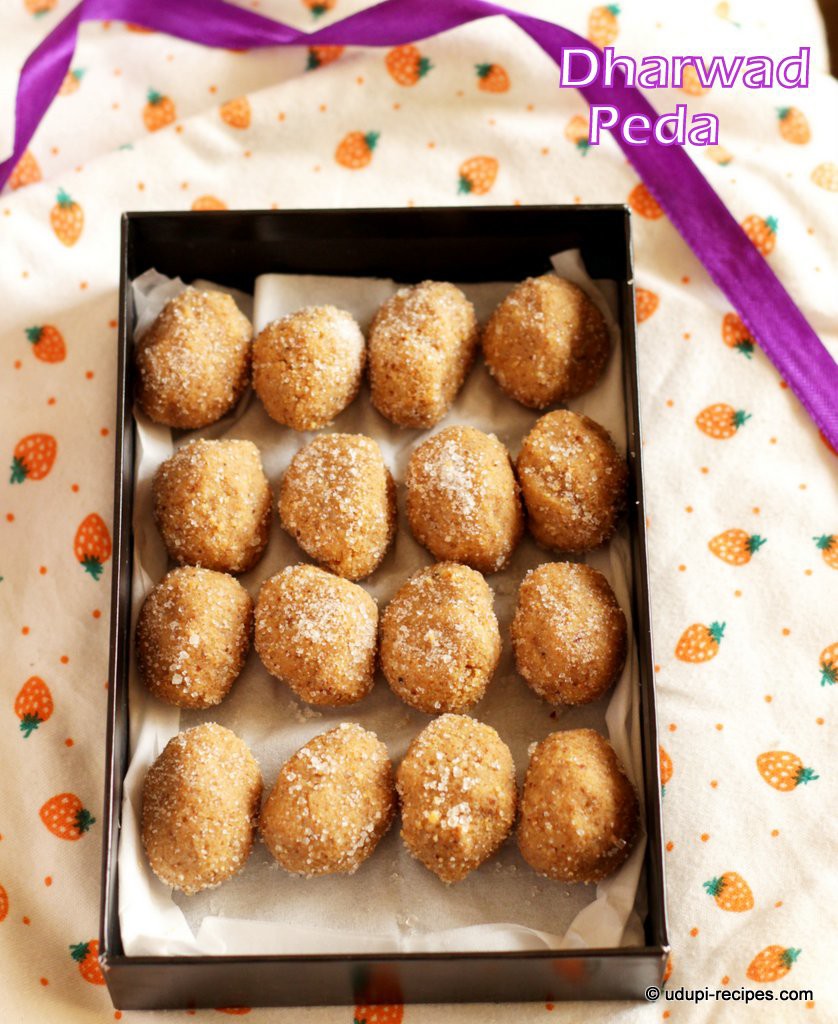 Home Made Dharwad Peda Recipe
Ingredients
Full fat milk- 2 liters + 2 cup
Lemon juice- 1/4 cup or Curds- 1/2 cup
Ghee 6 tsp
Sugar-3/4 cup
Granulated sugar- 5 tsp for dusting the peda
Instructions
Preparation

The process starts with making ricotta from milk, so heat milk in a wide vessel. As it comes to rolling boil, simmer it. Stirring continuously with a ladle, add lemon juice spoon by spoon. The lemon juice will cause the milk to curdle and whey separates. Keep stirring until all of the lemon juice has been added.You'll see solid bits forming and floating to the top of the clear whey. Then switch off the flame.
Pour this mixture on to a strainer so that whey strains out leaving ricotta. Now this ricotta still contains whey, hence tie it in cheese cloth and hang for at least 20 minutes.
Spoon the drained ricotta on wide, non stick pan. Add around 3 tsp of ghee and heat the pan in medium heat. Using ladle keep breaking the ricotta for around 15 minutes.
When the ricotta looks grainy, add 1/4 cup of milk and 3/4 cup of sugar. Let this mixture cool down.
Transfer the cooled mixture in to mixer jar, grind it to smooth paste and put it back in to cooking pan.
Cook this smooth ricotta mixture in medium heat with continuous stirring. As you stir, the mixture comes together like a lump. You need to keep it breaking as it cooks. Again the mixture becomes dry and grainy. You can notice very little color changes now.
Again add some milk and rest of the ghee. Keep cooking the peda mixture without leaving it unattended.
You have to keep adding the reserved milk at every stage whenever the mixture becomes too dry and grainy. Milk turns it in to mass and cooking should continue with non-stop stirring till the color of peda changes to brown. This is the last stage when you get brown colored, grainy peda mix. Turn off the heat. Let it cool.
The grainy peda mixture is now to be transferred to mixer jar and run it for a while. Taking a small lemon sized peda-mix, give a oval shape. Roll these peda over granulated sugar.
Drool-worthy, effort-worthy home made Dharwad peda is ready.

Notes

When curdling the milk you either use lemon juice or curds. But these curdling agents should be added little by little with one hand stirring the milk continuously.
Quantity of curdling agent is very important. If you use less of it, you will not get complete ricotta. If you feel the curdling is not complete, use some more lemon or curds.
Additional 2 cups of milk is reserved to add whenever the peda mixture becomes too dry and moisture less. Adding milk while stirring the mix helps it to get brown color.
At any step of this whole process, you can taste and adjust sugar as per your taste buds.
For uneven shape of peda, throw them in to bowl of granulated sugar from a distance.
Store these home made peda in air tight container. It can last for a fortnight, mine emptied within a week.
The process of making Dharwad peda is time consuming where you will be stirring the mixture for long hours. It took almost 2.5 hours for me to prepare peda out of 2 liters milk.
https://udupi-recipes.com/2015/04/home-made-dharwad-peda-recipe.html
All the content in this website are © Copyrighted to – Udupi-Recipes