After three sweets in a row, now it's apt time for a snack. Isn't it friends. A savory snack that blends with the flavors of black pepper seduces our taste buds for sure. I made a batch of these savory balls which is popular as gatta namkeen, loved and relished by every one at home. The balls are addictive enough to have a handful while lazying around or may be while watching TV.
Though my Diwali sweets and snacks tend to get over before the festival itself, I hide a portion of each one to serve guests. Otherwise I would have nothing special to serve my guests on the Big day. But unfortunately I forgot this when I made these gatta namkeen. That may be because I had prepared them in big batch and thought they would suffice till the day. But to my surprise when I opened the snack jar today it is empty. Meaning, not even a single namkeen is left. So have to plan some other savories now.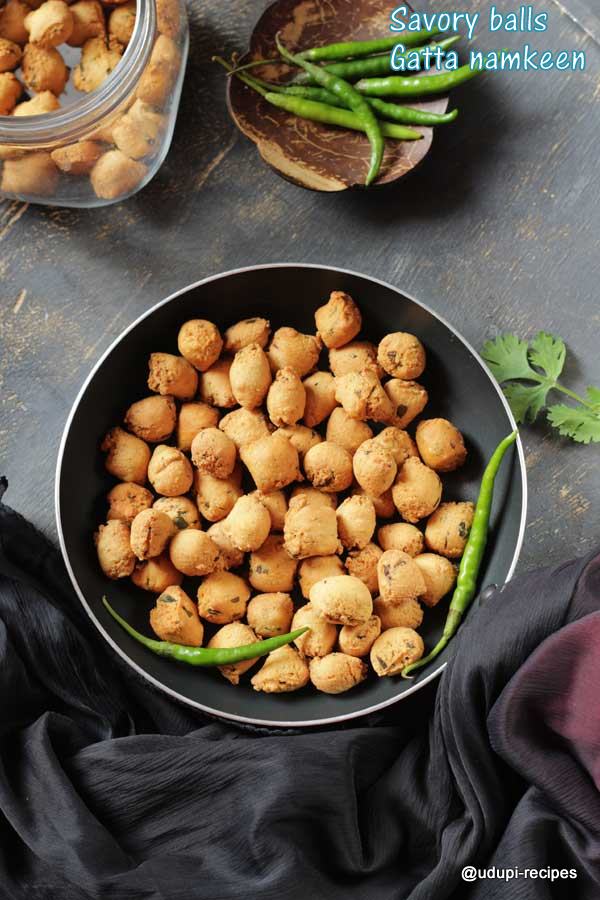 Now, let me quickly give some tips for this recipe to be perfect. The 2 tbsp of oil added to the gram flour initially makes all the difference. So I would recommend not to forget this. This oil makes the flour gluten free and gatta namkeen  gets a kind of crunch due to this. And water quantity given in the recipe is approximate. It varies based on the flour quality. Add carefully so that dough consistency is perfect for the namkeen.
When you get the dough with needed consistency, then namkeen turns crispy, crunchy and flavorful. Stays for long retaining the crispy-ness.  Which is what we all want for…so why are u waiting for? please assemble ingredients for gatta namkeen.
Savory Balls | Gatta Namkeen for Diwali
Ingredients
Gram flour (Besan) 2 cups
Cumin seeds- 1 tsp
Black pepper- 1/2 tsp
Cloves- 5 to 6
Ajwain- 1/2 tsp
Coriander leaves- Handful
Salt- 1.5 tsp
Turmeric powder- 1/4 tsp
Red chilly powder- 1 tsp
Oil- 2 tbsp
Water- 1/4 cup or as required
Cooking oil- To deep fry
Instructions
Method

Measure 2 cups of gram flour, sieve it and add it to a wide bowl. Add cumin seeds.
Coarsely powder black pepper and cloves together. Add this to gram flour.
Crush ajawin between your palms and add it along with chopped coriander leaves and salt.
Finally add turmeric powder, red chilly powder and give a mix.
Next add oil and mix the flour well so that it takes crumbled form.
Adding water incrementally knead a dough that is neither stiff nor loose. Keep it covered for 10 minutes
After the resting time knead the dough again with little oil and divide it in to 3 equal balls.
Next roll each of these dough ball in to ropes and cut these ropes in to bite sized pieces. It's approximately 1/2 cm to 1 cm length.
Next heat oil a heavy bottom wok and deep fry these balls in medium low flame. They turn crisp and color changes to brown. Using a perforated ladle remove them from oil and drain on tissue.
The wonderful Diwali snack is ready to serve. It can stay crisp for more than 10-15 days.

Notes

You can make them even spicy by including finely chopped green chillies.
The dough consistency should be neither loose nor stiff. This affects the crispy-ness of the snack.
Do not make big pieces because it may turn soggy.
It has long shelf life as the snack can retain crispy-ness for more than 15 days if stored in air tight container.
https://udupi-recipes.com/2018/11/savory-balls-gatta-namkeen-diwali-snack.html
All the content in this website are © Copyrighted to – Udupi-Recipes