Those of you who have sweet tooth should try these dense burfi bars.  And Diwali is the right time for attempting and satisfying all your sweet cravings. Which is true in my case because most of the sweet things happen in my kitchen only during Diwali every year. And this easy and insanely good carrot burfi magic happened today in my kitchen as Diwali 2018 sweet. They turned perfectly square with intense, beautiful carrot shade. Loved the taste, texture and color. These are the stuffs that keep my life interesting. Diwali sweets plus snacks season would keep me excited like ever.
When I planned a burfi recipe this year, I was skeptical about the perfect square shape of carrot burfi. I wouldn't have agreed if carrot halwa had to be shaped like square. My quest was to have a square piece with cutting edge sides. And all my anticipations came true like a lovely fudge which is up to the mark.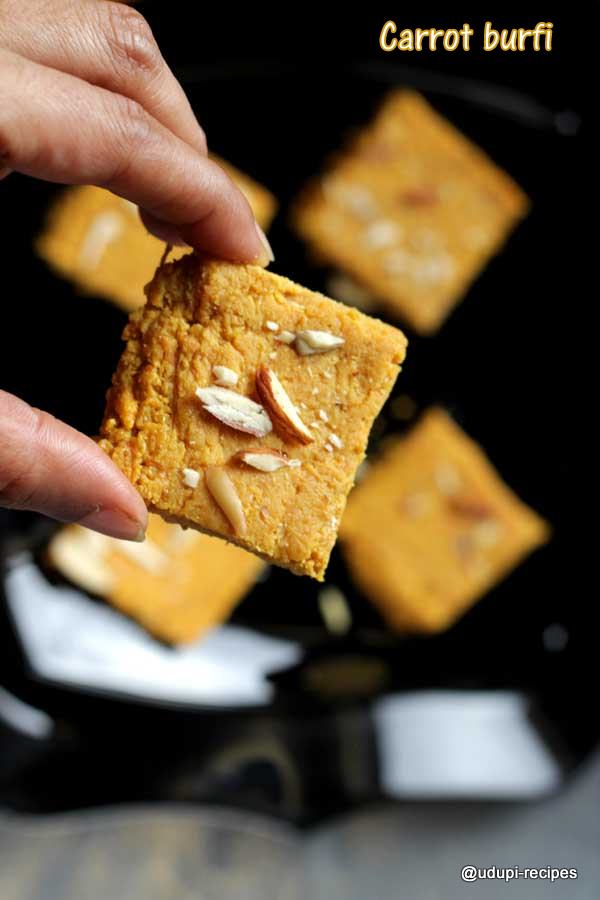 The recipe is surprisingly easy friends. Grated carrot and coconut is initially sauteed in good amount of ghee. The ghee makes the carrot aromatic while subsiding raw smell. Then it is combined with milk powder and sugar. At this stage, you should ensure sugar is dissolved completely and mixture turns running. If not, please include some milk to get the sugar dissolved. It is very important to have the mixture running initially, then cooking it to thick and frothy composition gives a perfect mark-able carrot barfi.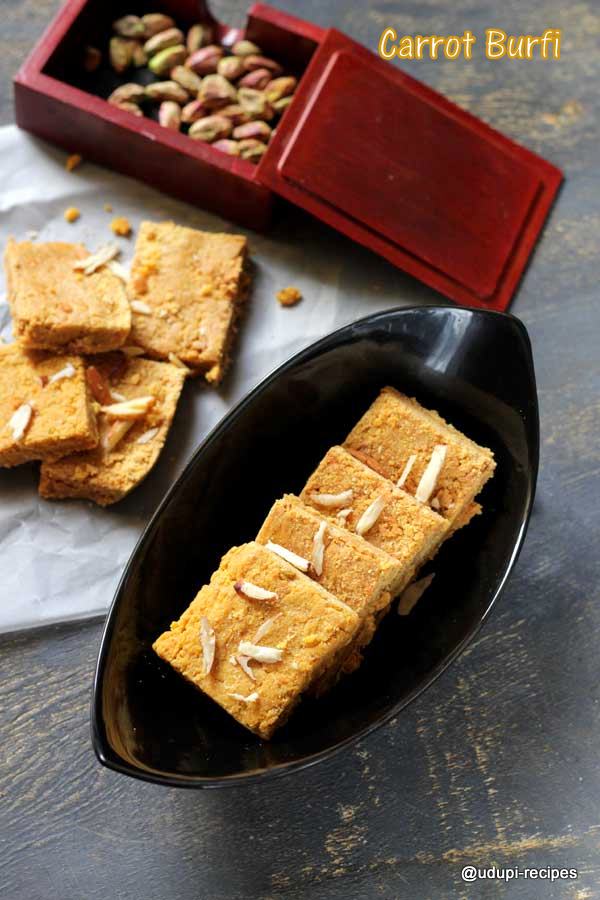 Minimum ingredients and not so elaborate process made this barfi recipe a super hit one at my home. I guess you too are in a mood to make this in your kitchen. Good luck from this end of the browser. Lets share it, relish it and celebrate it. What say friends?
Watch video here:
Carrot Burfi | Carrot Milk Powder Burfi Recipe
Ingredients
Grated carrot- 1/2 cup (tightly pressed)
Grated coconut- 1/4 cup (tightly pressed)
Milk powder- 1/4 cup
Sugar- 3/4 cup
Cardamom powder- 1/4 tsp
Ghee- 2 tbsp
Milk- 1/4 cup
Almond slices to garnish (optional)
Instructions
Preparation

Measure the ingredients and keep them ready. Grease a tray with little ghee and keep it aside.

Method

Next heat all the ghee in a pan, as it melts add grated carrot and coconut. Saute and cook for 5 to 6 minutes till the raw smell subsides.
When the carrot and coconut shrinks, include milk powder and mix well.
Next add sugar and milk. Mix well and stir to help sugar dissolve.
The mixture turns to running consistency and as you cook bubbles would form.
Add cardamom powder and continue cooking while stirring the mixture constantly. It begins to thicken and leaves the pan.
At one stage the mixture froths and becomes porous. That is when you need to transfer the mixture to greased tray. Level it up using a flat spatula.
Mark the pieces when it is still hot, garnish with few almond slices. Once cools down, you can easily remove the pieces.
Easy carrot burfi is ready for Diwali 2018.

Notes

The carrot and coconut needs to be sauteed for 6 to 7 minutes otherwise raw smell doesn't subside.
After adding sugar and milk, the mixture should turn watery.
When you continue cooking, it will thicken and froth. That is when, you need to switch off.
Be quick to transfer the mixture to ghee greased tray because it will harden soon.
Do not alter sugar and milk powder quantity as they help burfi hold shape.
https://udupi-recipes.com/2018/10/carrot-burfi-carrot-milk-powder-barfi-recipe.html
All the content in this website are © Copyrighted to – Udupi-Recipes