This pretty crispy moong dal kachori has everything that you dream for in a monsoon snack. Since I am posting the recipe during the monsoon season, I am calling it as monsoon snack. But this lentils stuffed snack has all the wonderfulness to be a all season snack. This year the monsoon phase of my life wasn't really like monsoon. Because unlike the previous years, the downpour was very poor and less. The heavy rain and umbrella weren't part of my every day routine here in India. It was all dry, cloudy and some times sunny too. So this drastic less-monsoon rain situation wasn't pleasing at all.
Weather has the power to redefine what we eat and what we crave for. Based on the weather conditions, some food take priority over the other. Like,  moong dal kachori <= the rain, the snow and the breeze can insist for such deep fried stuff. But I love eating it along with a cup of hot tea or coffee on any evening. It seems similar to biscuit roti in appearance but the stuffing and taste is quite different.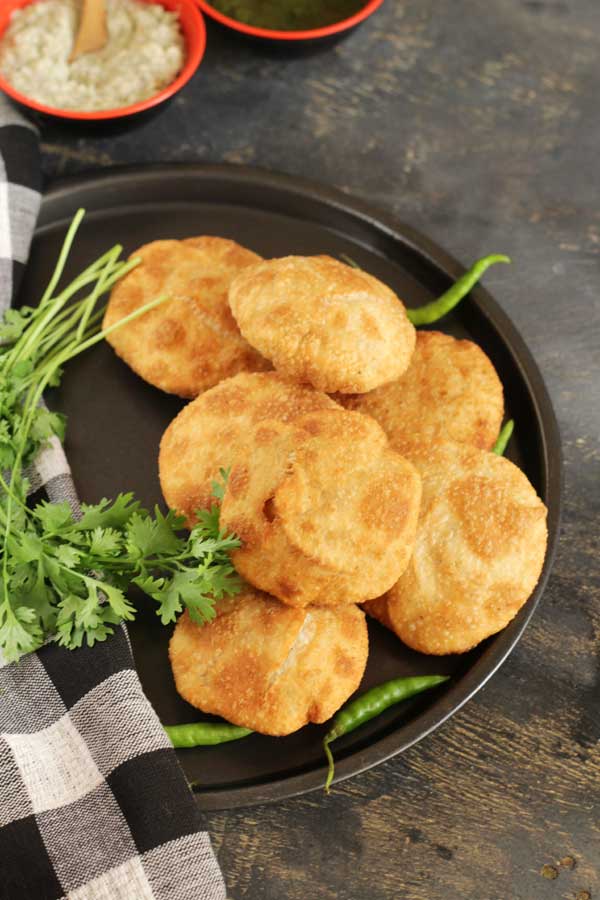 The spicy stuffing using powdered lentils as the base is super delicious and the crispy exterior takes it all to the next level. The spices really work wonders in the stuffing. Because you can completely control the spices that get in to stuffing and you can make variations as your taste buds demand. In a air tight container it can even stay crisp for couple of days which is why I keep such snacks ready beforehand if I ever propose to have a get together. Also if you are anticipating some guests in a day or two, then this moong dal kachori can probably be the best option. Make it, stock it and have the pleasure of relishing with your loving guests. And as a last note: keep me informed about how it turned out.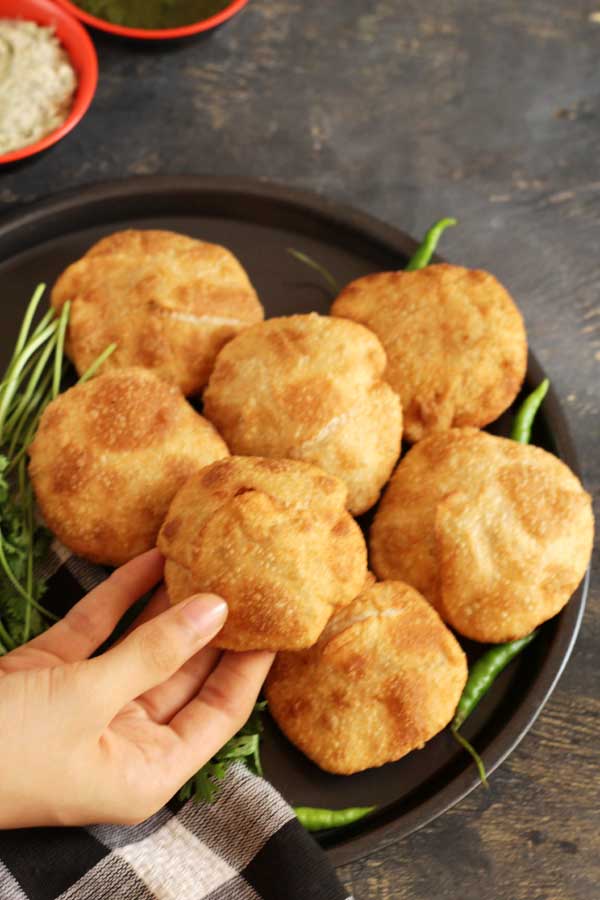 Moong Dal Kachori | Hesaru Bele Kachori
Ingredients
For stuffing

Split green gram lentils(moong dal)- 1/2 cup
Green chillies- 2 nos.
Grated ginger- 1/2 tsp
Turmeric powder- 1/2 tsp
Red chilly powder- 3/4 tsp
Coriander powder- 1 tsp
Salt- 1 tsp
Cooking oil- 2 tsp
Mustard seeds- 1/2 tsp
Split black gram lentils- 1/2 tsp
Curry leaves- Few
Garam masala- 1 tsp

For dough

Maida / All purpose flour- 1 cup
Medium rava / fine rava- 1/2 cup
Salt- 1 tsp
Hot oil- 1/4 cup
Cooking oil- Enough to deep fry
Instructions
Dough Preparation

In a wide bowl take maida, fine rava and salt. Give a quick mix. Then pour in hot oil and mix so that the flour crumbles.
Adding water little by little make stiff dough. Knead the dough well and cover it with a damp cloth for about 20 minutes.

Stuffing preparation

Heat a pan with lentils, with constant stirring roast them till the aroma wafts out. Take care not to burn them.
Let the lentils cool down to room temperature and powder it in mixer. Next heat a pan with oil, mustard seeds, split black gram lentils and curry leaves. Let the mustard splutter. Add chopped green chillies and grated ginger and saute for a whili. Then include yellow lentil powder to the pan.
Saute the powder for few minutes. Add the spices like turmeric powder, red chilly powder, coriander powder, salt, ginger and garam masala. Combine everything together and switch off flame.
After 20 minutes of resting, the dough is ready. Divide it in to 10-15 equal sized balls and keep them covered as well. Next take dough ball and roll it in to 2" disc. Put a two teaspoon of lentil stuffing at the center.
Bring the edges together such that the stuffing is covered from all sides. Seal on top. Carefully roll it again in to thick disc. Keep a batch of rolled kachori ready before proceeding.
Next heat enough oil in a pan and when it rightly gets heated up, carefully drop moong dal kachori and deep fry them till they turn brown on either side. Once done, remove from oil and drain over kitchen tissue.
Tasty and crispy moong dal kachori is ready to serve as evening snack witha a cup of hot tea/coffee.

Notes

The dough consistency is very important in making the kachori crisp and crunch. So let the dough be stiff and firm.
Hot oil addition to the dough helps in turning the kachori crisp. So do not skip adding it.
The stuffing can be prepared as per your preferences. You can add up or skip some of the spices.
Roll the dough little thicker than poori so that it can hold the stuffing.
https://udupi-recipes.com/2017/08/moong-dal-kachori-hesaru-bele-kachori.html
All the content in this website are © Copyrighted to – Udupi-Recipes