Mind blowing peanut onion chutney: putting stars in my chutney loving eyes since June 2017. I am loving peanut flavor in my side dishes. The protein rich nuts have enhanced the taste and flavor of chutney. During the hastle and bastle of morning busy hours, I don't get panic to find the coconut box empty. I have very good alternative which can effectively substitute coconut. And that is peanut plus onion combo.
And as you know, this vacation pace of life has made me less connected to Internet and web. You may feel my absence in Social media like facebook where your queries remain unanswered often these days. Which means I have prioritized my time towards family and enjoyment than blog and online world. And I guess it's probably the same in your case too. This slow pace of life with parents and siblings is like tonic for rest of my life in the year.
Peanut onion chutney has everything that I feel necessary in a side dish. The creamy thickness, intense red color and texture is good to go with idli and dosa both. You would feel the goodness when you taste for yourself.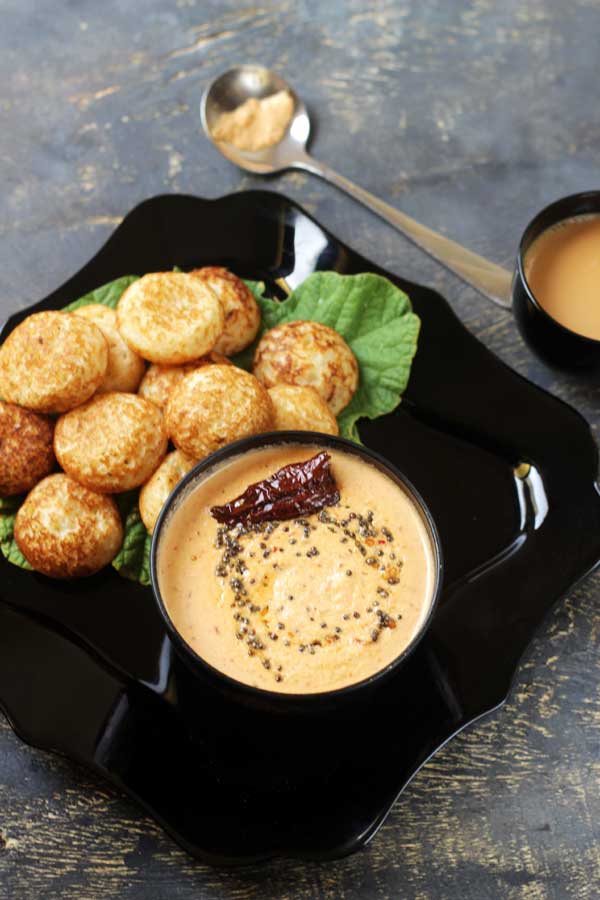 Peanut Onion Chutney | Idli, dosa side dish
Ingredients
Peanuts- 1/2 cup
Onion (small)- 1 nos.
Red chillies- 3 nos.
Garlic cloves- 2 to 3 nos.
Cumin seeds- 3/4 tsp
Tamarind- Marble sized
Salt- 1 tsp
Cooking oil- 1 tsp

To temper

Cooking oil- 1 tsp
Mustard seeds- 1/2 tsp
Split black gram lentils- 1/2 tsp
Broken red chilly- 1 no.
Curry leaves- Few
Instructions
Preparation

Peel off the onion and chop it in to medium sized chunks.

Method

Take peanuts in a pan and dry roast them still they shed their skin off. It may take few minutes. Let it cool down, then crush them between your palm to remove the skin off.
Heat a pan adding oil, onion, red chillies and garlic cloves. Roast them in medium flame and switch off.
Add roasted onion, garlic, red chillies, peanuts, cumin, salt and tamarind in a mixer and grind them together to little coarse puree. Add water as needed.
Yummy peanut onion chutney is ready to serve with dosa and idli.

Notes

You can use the roasted peanuts with skin too. In that case the color of the chutney would differ.
You can skip garlic, if you don't like the flavor in chutney.
While grinding the chutney, add water as per the desired consistency.
https://udupi-recipes.com/2017/08/peanut-onion-chutney-idli-dosa-side-dish.html
All the content in this website are © Copyrighted to – Udupi-Recipes