My most favorite thing to do with food is tweaking, twisting and giving a good make over. It simply can mean making the process of food preparation simpler or giving some extra rich looks or getting better taste. When the REAL samosa whose looks are similar to store bought ones happened in my kitchen, I wanted to make the process simple. So it's bread samosa today. The toughest part of samosa preparation according to me is getting the crispy (not soggy) exterior.  For a regular samosa, it's quite tricky to get the perfect dough.  So I was planning a simpler, beginner friendly version of the same. And the thought emerged was "bread".
When it is still "Monsoon" and as it is the perfect weather to indulge in the goodness of samosa, I was pretty happy to deal with bread samosa. No hassle of  dough and it's consistency, you can use up the loaf of bread you have in your pantry.
If you are a person who loves to treat guests and friends through lip-smacking food and delicacies, then bread samosa can come very handy. The spicy potato stuffing is what you can prepare before-hand. The stuffing can have little this and little that as per your choice. Like, you can use spices of your choice and veggies like carrot, beetroot and greens like MINT. The possibilities are endless and every possibility has a genuine taste.
The bread, which actually acts as samosa exterior has to be rolled carefully to get it right for the stuffing. When you cut a rolled bread slice in to two triangles, you are almost there to obtain perfect triangular shape. The paste of maida and water acts as a glue and really helps to keep the stuffing IN.
Bread samosa was like food of the season speaking to my taste-buds. How do you feel?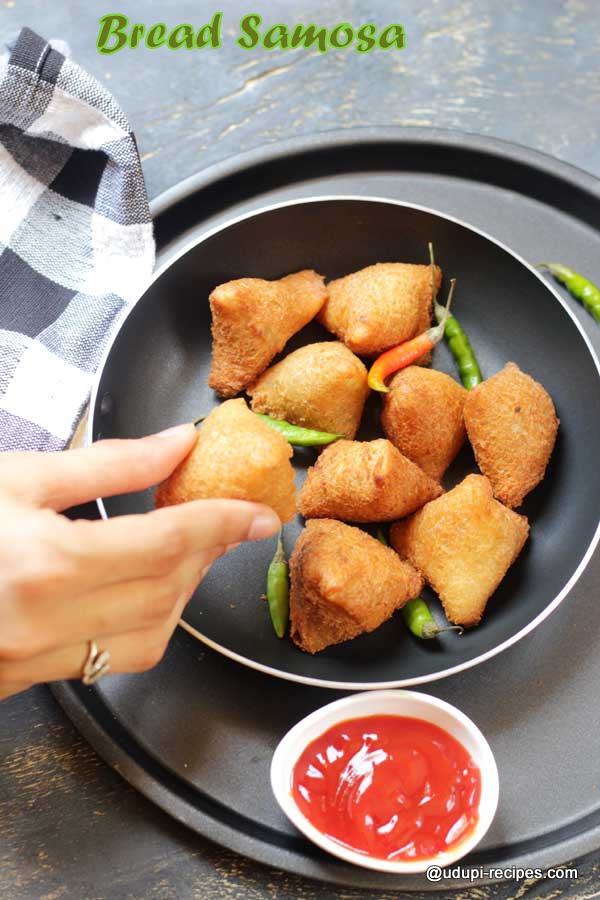 Bread Samosa Recipe | Easy Samosa using Bread
Ingredients
Bread slices- 8 nos.
All purpose flour- 1 tsp
Water- 2 tsp
Cooking oil- Enough to deep fry

For stuffing

Peas (Fresh or frozen)- 1/2 cup
Potatoes- 3 nos.
Grated ginger- 1 tsp
Salt- 1 tsp
Red chilly powder- 1 tsp
Turmeric powder- 1/2 tsp
Garam masala- 1/2 tsp
Amchur powder- 1/2 tsp
Cumin seeds- 1/2 tsp
Cooking oil- 2 tsp
Coriander leaves- Handful
Instructions
Method

Cut the potato in to half and pressure cook it until soft. Let the pressure subside naturally then peel off the skin from potatoes, crumble it well and keep aside.
Heat a pan with oil, cumin seeds and grated ginger. Saute for while. Add in fresh peas and all the spices like turmeric powder, red chilly powder, garam masala, amchur powder and salt. Mix well.
Include crumbled potatoes and stir well for stuffing to come together. Finally add coriander leaves, mix and keep it aside. Samosa stuffing is ready, lets proceed with dough.
Take a bread slice on kitchen counter and carefully trim the edges off.
Meanwhile in a bowl add all purpose flour and water and mix in to smooth, flowing batter. Keep aside. Next using a rolling pin, roll the trimmed bread thinly taking care not to tear it.
Cut the rolled bread diagonally in to half making two triangles at each side. Take a single triangular piece and apply maida paste from the mid point till the end at the diagonal cut edge. Next, from the mid point overlap the edges such that it forms a cone. Press and seal it.
Fill 3/4 of this cone with a tea spoon of stuffing and cover with sealed side.
Apply maida paste at the edge of uncovered side, press and seal to complete the cone of samosa. Keep a batch of samosas ready for frying.
Heat a wok with enough oil to deep fry the samosa. When it rightly heats up, carefully few samosa in to it. Let it fry for few minutes in medium flame. Once done, remove from oil and drain over kitchen tissue.
Repeat the process with rest of the samoss. Easy and crispy snack bread samosa is ready to serve with a cup of tea.

Notes

Do not mash up the potatoes while making stuffing, let it be in crumbled form.
You can vary the spices of stuffing according your preferences. I haven't added green chillies to keep the spice-level minimum.
Choose the bread slices that are little big in size. Roll it carefully otherwise it will tear up.
After filling, you can refrigerate and deep fry just before serving to enjoy crispy samosas.
https://udupi-recipes.com/2017/08/bread-samosa-samosa-using-bread.html
All the content in this website are © Copyrighted to – Udupi-Recipes