Yesterday was the most craziest and fun food day of my life. It doubled up when the perfect seeming samosa turned out perfect in taste department too. These golden brown beauties were amazing with crispy crust and the best ever spicy stuffing of potato.  Samosa, the famous ever snack of most states of India has all the stuff that a spicy snack lover would ever dream for. This samosa magic happened in my kitchen as an accident, meaning a day before I had no plans as such. Because, such deep frying kind of cooking during hottest summer seems impossible to me. Think of hottest you have ever felt in your life and multiply it by 100, that's how it feels to stand in front of a hot pan of frying oil in a small kitchen here in UAE. Because, it is SAND WORLD friends, SUN WORLD.
Despite the not-so-good weather and situation, the samosa magic happened in my kitchen with the great support from all my family members. I took advantage of having another adult around in my kitchen assisting, making things happen smoothly. That reduced my stress which otherwise would have raised like summer temperature of UAE.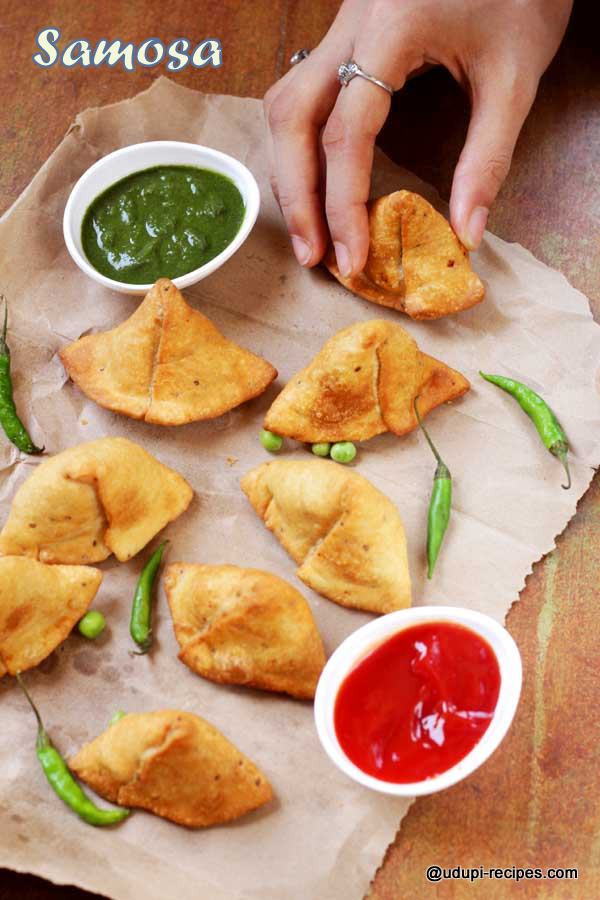 Watch the video:
Little did I know the trick to be mastered for a perfect samosa until I messed up few times. Yes, the trick is to get the dough consistency right. The flawless, stiff dough is what needed for a perfect samosa. The amount of ghee added to the all purpose flour is quite vital, it determines the outcome. The stiff dough has to rest for few minutes and then shaping it like a perfect cone is also bit trickier. Which you would master after shaping few samosa on you own. You all wonderful chefs out there would get hold of the recipe in no time which I bet for sure. Get this going on friends…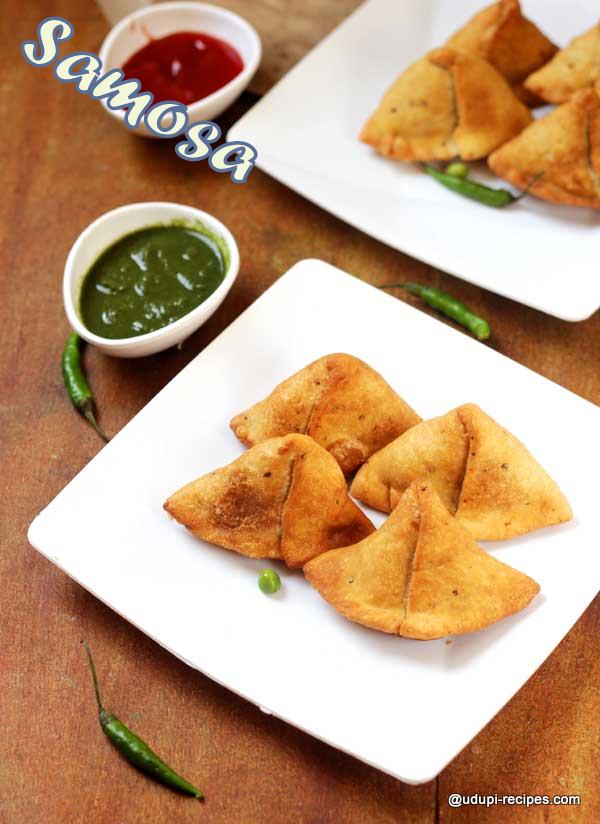 Samosa | How to Prepare Perfect Samosa ?
Ingredients
For dough

All purpose flour- 2 cups
Carom seeds- 1 tsp
Salt- 1 tsp
Ghee (clarified butter)- 4 tbsp
Cooking oil- Enough to deep fry

For stuffing

Peas (Fresh or frozen)- 1/2 cup
Potatoes- 3 nos.
Grated ginger- 1 tsp
Salt- 1 tsp
Red chilly powder- 1 tsp
Turmeric powder- 1/2 tsp
Garam masala- 1/2 tsp
Amchur powder- 1/2 tsp
Cumin seeds- 1/2 tsp
Cooking oil- 2 tsp
Coriander leaves- Handful
Instructions
Preparation

Sieve the flour and take it in a wide bowl. Add salt, carom seeds and 3 tbsp of ghee. Give a quick mix.
The ghee reduces the sticky-ness and makes the flour to crumble. Adding water little by little, prepare stiff dough. Knead well and cover it with damp cloth for 15 minutes.

Method

Cut the potato in to half and pressure cook it until soft. Let the pressure subside naturally then peel off the skin from potatoes, crumble it well and keep aside.
Heat a pan with oil, cumin seeds and grated ginger. Saute for while. Add in fresh peas and all the spices like turmeric powder, red chilly powder, garam masala, amchur powder and salt. Mix well.
Include crumbled potatoes and stir well for stuffing to come together. Finally add coriander leaves, mix and keep it aside. Samosa stuffing is ready, lets proceed with dough.
After the resting time, knead dough once again and divide it in to 10-12 balls. Take a ball, apply some oil over and roll it in to medium thickness oval. Then cut in to half horizontally.
Take one of halves and apply little water at the cut edge. Bring it together in to cone shape and fill 3/4 of it with prepared stuffing.
Make a single pleat just opposite the to the sealed side. Apply little water to that edge and seal it with opposite edge. This gives triangular samosa shape.
Repeat the process with all the dough balls. And keep a batch of samosas ready to fry. Meanwhile heat a pan with enough oil and when the oil gets heated up, keep the flame to medium and drop a batch of samosa in to oil.
Fry them in medium flame till the crust turns brown, once done remove from oil using a slotted ladle and drain on kitchen tissue paper.
The famous snack potato samosa is ready to serve with green chutney and tomato ketch up.

Notes

The consistency of the dough is very important because it makes the perfect crust of samosa.
The amount of ghee added to make the dough is very crucial, do not compromise with it.
Resting the dough for 15 to 20 minutes also helps in obtaining perfect crust of samosa.
Do not mash up the potatoes while making stuffing, let it be in crumbled form.
You can vary the spices of stuffing according your preferences. I haven't added green chillies to keep the spice-level minimum.
Keep enough oil in the wok to deep fry the samosas, otherwise it touches the base of the wok and turns brown.
https://udupi-recipes.com/2017/06/samosa-prepare-perfect-samosa.html
All the content in this website are © Copyrighted to – Udupi-Recipes