Instant cravings for food, tickling palates for some spicy food always drag me towards street food.  Because these are the ready-to-eat spicy food variations that have the potential to instantly satisfy our food cravings. At the same time such food stuffs are easily available around the street on a portable food cart. "Street food" the word itself stimulates the taste buds of my tongue filling my mouth with water. The charm of such food is so much fascinating that the food senses get tantalized to the extent that I surrender to my hunger pangs. And make an instant decision of diving in to the yummy-ness. One such street-food which drives me crazy is churmuri.  A simple, reasonable yet delectable delicacy made up of puffed rice.
Those of you who follow me and my blog since some time would have figured out my taste by now. I genuinely love chaat and street foods than sweet things. I can indulge in each and every chaat (love sweet corn chaat)where as when it comes to sweet things I become too much choosy.  So as I write this post my mind literally goes through all chaats in no particular order to be enjoyed in India during our upcoming visit. Crazy!! isn't it? If you too make such food-plans prior to your travel, then pinch me. We are food-twins.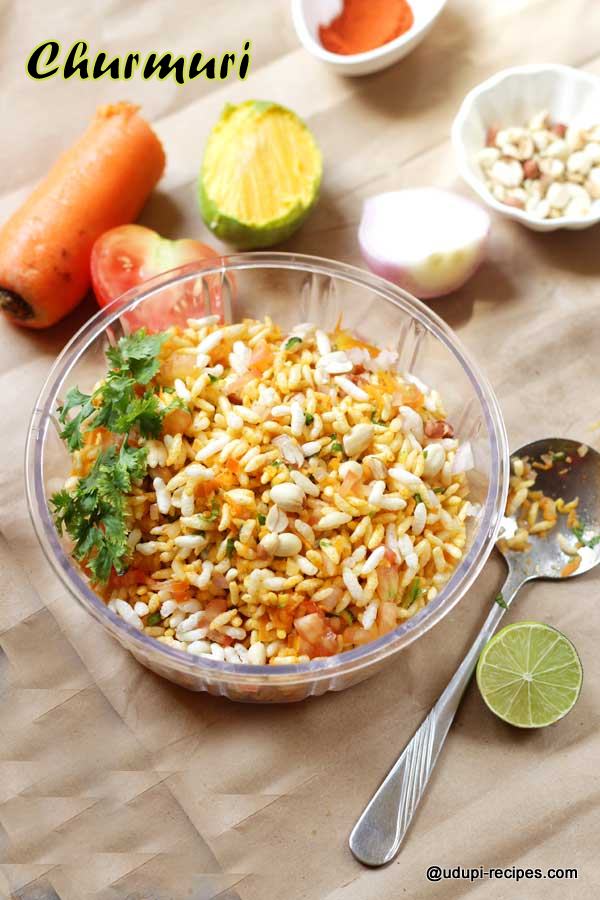 Here, I am presenting churmuri, in it's basic form. Which means it has lots of variations with distinct flavors and spices. Each locality in Karnataka sell the said chaat on their streets with the toppings of their own. This basic form has onion, tomato, carrot as major vegetables with spices being chilly powder and salt. I love the peanuts for it's crunch factor and raw mango for the tang. And in monsoon season this churmuri tastes beyond words. I am dreaming…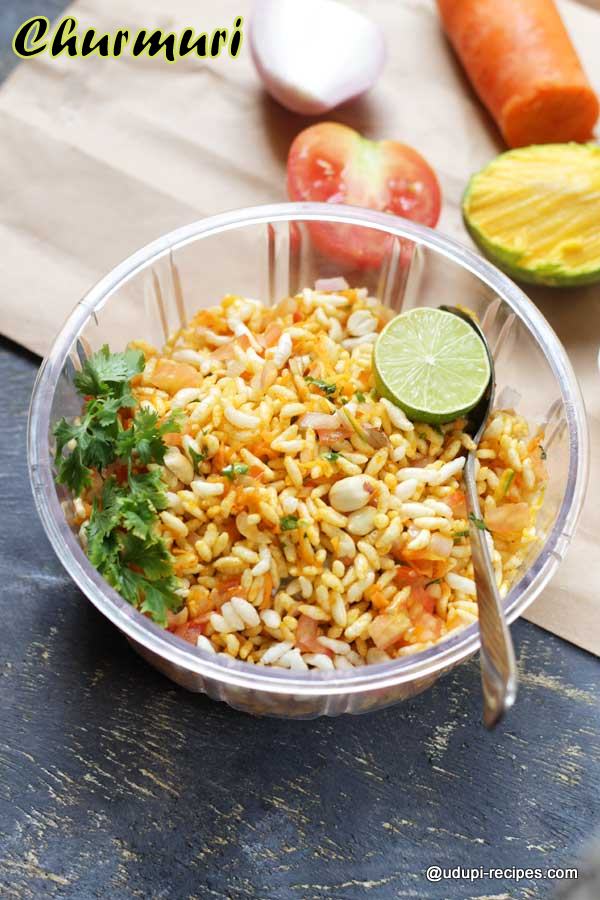 Delicious Churmuri | Spiced Puffed Rice
Ingredients
Puffed rice- 2 cups
Coconut oil- 3 tsp
Onion- 1 no.
Tomato- 1 no.
Carrot- 1/2
Raw mango or lemon- 1/2
Salt- 1/2 tsp
Red chilly powder- 1/2 tsp
Chopped Coriander leaves- Handful
Roasted peanuts- 1/8 cup
Instructions
Preparation

Finely chop the onion and tomato. And keep the carrot and raw mango grated.

Method

In a wide bowl add oil, onion, carrot, raw mango, coriander leaves, salt and red chilly powder. Mix it thoroughly. Next add puffed rice and combine everything well such that spices coat up the puffed rice.
Finally top it with tomato and roasted peanuts. Serve immediately.

Notes

Tomato makes the puffed rice soggy, so add it at the end.
I have used roasted peanuts, you can even use deep fried masala peanuts.
If mangoes are not in season, you can replace it by lemon.
Always serve the churmuri immediately otherwise it will turn soggy.
https://udupi-recipes.com/2017/06/delicious-churmuri-spiced-puffed-rice.html
All the content in this website are © Copyrighted to – Udupi-Recipes