Good news for those of us who love conveniences such as packing all the good stuff – health wise and taste wise in to one single treat to feed our hungry selves between meals or in the evening. Yes it's good news, in the sense that this sweet corn chaat has all the super fantastic stuff that you love to feed yourself and your family in the form of drool-worthy chaat.
Generally in the weekends I would really love to make fun snack for the kids who are super hungry between brunch and dinner, but the snacks that are made in NO TIME practically win the situation. At the same time if it could be something that is nutritious, energy giving real food, then I would be a super happy mother. This sweet corn chaat is that same kind of  snack which has power packed corn, carrot and onion that are topped with spices and plain sev.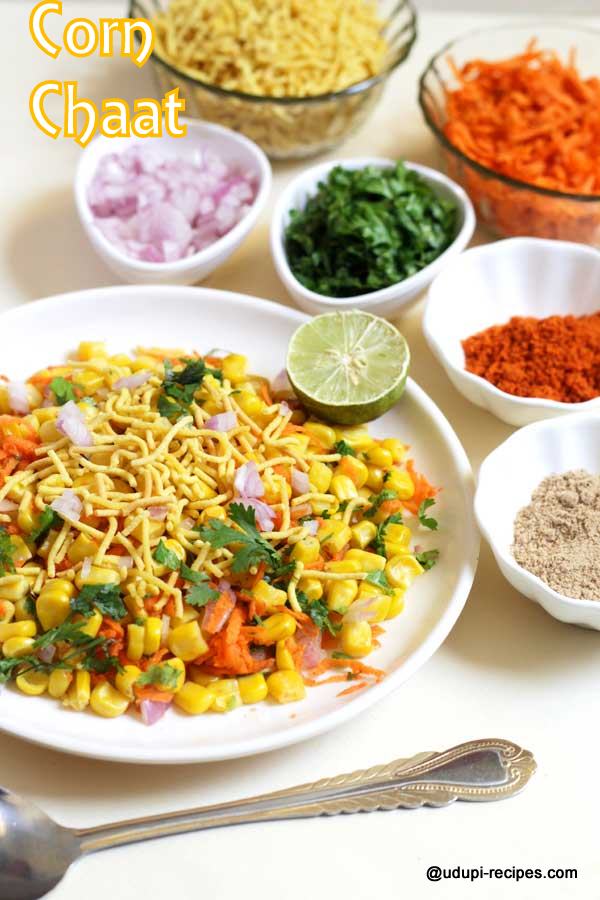 Sweet corn chaat recipe is very much forgiving, meaning you can add every other thing that you can eat raw and which mutually goes very well with sweet corn. Say handful of spiced peanuts. Peanuts can give a warm crunch and crispiness to the chaat. Also if you have a nice raw mango that is not so sour, you can grate and top the corn chaat that can effectively replace the lemon juice. Colored bell peppers, finely chopped tomatoes, broken murukku and what not you can use to top it?  Each of these can infuse it's own unique taste to the chaat.
So why are you waiting, go get the sweet corn right now.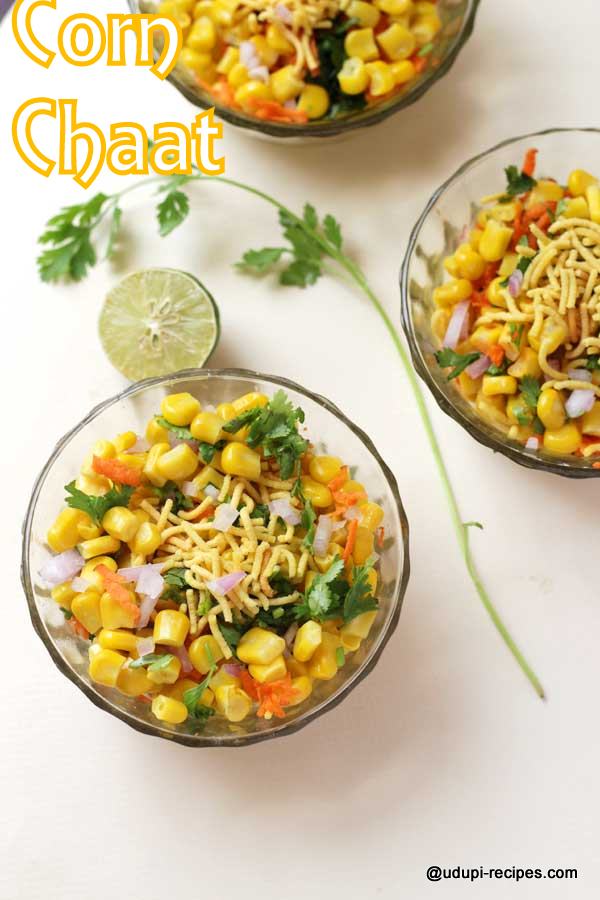 Ingredients
Sweet corn- 2 cups
Grated carrot- 1/4 cup
Finely chopped onion- 1/4 cup
Plain sev-1/4 cup
Lemon- half
Finely chopped coriander leaves- 1/4 cup
Salt- 1/4 tsp (adjust to taste)
Red chilly powder- 1/2 tsp
Chaat masala powder- 1/4 tsp
Instructions
Method

Take sweet corn in a vessel adding water up to it's level. Cook it in medium heat and as the water comes to rolling boil, switch off the flame.
Strain the cooked corn using fine strainer and assemble all the other ingredients. In a wide bowl mix everything, squeeze lemon and serve immediately topping generously with plain sev.
Nutritious sweet corn chaat is ready to serve in the evening with a cup of tea.

Notes

Do not overcook the sweet corn which turn mushy and doesn't taste good.
There is no hard and fast rule on the ingredients that goes in to the chaat. Meaning you can add finely chopped tomato, grated raw mango, spiced peanuts as per availability and preference.
The plain sev makes the chaat crunchy, so do not skip it.
https://udupi-recipes.com/2016/05/sweet-corn-chaat-recipe.html
All the content in this website are © Copyrighted to – Udupi-Recipes