Friends, let me confess about Mango mania which is happening in this blog since summer has set forth. Do you remember the glorious dessert mango kesari which was my first mango based recipe of the year that has shown up here months back? The same mango food mania continued to a dairy based dessert mango vermicelli kheer and now it is intense golden colored mango poori.
So literally as I set to cook, my mind thinks if that particular recipe can have mango in it?? If it is, then I think whether mango intensifies the taste and look of that food? After cooking, if it actually makes my mouth feel happy, then I make sure it shines on the blog as a outcome of my inherent Mango mania.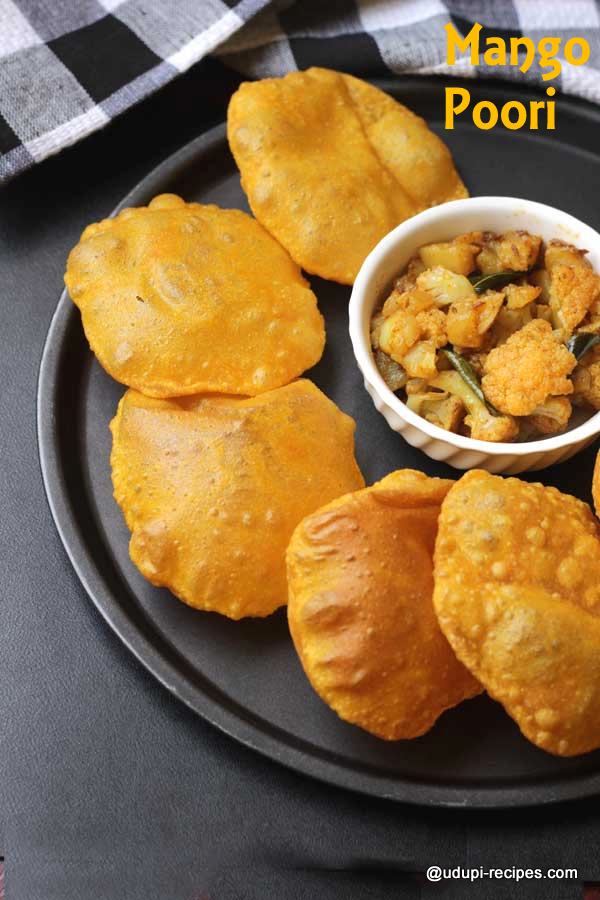 A box full of Alphonso mangoes that are ripe and sweet, pulpy and intense were insistingly sold to us by  our regular, local vegetable vendor who is kind of super good in selling quality produce. We are happy that we bought them because the mangoes were too sweet and delicious. So the lunch menu for the day had poori which obviously got transformed in to mango poori and it was such a wonderful and filling meal that poori emptied within no time.
Mango poori like a regular poori, has mango pulp, yogurt and flour in it. Mango pulp makes the poori little sweet and soft but gives a glorious color that is visually appealing and photogenic. Any side dish would go well with this poori, and we had it with cauliflower potato masala and it was tasty.
Mango Poori | Aam Ki Puri Recipe
Ingredients
Mango - 1 no.
Wheat flour- 1 cup
Yogurt- 1/4 cup
Salt- 1/2 tsp
Cooking oil- Enough to deep fry
Instructions
Method

Peel off the mango and chop it in to cubes. Put all the cubes in a mixer and blend to make fine puree. In a wide bowl add wheat flour, mango puree, yogurt and salt. Mix well. Adding water little by little make a pliable dough just like chapati.
Next knead the dough well and divide it in to 12 equal parts. Toss these dough balls with some oil, so that rolling is easy. Take a ball and using a rolling pin roll it in to disc of 3" to 4" wide. Continue rolling all the dough balls and keep them on a wide plate.
Next heat enough cooking oil in a wok and as it gets heated up, carefully slide rolled mango poori. As it puffs up, turn it using slotted ladle and cook the other side too. Remove from oil and drain excess oil on kitchen tissue paper. Repeat this process with all the rolled pooris.
Visually appealing golden yellow mango poori is ready to relish with any side dish.

Notes

Ensure mango puree has no chunks of mango if you are making it at home.
You can even use canned mango puree. Approximately half cup of puree is enough. If you use more pulp, then dough will not turn stiff.
You should have enough oil in the wok to get the puffed poori. Otherwise it will not puff up nicely.
https://udupi-recipes.com/2016/05/mango-poori-aam-ki-puri-recipe.html
All the content in this website are © Copyrighted to – Udupi-Recipes