Meet my newest obsession of popsicles with a  healthy, fruit based, sugar free pop that looks as cute as it tastes. I mean it seriously. If you are a popsicle lover then you will definitely fall in love with this banana mango swirl popsicle. I can give few reasons why you can easily love these.
This pop candy is totally fruit-based. All the goodness of mango and banana has made them amazingly incredible.
If you like milk and milk products in popsicle, then you have a reason to devour the popsicle. On the contrary if you hate milk or you are a VEGAN, use either coconut milk or almond milk.
On top of all this, banana mango swirl popsicle is SUGAR free. The two fruits that are naturally sweet like that have made the popsicle taste like a sugar loaded one. So good on your tongue and health both.
So do you find any reason to deprive your kids from these super exciting summer treat?? No, right??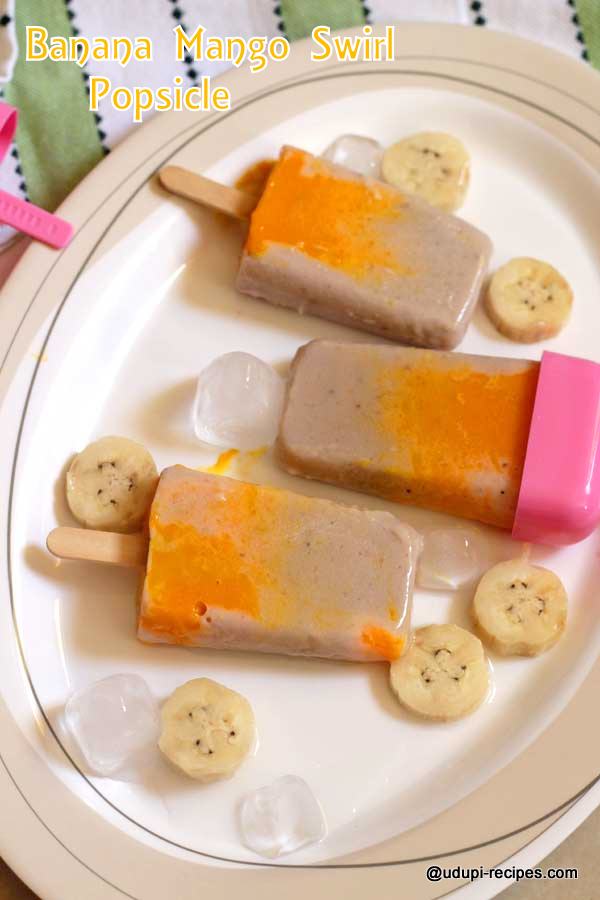 As I gently pulled the popsicle out from the frozen mould, I was stunned to see the color swirls of both mango and banana. Both colors perfectly blend with each other making the popsicle drool-worthy. I was totally excited to capture them in my camera before it actually melts in or let me put in other words like I was excited to lick the popsicle holding in my hand just right in the afternoon when SUN is still hot and burning.
Try this banana mango swirl popsicle and let your children relish them as mid-day snack. Even the fruit haters can not resist themselves from licking these candies.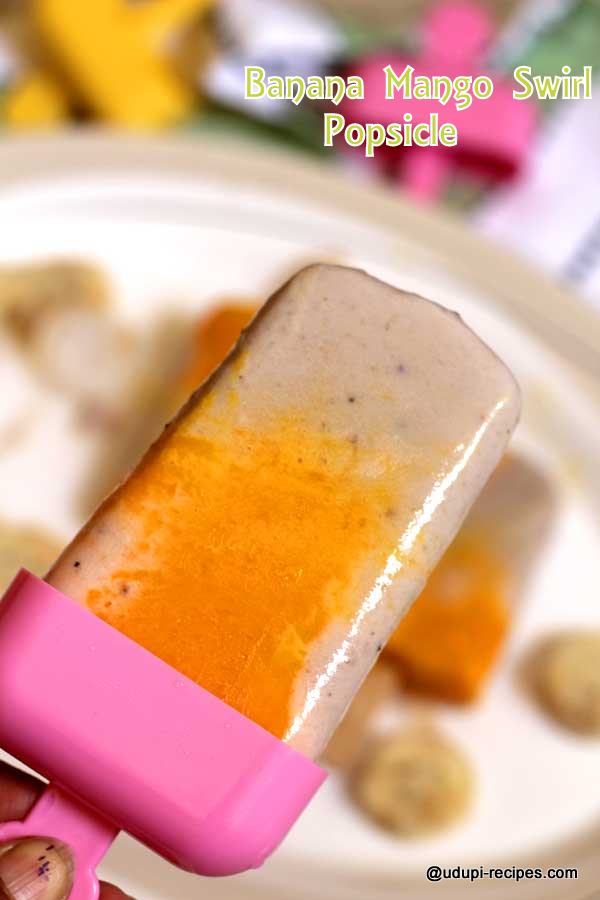 Banana Mango Swirl Popsicle Recipe
Ingredients
Banana- 2 nos.
Ripe and sweet Mango- 1 no.
Milk (boiled and cooled)- 1/2 cup
Instructions
Preparation

Peel off the mango and banana, chop them in to cubes and slices respectively.

Method

Take the banana slices in a mixer jar, add milk and blend it to puree. Adjust the consistency by adding some more milk or water. It should be in pour-able consistency. Transfer it to a vessel.
In the same mixer jar add mango cubes and blend it to thick pulp without adding any water. Keep it aside. Next take the popsicle mould and first pour banana puree till half level of mould and then add 3 tsp of thick mango pulp on the top.
Next using a stick or spoon swirl it so that mango pulp swirls with banana and gives a pleasant look. Then close the lid of popsicle mould and keep in deep freezer for about 5 hours. After the freezing time, remove and pour some warm water over popsicle mould.
Gently remove the banana mango swirl popsicle from the mould and enjoy on any sunny afternoon.

Notes

As both banana and mango were very sweet, additional sweetener like sugar wasn't required. You can add if you prefer.
Remember while blending the banana with milk, adjust it to pouring consistency. Otherwise it will be thick.
If you don't have popsicle mould, you can try using paper cups, which can be torn to demould the popsicle.
https://udupi-recipes.com/2016/05/banana-mango-swirl-popsicle-recipe.html
All the content in this website are © Copyrighted to – Udupi-Recipes