I am on the Summer train whipping up fruity juices and popsicles that help to cool myself down in order to get energized to make stuff like papad, pickle and fryums that are stocked to use for a year or so.  It's my best possible Summer life and this raw mango juice makes it happen in less harder way. As hydration and rejuvenation has been taken care by juices, I am unleashing the summer self within.
Most of the time whenever I buy raw mangoes and stock in refrigerator, they never make appearance on my kitchen table to cook. They disappear directly from fridge to kids mouth.  Yes, my kids are fascinated to eat mangoes raw with salt and chilly powder than to turning it something yummy through cooking to consume. Thus I end up with no food for blog and hence no blog post. 🙁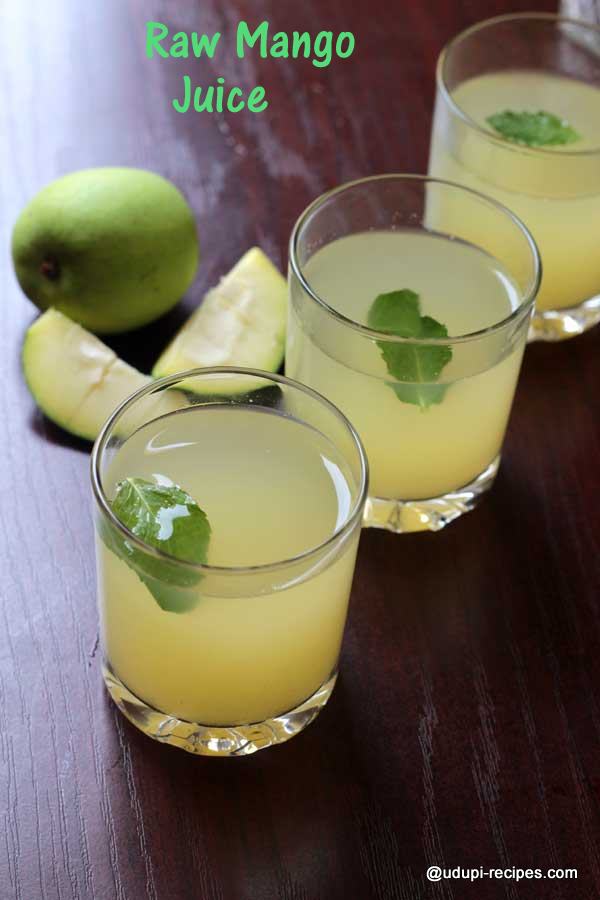 I had to somehow hide these green mangoes to get my portion of posts running in the blog and I could make an awesome raw mango juice to beat the heat this afternoon.  It is overwhelmingly cool and rejuvenating drink,  lets your energy flow through creative outlet with it's cooling abilities.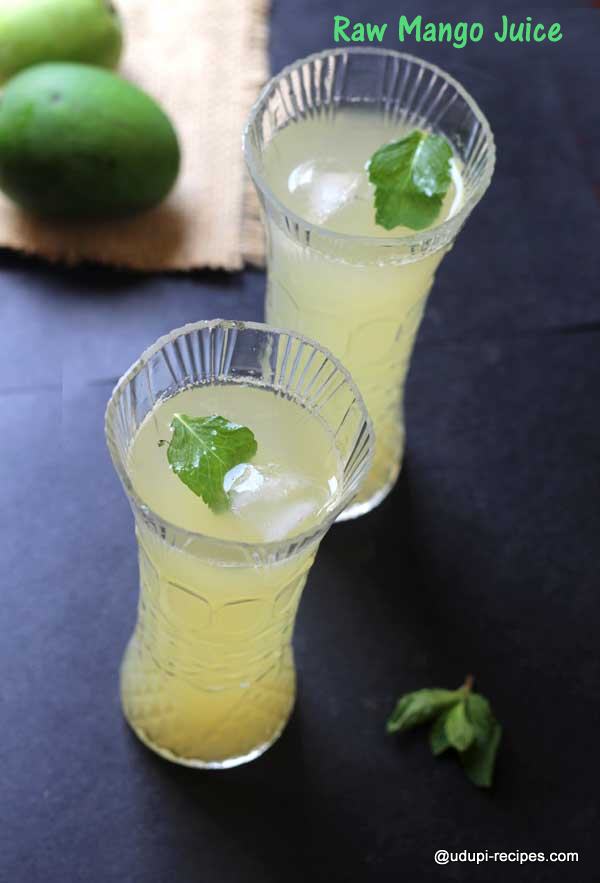 Raw Mango Juice | Aam ka Panna Recipe
Ingredients
Raw mango (medium sized)- 1 no.
Jaggery or sugar- 1/3 cup
Cardamom powder- 1/2 tsp
Instructions
Method

Heat pan adding mango and 1/2 cup of water. Let the mango cook till soft that you can easily peel off and scoop it's pulp. Once the mango cools down, scoop the pulp and puree it in mixer.
Again heat the pan with pureed pulp and jaggery. Cook it till the jaggery dissolves completely. Add cardamom powder, mix and switch it off. Let it cool down. This is raw mango preserve and you can store it in refrigerator.
Whenever you feel to relish raw mango juice, add 1/4 cup of preserve and 3/4 cup of water. Mix and serve topping it with ice cube.

Notes

I have used jaggery in this recipe, you can substitute with sugar too.
The quantity of jaggery or sugar depends upon the sourness of mango. So adjust accordingly.
You can even top it with chaat masala or pepper or mint leaves for extra flavor.
https://udupi-recipes.com/2016/05/raw-mango-juice-aam-ka-panna-recipe.html
All the content in this website are © Copyrighted to – Udupi-Recipes