Super delicious and YUMMY oats paniyaram has made my routine evening snack a truly easy affair since last week. My kindergartner son lovingly ate the cute paniyaram holding in his tender hands biting a mouthful without dipping in any side dish. Meaning he could fill his hungry self himself with no one feeding him around. So I am a happy mother who enjoys that piece of freedom during snack-time.
Oats, this healthy cooking thing has been part of my kitchen life since a year but some how I didn't even post a single recipe using the cereal this year. We are already halfway through 2016 and this oats packet of my grocery stock has been lost deep down in the pantry.  Oh my gosh. How could I miss such a healthy goodness in my food life? When such a thought struck my mind, it was already afternoon and I was planning lunch menu. So what next?? Snack with oats was the only option left.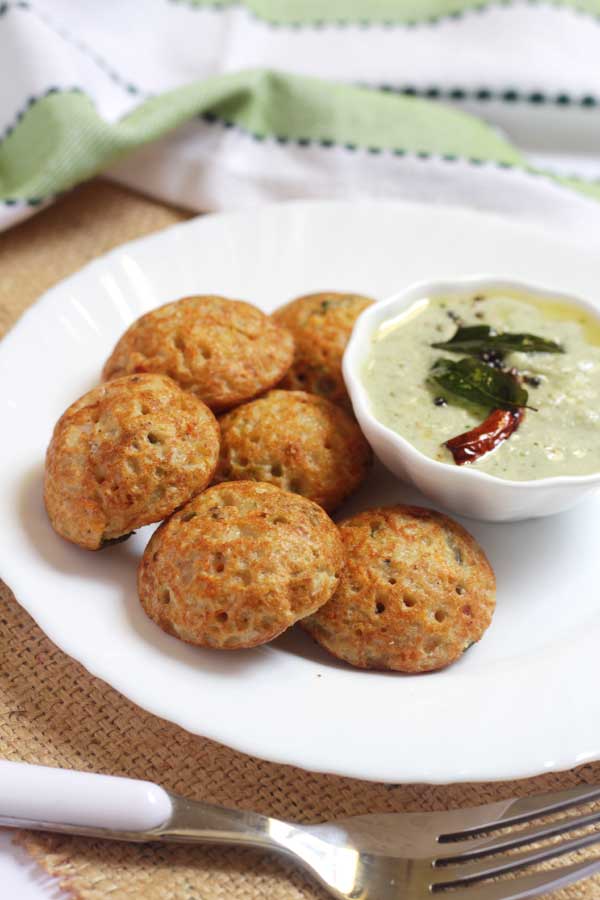 As my meal was getting ready, side by side I could actually prepare oats paniyaram batter which has powdered oats, rice flour and yogurt as three main components. The batter consistency should not be too thick nor too thin which may affect the softness of end product. You need to adjust with additional water. Baking soda is a optional one to include in case of instant version. Otherwise, if you can rest the batter for an hour or so, then just skip it.
You can play around and make variations in veggies that you add to the batter. I used sauteed onion, carrot and coriander leaves to make oats paniyaram one level up in a healthy way. I guess some dill leaves, tomato, fresh green peas should also enrich the healthiness.
Instant Oats Paniyaram | Oats Guliappa Recipe
Ingredients
Oats- 1 cup
Rice flour- 1/4 cup
Yogurt- 1/2 cup
Grated carrot- 1/3 cup
Onion- 1 no.
Salt- 1 tsp
Baking soda- 1/4 tsp (optional)
Fresh grated coconut- 4 tsp (optional)
Chopped coriander leaves- 4 tsp (optional)
Cooking oil - Enough to cook appam

Seasoning ingredients

Cooking oil- 2 tsp
Mustard seeds- 1/4 tsp
Split black gram lentils- 1/4 tsp
Curry leaves- Few
Instructions
Preparation

Dry roast the oats in a pan under medium heat with constant stirring. When they turn little crisp, switch off the flame and let it cool down. Then transfer it to a mixer and make coarse powder.
Chop onion finely and keep it aside.

Method

Heat the pan again adding all the seasoning ingredients in the order mentioned. As the mustard seeds crackle add chopped onions and saute. When the onions turn translucent include grated carrot and stir till the raw smell subsides.
In a wide bowl add powdered oats, rice flour, yogurt, salt, baking soda, sauteed onions plus carrot. Combine everything well and adding water little by little make a batter of dosa batter consistency. I have added chopped coriander leaves and fresh grated coconut too.
Next, heat appa pan (paniyaram pan), grease with oil and pour the batter in to each depression. Cook covered for few minutes. When it gets cooked from top, turn it over using spoon and cook other side too.
Remove them from pan and relish it with chutney and sambar. It can be a good breakfast or evening snack too.

Notes

Roasting oats helps in reducing the raw smell and in powdering.
For instant oats recipe, it's better to add baking soda. If you have time to rest the batter for an hour, then baking soda is not required.
You can make it spicy by adding red chilly powder or finely chopped green chilly to the batter.
Coriander leaves and grated coconut help enhancing the flavor. So do add them.
https://udupi-recipes.com/2016/05/instant-oats-paniyaram-oats-guliappa-recipe.html
All the content in this website are © Copyrighted to – Udupi-Recipes