These crispy, golden chips drive me crazy all the time.  Be it tapioca chips, potato chips or these nendra banana chips all have enticed my food life immensely.  Even though chips never seems to fill your tummy or fulfill your hungry cravings, they are the best ones as lazying around snacks. At every random cravings of something crispy, crunchy delicacy, I see the picture of chips varieties. Amazingly  thin, addictive, full of color and coconut flavor-y chips are my favorite since childhood.
But let me admit the fact that, before I never made these nendra banana chips at my home, all by myself. I didn't even know whether raw, green nendra banana or ripe one is used to make them. But I was all excited  to make these crispies in my kitchen. Last week when I found matured, green, raw nendra bananas at the fruits counter of  nearby Super market I couldn't resist myself from buying. And it gave me a chance to whip up these beauties.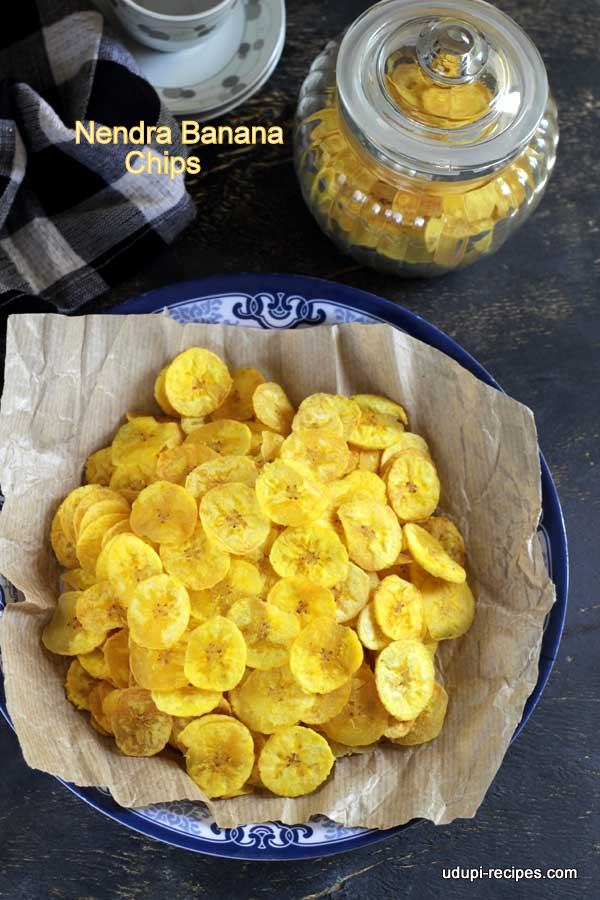 Preparing is nendra banana chips is all easy. But it's better to note down few things like:
The nendra banana should be raw, green and firm. That are turning 'yellow' aren't suitable.
Coconut oil is the best one to deep fry these chips. It gives authentic flavor and taste.
When deep frying a batch of chips, adding the paste of turmeric powder and salt gives them nice color and taste. But precaution to be taken because oil splutters when you add it.
Subsequent batch of chips would need less of that salt. So add accordingly.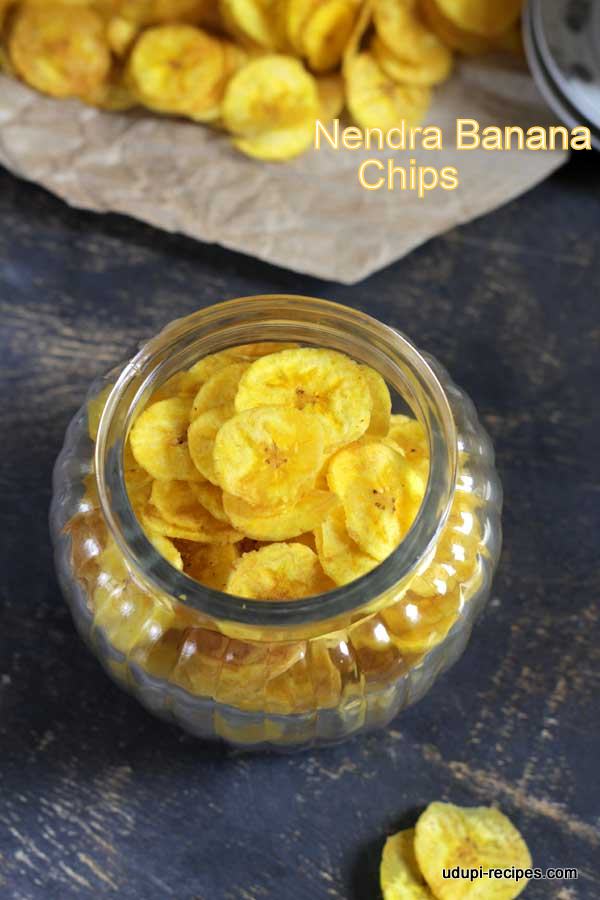 Ingredients
Green(raw) nendra banana- 4 nos.
Turmeric powder- 2 tsp
Salt- 1.5 tsp
Coconut oil- Enough to deep fry
Instructions
Method

Choose green matured nendra bananas and trim the edges. Make a slit on it's skin.
Peel the skin off from nendra banana through the slit. And keep the peeled bananas immersed in water to avoid discoloration. Pick a banana from water and wipe it off.
Using a sharp chips grater, slice the banana in to thin chips. Meanwhile heat enough oil in a wok and when it heats up, carefully drop the chips in to oil. Keep the flame in medium.
In a bowl add turmeric powder, salt and some water. Mix them together to thin paste. Carefully include a tea spoon of this paste in to oil. (be careful as it splutters).
When sh...sound seizes and chips are fried, using slotted ladle remove them from oil and drain off excess oil.
Repeat the above process till all bananas are done. Home made nendra banana chips are ready to munch when you are lazying around.

Notes

The nendra banana should be green and matured. Ripe banana doesn't suit this purpose.
Keep the peeled banana immersed in water to avoid discoloration.
Please note that before slicing, banana should be wiped off to make it moisture free. Don't skip this step.
To check the oil temperature, drop a single slice of banana. If it raises to the top immediately, then the oil is perfect for deep frying.
Check the salt in first batch of chips and include only half teaspoon of salt paste to the subsequent batch.
Do not let the chips turn brown.
https://udupi-recipes.com/2018/10/nendra-banana-chips-easy-to-make-at-home.html
All the content in this website are © Copyrighted to – Udupi-Recipes