One of the most common questions a new mom asks while nurturing her baby is what food should be fed? How to prepare it and store? How to make the food tasty for babies?  When solid food is to be introduced and so on. Babies are bundle of joy for a family and they have to be fed a nutritious food on a daily basis. When a baby becomes 4 to 5 months old,  solid food  like porridge kind of thing is usually introduced. And this food should act like supplement to every nutrition requirement of a baby. Today let me give a recipe which has been followed by all my ancestors. The food that I have been ate as infant and fed my babies as well. Ragi milk porridge, a nutritious infant food ever.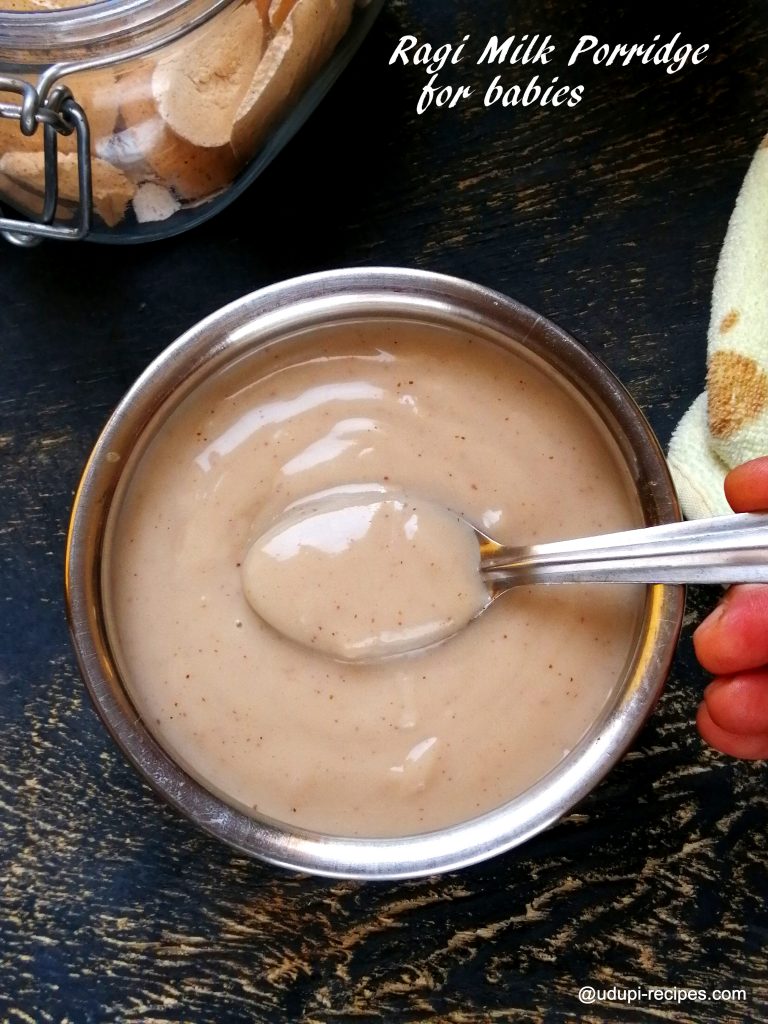 Finger millet is said to be a cereal that is easily digestible to infants, hence this ragi milk porridge is made at most of the households to keep their babies healthy and fit. It comes very handy to quickly prepare a filling meal for your baby. When my kids were infants, I used to prepare a batch of finger millet milk biscuits and stock for a fortnight. These biscuits are made using extracted ragi milk and they easily dissolve in water and cook to perfect porridge.
Few things to note when preparing these biscuits are
The milk extracted from finger millet and wheat  shouldn't get fermented. If it gets fermented, the taste would turn bit sour. Babies usually don't like that taste. So it's better to finish this entire process within 5 to 6 hours.
The biscuits should be dry and moisture free for storage purpose. Though they can be stored for a month, it would be better to make a batch every fortnight.
You can use finger millet and wheat in the ratio of 3:1 or 1:1. Here I have used 3 parts of finger millet and 1 part of wheat.
Disclaimer: It is advised to consult the pediatrician before introducing this solid food to your infants.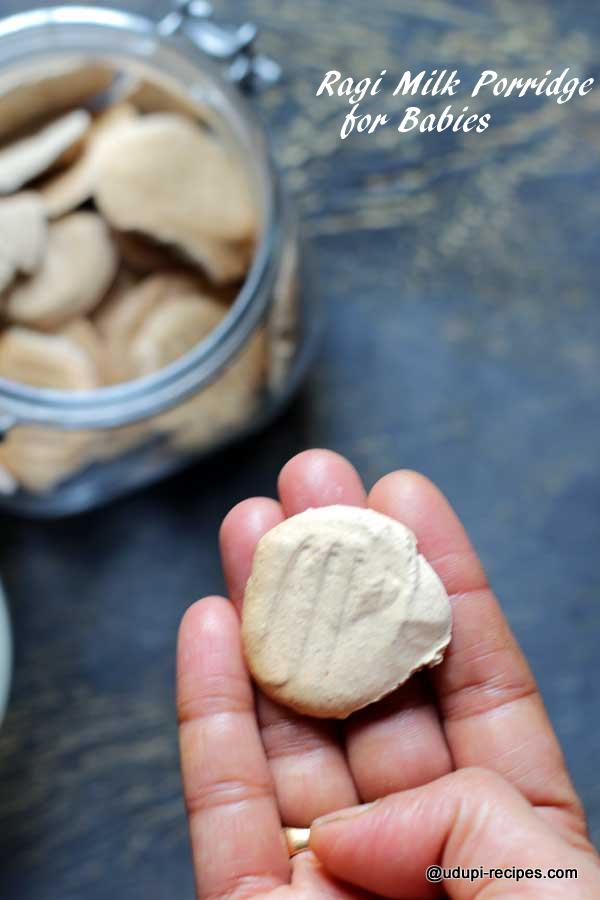 Ragi Milk Porridge | Finger Millet Porridge for Babies
Ingredients
Finger millet (ragi)- 3/4 cup
Whole wheat- 1/4 cup

To prepare porridge

Ragi milk biscuit- 1 or two
Milk- 1/2 cup
Water- 1/4 cup
Jaggery powder- 1 tsp
Instructions
Preparation

Clean the finger millet cereal from husk and rinse it with enough water twice. Drian all the water and add it to mixer.
Similarly clean the wheat grains and rinse it with enough water. Add it also to the mixer.
Adding 2 glasses of water grind both the cereals together to fine puree. Transfer it over fine strainer and extract it's milk by squeezing completely.
Add this squeezed puree again to the mixer and grind again along with water.
Repeat the process of straining to extract the milk completely.
Collect all this finger millet milk in a container. Keep it undisturbed for about 2 hours covering with lid.
After the resting time, the extract would have settled down leaving the water above. Spill the water and transfer the thick extract over a folded thick cotton cloth.
The cloth would absorb all the moisture in 10-15 minutes leaving the solidified finger millet extract. Now, you can scrape a spoonful of this solid extract and shape it like a biscuit.
Arrange these fingermillet milk biscuits in a tray and let them dry under SUN for a day or two. You can store these in a air tight container for a month.
Next to prepare porridge for baby, soak one or two bisucits in some water for 10 minutes. Dissolve it completely in water using a spoon.
Next add milk and cook it in low flame with constant stirring. Add jaggery powder and continue cooking till it thickens like porridge. Switch off once done.
Healthy and nutritious baby food is ready.

Notes

Soaking finger millet and wheat is not necessary.
It's better to start this preparation in the morning itself so that it can be kept for drying the same day. Otherwise it will ferment.
The ground batter shouldn't ferment because it makes the porridge sour. Babies don't like that taste.
Use a thick cotton cloth for draining off the excess moisture from finger-millet extract.
These finger millet milk biscuits come very handy to feed the babies. But do not stock them for long.
While making porridge you can use either jaggery powder or salt depending upon your baby's taste.
You can adjust the quantity of milk and water as per your preference.
https://udupi-recipes.com/2018/10/ragi-milk-porridge-fingermillet-porridge-baby-food.html
All the content in this website are © Copyrighted to – Udupi-Recipes