These gorgeous, sweet beetroot burfis are about to hit your mouth in their adorable bite-square form which is the most perfect thing ever for an After Lunch something sweet treat. The beauty of this recipe is not only in their gorgeous look but also in the simplicity factor.
Process beetroot shreds and coconut grates, saute them and cook with sugar, spread and garnish. Be done. Then eat beetroot burfi all the day and be a beet-princess. I would like to add a quick note that my little son loved them so much and is known to dig around the container for those little beetroot things at any and all times of the day.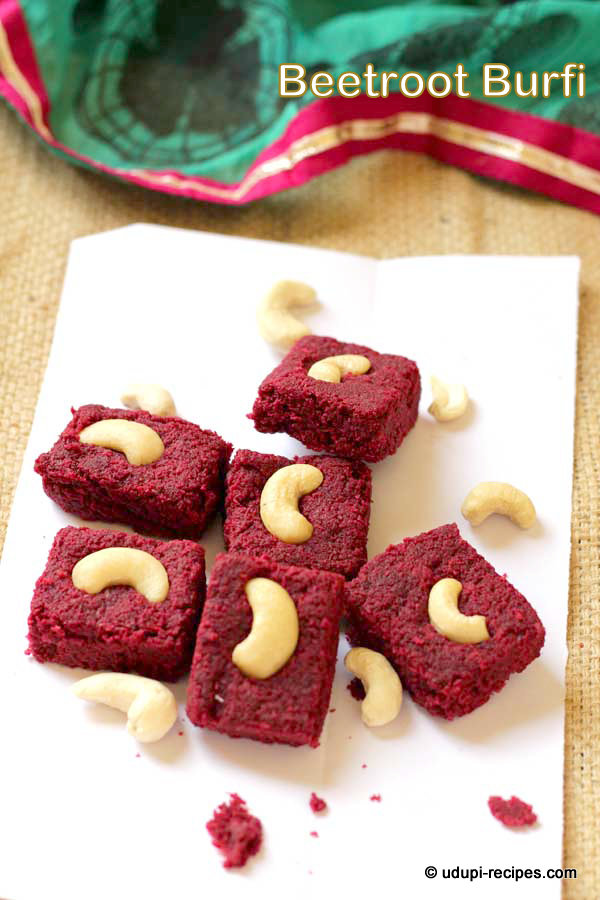 Well, on this awesome Thursday I would be happy to announce that we are set to vacation as we do on yearly basis. When these sunny, sweaty days are unbearable in this Sand-world of UAE, we travel to our beloved, homely motherland where we are welcomed by downpours of Monsoon rain. So it's the meeting of two extreme weather conditions in a row.
When I am on vacation, you never find me in kitchen cooking these blog recipes. Instead I do devour lot of food that my mother lovingly cooks for her daughter. Million other passions take over me during coming months and I am so excited about it all. (But you readers, your portion of recipes for the months have set already 🙂 ). Pass on that beetroot burfi please.
Do not get distracted from food as I ramble on my travel stories. This beetroot burfi is actually made from grated beet and coconut which are intentionally minced and sauteed to give the burfi a nice crumble texture. They are then cooked with sugar to help things stick and hold together to form a square shape. Top the square pieces with cashew or almond to make them still more pretty.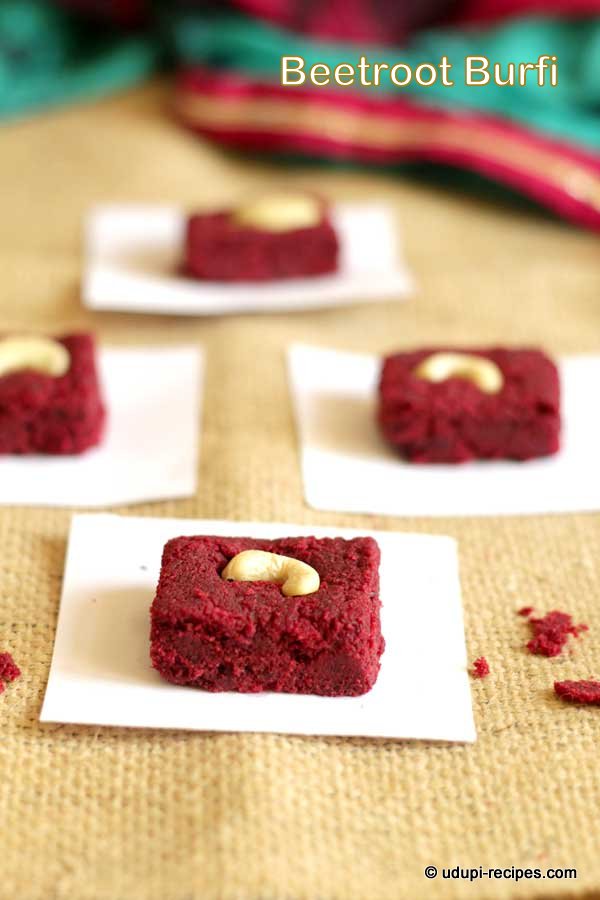 Ingredients
Grated beetroot- 1 cup
Grated coconut- 1 cup
Sugar- 3/4 cup
Ghee- 5 tsp
Cardamoms- 3 to 4 nos.
Water- 2 tsp
Instructions
Preparation

Peel off the cardamoms and powder the seeds finely. Set aside.

Method

Take grated coconut in a blender and grind it finely without adding any water.
Next in a cooking pan add 2 tsp of ghee and transfer the ground coconut to this pan. Stirring continuously cook this mixture till the moisture evaporates. Put off the flame.
Similarly grind the grated beetroot to coarse paste and add the same to a pan. Along with 3 tsp of ghee roast this beetroot mix till it becomes dry and crumbly.
Next include already roasted coconut, sugar and 2 tsp of water to this pan. Cook it in medium flame stirring continuously. As the sugar dissolves, the mixture turns thin. When you continue cooking it comes together like a lump and doesn't stick to the pan any more.
Sprinkle cardamom powder and transfer the burfi mixture to ghee greased tray. Spread it evenly. Garnish with broken cashews. Let it cool, once it is set, cut it in to square shape.
You can relish this juicy beetroot burfi for a week.

Notes

Grinding the beetroot and coconut helps to give proper, crisp shape to the burfi.
I would advice not to leave the pan unattended which can burn the burfi mixture.
When you transfer the burfi mixture on to ghee grease tray, it is still soft. Do not panic, it hardens as it cools down.
Do not try to mark the burfi shape while the mixture is still warm. When it cools down the shape would be better.
I have added only 3/4 cup of sugar as beetroot has some sweetness in them.
https://udupi-recipes.com/2015/06/beetroot-burfi-recipe.html
All the content in this website are © Copyrighted to – Udupi-Recipes