Having been spent an hour listening to YOGA and it's impact on health last night which was International Yoga day, I am up this morning with a healthy chutney powder recipe that is prepared with cute and brown flax seeds.
Yesterday was a remarkable day in my life on which I committed to practice YOGA everyday for at least 20 minutes. It's not that I was unaware of YOGA till this point of my life. No, actually not. Since childhood I had read, watched and heard about this healthy practice but I never made up my mind to adopt it as every-day routine in my life. Lately I have found myself that such small practices can make long lasting impact on our soul, mind and body. So it has begun right away and I am watchful on the benefits.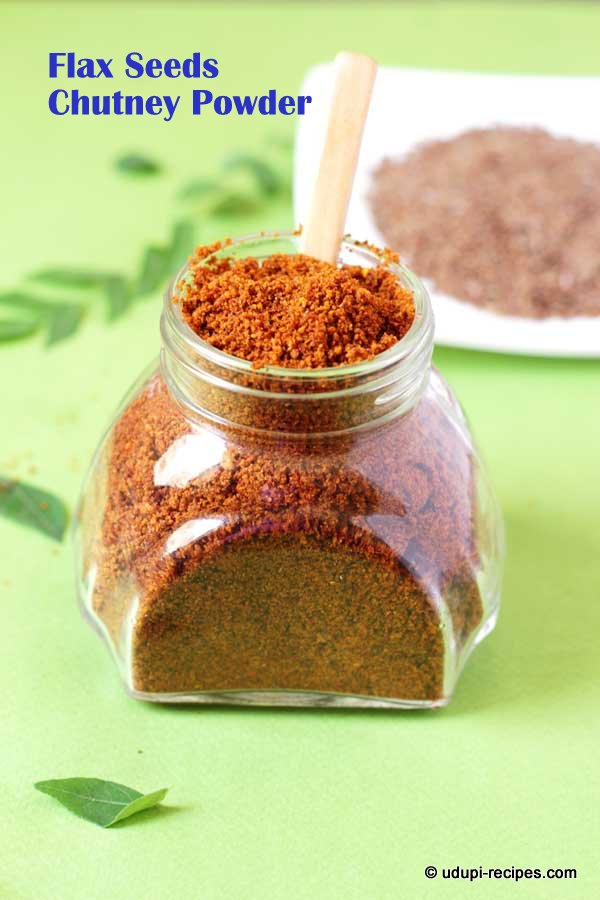 Let me get myself back on track. So it's all about flax seeds chutney powder on this awesome Monday morning. This coarse powder which has integrated with all the good spices, lentils and seeds is versatile enough to pair with many of your food. It can accompany Idli, Dosa and even rice topped with ghee.
These tiny flax seeds have very thick covering which is why it's chewy to eat as raw. Roasting the seeds make them crackle and crisp. I can totally sum up the process of making flax seeds chutney powder as roasting plus powdering. It's all about heating a wok and roasting seeds, lentils, copra and red chillies in a row one after the other. You can enjoy a bit of leisure till the roasted ingredients cool down and then blend them all together with spices to a coarse powder.
I will call this one as travel friendly and time saver and best of all it's healthy.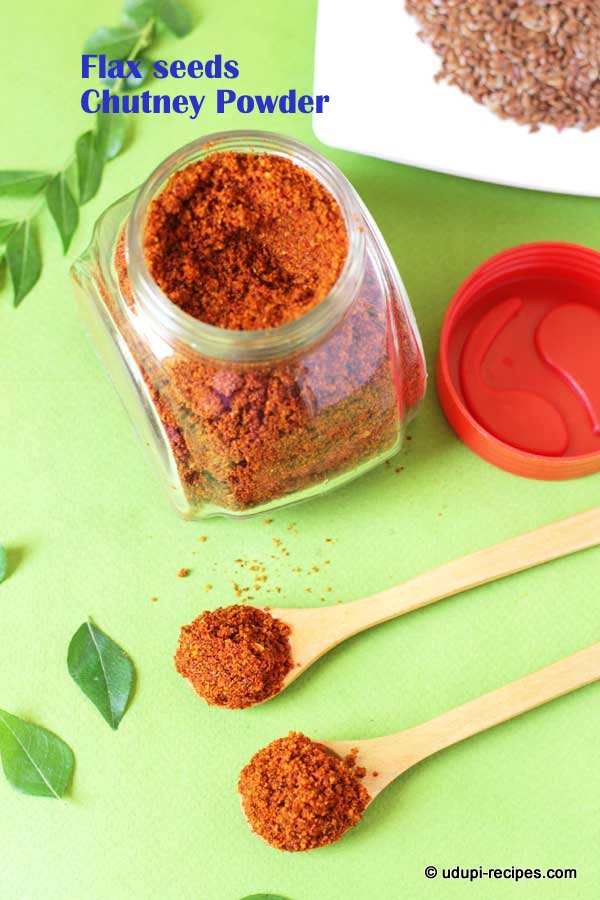 Flax Seeds Chutney Powder Recipe
Ingredients
Flax seeds- 1/2 cup
Split black gram lentils (urad dal)- 1/4 cup
Red chillies (Byadagi)- 8 to 10 nos.
Copra pieces- Handful
Tamarind- Marble sized
Salt- 1 tsp
Jaggery powder- 1/2 tsp
Turmeric powder- 1/2 tsp
Cumin seeds- 1/2 tsp
Curry leaves- few strands
Cooking oil- 2 tsp
Instructions
Preparation

Heat a cooking pan or wok adding flax seeds. Dry roast them in medium flame with continuous stirring till they start spluttering. Transfer it to a container and add split black gram lentils to the same pan. Dry roast them as well till they turn little brown.
Next add pieces of copra and curry leaves. Roast them will the copra changes it's color a bit. Finally add a tsp of oil and roast the red chillies till they puff up. Switch off the flame.
Assemble all roasted ingredients in a container and let them cool down to room temperature. Then include salt, cumin, turmeric powder, jaggery and tamarind with it.
Now put everything in a blender or mixer and grind them in to coarse powder. Transfer it to a bowl and store it in an airtight container when cools down.
Flax seeds chutney powder is ready to relish with idli, dosa or steamed rice topped with ghee.

Notes

Roasting should be carried out on medium flame with continuous stirring. Otherwise it may burn and taste bitter.
You can skip adding jaggery but bit of sweetness in savory dish enhances the taste. So I have added it.
If you don't have copra, you can include grated coconut too. But you have to roast it little longer till the moisture evaporates from it.
https://udupi-recipes.com/2015/06/flax-seeds-chutney-powder-recipe.html
All the content in this website are © Copyrighted to – Udupi-Recipes