It's back, Leftover chapati recipe is back. Remember I never had a better idea than turning the leftover chapati in to a delicious payasam which I still admire so much but this time a savory food that has come up.
Speaking of this colorful leftover chapati upma it has plenty of vegetables that are chopped as an inch length of thin strips. I would love to add vegetables of all colors to this upma which attracts the kids and adults at the same time. When you heat little oil in the pan with cumin seeds and get them nice sizzling, and then toss in those colorful strips of vegetables and watch them sizzle and slowly turn in to perfect crunchy sauteed veggies right before your eyes…that's when you know the truth of how wonderful vegetable colors are.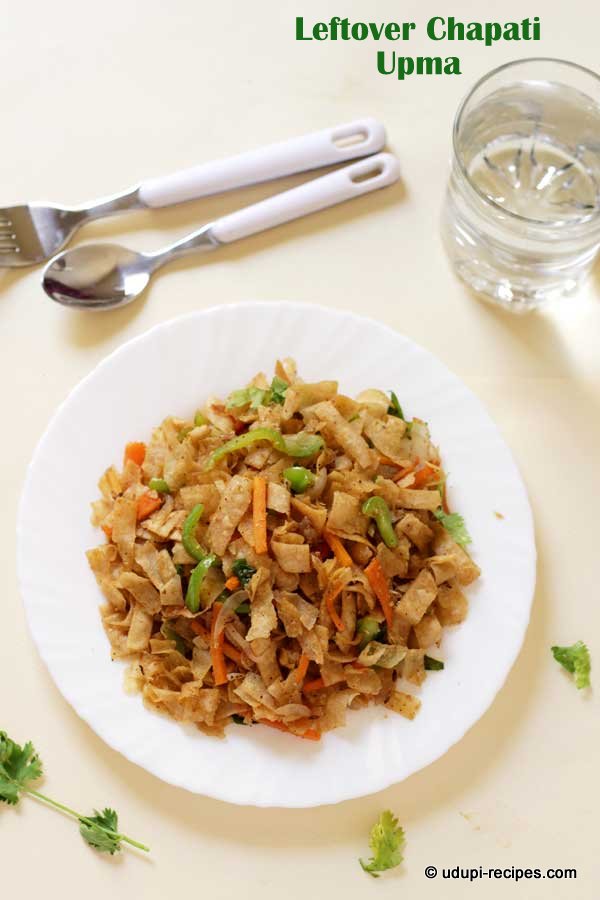 You really need to chop the leftover chapati for this..Oh Didn't I mention it already? I was lost in colorful vegetables saga. Now let me tell you, how you can get the chapati's ready for it's upma form. Stalk the leftover chapatis one over the other and using a sharp knife cut them in quarters. Again cut each of this quarter to halves. Now you can easily make strips out of the leftover chapatis that have same length as veggies.
When the sauteed vegetables get the nice coating of spices, include these left over chapati strips and give a nice stir. And a healthy, delicious way of using left over chapati in the form of upma is successful.
You can make leftover chapati upma in the evening when kids are back from school and not in a mood to eat the same food that they had in the morning. With lots of vegetables it's going to be healthy snack too.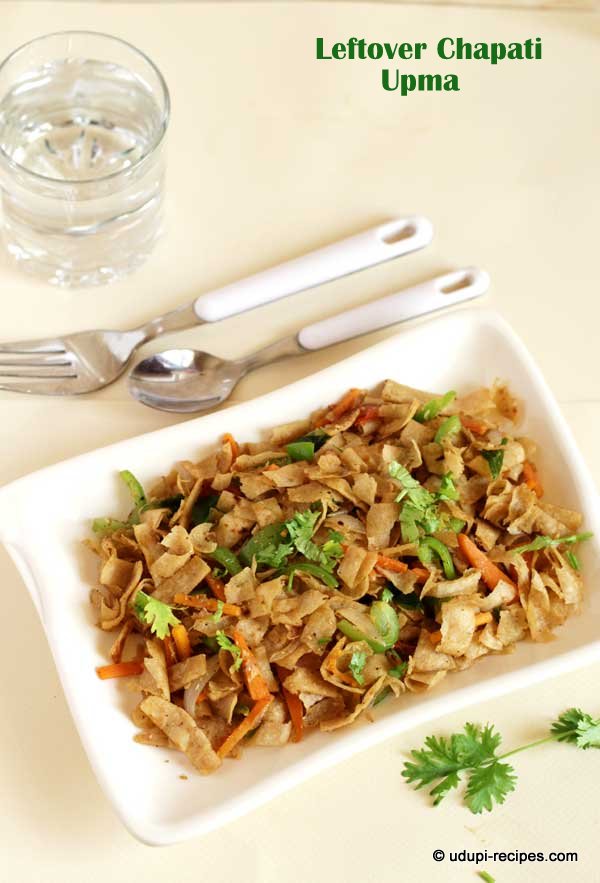 Leftover Chapati Upma Recipe
Ingredients
Leftover chapati- 4 nos.
Onion- 1 no.
Tomato- 1 no.
Carrot- 1 small
Capsicum- 1 small
Salt- 3/4 tsp
Garam masala- 3/4 tsp
Coriander powder- 1 tsp

Seasoning ingredients

Cooking oil- 3 tsp
Cumin seeds- 1/2 tsp
Curry leaves- few
Instructions
Preparation

Chop all the vegetables like onion, tomato, carrot and capsicum in to thin strips of 1" length. Keep them aside.
Using a sharp knife, cut the leftover chapati in to quarters, then each quarter in to halves. Next make very thin strips out of this and set aside till seasoning is done.

Method

Heat a cooking pan adding oil followed by cumin and curry leaves. As the cumin seeds splutter include onions and saute for minute. The onions turn translucent and then proceed to add other vegetables like carrot, tomato followed by capsicum.
The vegetables get cooked halfway as you continue sauteing, then include the spice powders like coriander powder, garam masala and salt. Mix well so that vegetables absorb all the flavors of spices.
Finally add leftover chapati strips to the seasoning, combine well and put off the flame.
Leftover chapati upma is ready to serve as breakfast or snack.

Notes

You can add the vegetables of your preference. The other best possible vegetables that go well with it are cabbage, beans and peas.
The vegetables should not be cooked till soft, they should retain crunchiness for good taste.
This upma is prepared for kids sake, so I had kept the spice level mild. You can boost it by adding a tea spoon of red chilly powder or chopped green chillies.
You can add spice powders of your choice like rasam powder or sambar powder replacing garam masala.
Squeezing a lemon at the end gives upma a tangy kick.
https://udupi-recipes.com/2015/06/leftover-chapati-upma-recipe.html
All the content in this website are © Copyrighted to – Udupi-Recipes