Let's make some deep fried crispy and spongy snack with tea and enjoy it by virtually transforming ourselves from sunny, hot UAE to the rains of motherland. This awesome thought in memory of my beloved motherland has inspired me to cook this authentic urad dal bonda. Every Indian would be craving for some deep fried goodies with a cup of evening tea during rainy season. Because it's the magic of rain which accompanies many such warm feelings to life.
Urad dal bonda as the name implies it's made up of urad dal I mean split black gram lentils. This snack needs to be planned at least an hour ahead so that lentils get soaked and become soft to grind. You need to soak them at least for 1 to 2 hours and drain them off completely before grinding. You need to take extra care when you add water to grind them as too much water makes the batter thin and you'll fail shaping them in to bonda on the other hand too less water make the batter thick and bonda turns too hard. Both are worst scenarios that I am prompting you at.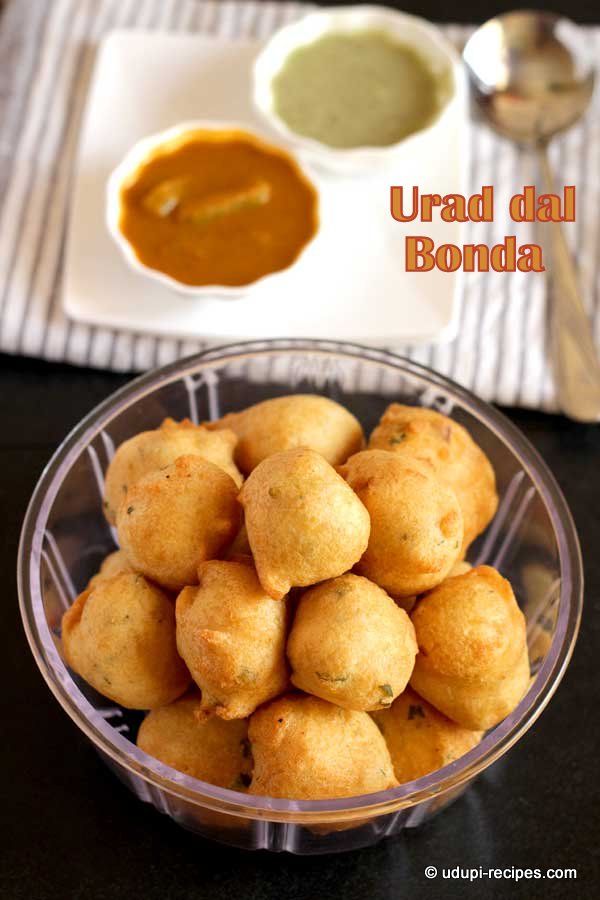 I have added only 1/4 cup of water incrementally (little by little) to grind single cup of soaked black gram lentils. I highly recommend using wet grinder for making these urad dal bondas if you have one. Wet grinder makes the lentil batter fluffy, light, thick along with good volume.
Don't panic if you don't have a wet grinder, you can move on with mixer grinder itself like I did. To the lentil batter include some chopped green chillies for spice, small pieces of coconut to bite, little medium rava for extra crunch and curry leaves for flavor. Combine everything well and drop  in to hot oil. These golden brown, super rocking urad dal bondas are well known as "Biskut Ambade" in Udupi-Mangalore region which can be relished with chutney or tiffin sambar or as is.
Do not miss the opportunity to relish this bonda this rainy season. Scroll down to recipe.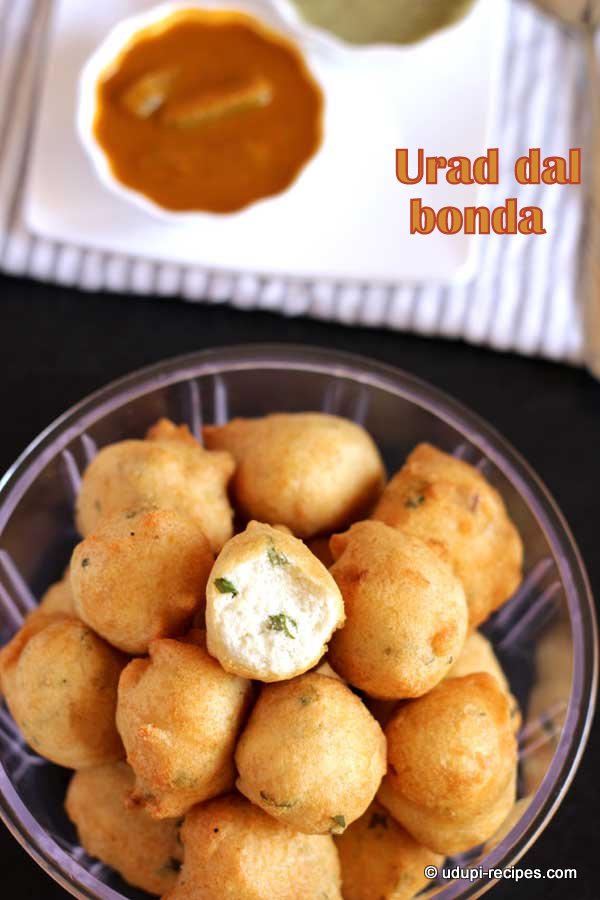 Urad Dal Bonda | Biskut Ambade Recipe
Ingredients
Split black gram lentils (urad dal) - 1 cup
Green chillies- 3 nos.
Salt- 1 tsp
Curry leaves- Few
Chopped coconut- Handful(optional)
Medium rava/sooji- 3 tsp
Cooking oil- Enough to deep fry the bonda.
Instructions
Preparation

Soak black gram lentils in enough water for about 2 hours.

Method

Rinse the lentils with enough water, drain and then grind it with salt and green chillies to smooth, fluffy and thick batter. You can add 1/4 cup of water little by little while grinding but don't ever add too much water. The batter consistency is very very important to make the perfect bonda. You can use either mixer or wet grinder for grinding the lentils.
Transfer the batter in to a wide bowl and add sooji, chopped curry leaves and coconut pieces. Combine everything well with your fingers. At this stage you can check whether it is of dropping consistency or not. If you feel the batter is bit runny, then add some more rava to it.
Heat a wok adding enough cooking oil, when the oil heats up carefully drop a lemon sized batter using your hand. Deep fry them in medium flame till they turn golden brown. Once done, remove from oil using slotted ladle and drain on kitchen tissue paper.
Repeat the process of deep frying the bondas with rest of the batter.
Ural dal bondas are ready to serve as tea time snack. These are crispy from outside and soft from inside.

Notes

Batter consistency is very very important to make perfect urad dal bondas. So be careful while adding water to grind the lentils. If you add too less then bondas turn hard on the other hand if you add more you cannot shape the bondas and they drink lots of oil.
Do not add all the water at once to grind the lentils. Add little at a time.
Use of wet grinder is recommended to blend the black gram lentils but I used my mixer grinder itself.
You can skip adding coconut pieces. I like the bites of coconut which adds extra crunch to the bonda while eating.
You can add chopped green chillies instead of grinding it together with urad dal.
https://udupi-recipes.com/2015/06/urad-dal-bonda-biskut-ambade-recipe.html
All the content in this website are © Copyrighted to – Udupi-Recipes