My world of breakfast revolves around Idli plus dosa and it's siblings like uttappam and appam. So it is more likely that I do make many variations in these recipes and their side dishes. The winner recipes after a series of testing and trials in my kitchen would finally find their way to get posted in this space. The food should actually convince me in taste, color and photograph then the taste testers like my husband and kids should give a green signal, only then I can proceed to draft a post.  Though the process seems so lengthy I am thoroughly enjoying it. Cheers to food blogging 🙂 .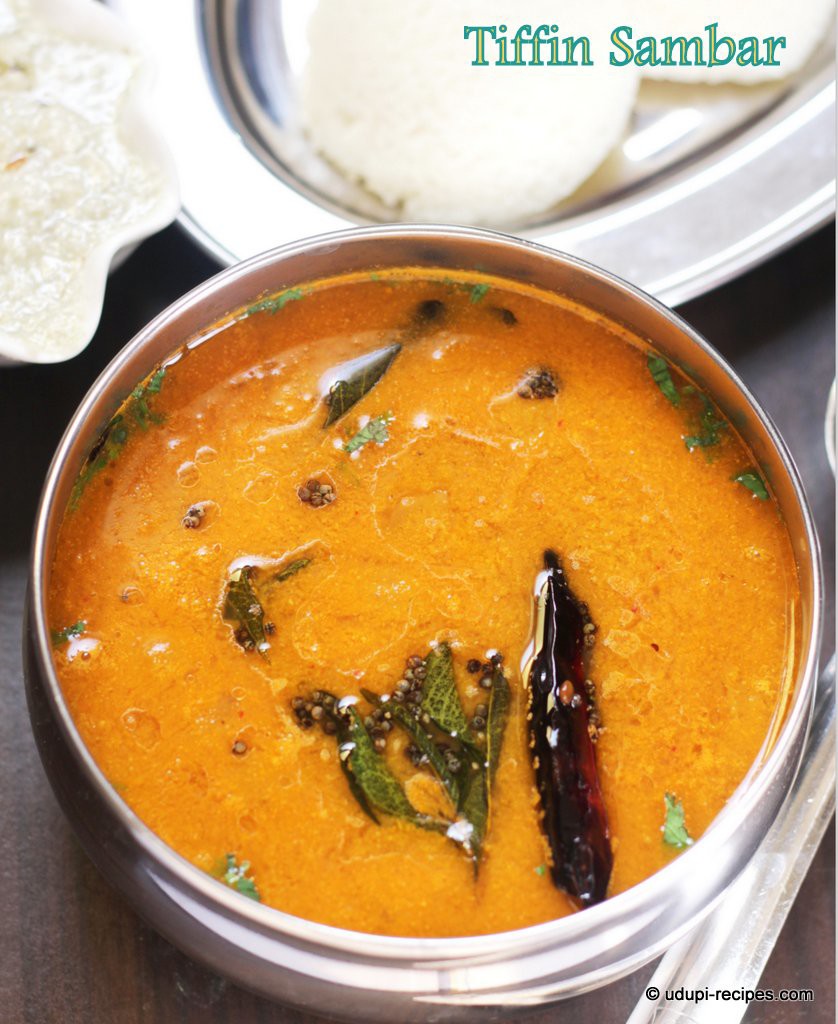 To be honest with you guys, this idli sambar has undergone many revisions in past month in order to get close to tiffin sambar that is served in Bangalore Darshini Hotels. When a reader of my food blog requested and urged me to post idli sambar recipe, I started to adapt and alter the recipe which I was following till then.
Having spent four long years of my life in Bangalore, I had tasted and liked the sambar served in Darshini hotels whenever we visited. So I was in a compulsion to get my idli sambar close to that and recreate the magic at my kitchen. Now I assure you that I am deeply satisfied with the outcome.
Roasting a long list of spices in low flame with patience is all that the recipe demands.  That is the primary process as a whole,  you can also keep them roasted the previous night if you are planning it for the breakfast next morning. It is then ground with shredded coconut to make fine paste which when combined with cooked vegetables, salt, tamarind and jaggery. As it simmers and boils for a while, the real flavors of idli sambar waft your kitchen and home.
Idli Sambar | Tiffin Sambar Recipe
Ingredients
Shallot onions- 1 cup
Carrot - 1 or 2
Tamarind- Gooseberry sized
Jaggery- Small piece or 1 tsp jaggery powder
Salt- 2 tsp
Coriander leaves- Handful

To grind

Fresh grated coconut- 1/2 cup
Pigeon pea lentil (Toor dal)- 2 tsp
Chick pea lentil (Chana dal)- 1 tsp
Coriander seeds- 2 tsp
Raw rice- 1.5 tsp
Pepper corns- 1/2 tsp
Fenugreek seeds- 1/2 tsp
Green chillies- 1 no.
Red chillies (byadagi)- 2 or 3 nos.
Curry leaves- Few
Tomato- 1 no.
Asafoetida- Chickpea sized
Cinnamon- 1" piece
Cooking oil- 4 tsp to roast spices
Instructions
Preparation

Peel the shallots and chop carrot and tomato in to small pieces.
Soak tamarind in 1/4 cup water for about 10 minutes and extract it's juice discarding the residue.

Method

Add the chopped carrot and peeled shallots in a cooking vessel along with one or two cups of water. Cook the vegetables in medium flame till they turn soft and delicate.
Till the time vegetables are cooking, proceed to roasting spices. Heat a wok or kadai adding oil. Include red chillies, asafoetida and coriander seeds. Saute them together and roast till the coriander seed's color deepen a bit.
Then include both the lentils and stir till they turn slightly brown. Continue adding pepper corns, raw rice, fenugreek seeds and curry leaves to the same wok. Stir for some time. Finally include grated coconut, green chilly, cinnamon and chopped tomato one after the other. Switch off once they are warm.
Transfer all the roasted ingredients in to a blender or mixer and grind to smooth paste. As the masala for sambar is ready, check the vegetables for done-ness. Add tamarind extract and jaggery at this stage.
Add the ground masala to the vegetables that are cooked. Combine well and include enough water to obtain the idli sambar consistency. Add required salt and bring it to boil. Let the sambar boil for 3 minutes. Garnish with some chopped coriander leaves.
Aromatic and drool-worthy tiffin sambar or Idli sambar is ready. Serve it with any tiffin like idli, dosa and uttappam.

Notes

Be careful while roasting the spices. Do not let them burn. Keeping flame low and stirring constantly, you can avoid burning.
The red chillies that I have used here are not spicy at all, they just give nice color to the sambar. The green chilly and pepper corns give spiciness to the sambar. So use these spice providers wisely as per your taste preferences.
You can include other vegetables like potato, peas etc to the sambar.
The consistency of the idli sambar should be thinner than regular curries. So add water accordingly.
https://udupi-recipes.com/2015/03/idli-sambar-tiffin-sambar-recipe.html
All the content in this website are © Copyrighted to – Udupi-Recipes