Hello friends, I am back with a really addictive and crisp, deep fried cassava sticks or tapioca sticks. These salt sprinkled, fibrous, brown and white fries are home made using starchy root that is more popular as cassava or tapioca.
The timing of this post is very appropriate to the weather of this sand world which is kind of chilly, cold and windy.  It is also appropriate because the super interesting world cup cricket season is ON.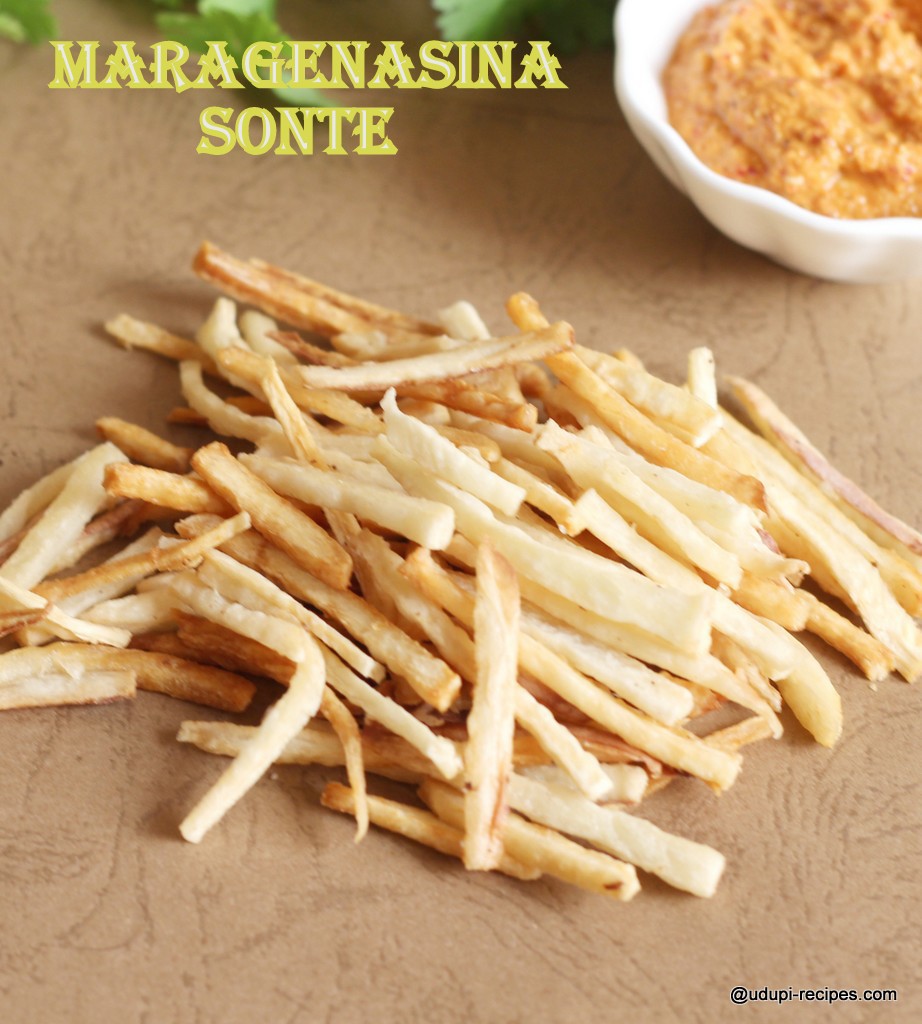 I am such a big fan of these fries that my appetite for them urged me to try making the sticks when I saw fresh looking brown cassava roots heaped up in the Mall. I was little scary and sceptical  as they would turn soggy or retain crispiness even after a day. But to my surprise it turned out very successful. After few batches of deep frying with all my tapioca stock I was amazed to see box ful of tapioca sticks still crispy, brittle and tasty even after two days.
In kannada these sticks are well known as " Mara genasu Sonte" where "sonte" refers to stick and "mara genasu"refers to cassava root. The hardest part in making these cassava sticks at home is slicing them. As the tuber itself is very hard, fibrous and starchy you would need sharp knife and patience to cut them in to thin sticks. The effort is absolutely worth when the sticks are cleared within no time.
Cassava Sticks | Tapioca Sticks | Maragenasina Sonte Recipe
Ingredients
Cassava / Maragenasu - 2 nos.
Salt- 2 tsp
Cooking oil- Enough for deep frying
Instructions
Preparation

Wash thuroughly the cassava roots with enough water. Peel off the brown, thick outer skin using vegetable peeler and you are left with a white fibrous root.

Method

Now cut these clean and pealed cassava roots in to 3 equal pieces horizontally. Then slice each of them in to thin sticks. You need a sharp knife to cut this starchy and fibrous tuber. I took almost 20 to 25 minutes to slice them really thin sticks.
Take around 2 cups of water in a vessel and bring it to rolling boil. Switch off and include sliced cassava sticks. Let them be immersed in hot water for about 5 minutes. Then strain the water using a fine strainer.
The cassava sticks would have turned soft now, carefully spread them on a thick cloth or kitchen towel. Let the sticks become moisture free and dry.
Meanwhile dissolve little salt in 2 tsp of water and keep it ready.
Heat a thick bottom wok with enough cooking oil in it. When the oil is heated enough, slowly pour the salt water in oil. Be careful while doing this as oil splashes out. Now drop pre-cooked cassava sticks in oil and fry them in low flame till they turn crisp, light and slightly deepen in color.
Remove the deep fried sticks from oil using slotted ladle and drain on kitchen tissue. Continue deep frying with next batch of cassava sticks.
Once drained and cooled, store these crispy addictive sticks in air tight container. They can last for several days.

Notes

Do not add all the salt at once, start with little salt that is needed for a batch of sticks.
If you are not comfortable adding salt water to the hot oil, skip it. You can sprinkle the same once the cassava sticks are out of oil.
You can sprinkle some pepper powder or red chilly powder too to make the cassava sticks spicy.
Slicing the cassava root to thin sticks is very important step. Thick sticks turn soggy instead of being crisp.
If the pre-cooked sticks are not completely dry, have moisture, then they drink lot of oil.
https://udupi-recipes.com/2015/03/cassava-sticks-tapioca-sticks-maragenasina-sonte-recipe.html
All the content in this website are © Copyrighted to – Udupi-Recipes