The story of finger licking, creamy textured, bright orange chutney that took 12 minutes of kitchen time and served just 3 has taken it's lead to appear in this space.  Chayote peel chutney..You look yummy.
You will need lots of peels or skins of chayote to whip up this wonderful yummy dip. Chayote is popular in Karnataka as "Seeme badane kayi" and I was unknown to this pale green veggie for most of my life. Once introduced I admired, indulged in almost all the recipes that I cooked using it. I found it to be versatile, easy to cook and delicious.
I have a long list of chutney recipes that are made using peels of some vegetable like the one ridge gourd peel chutney but those are the recipes that are passed to me from my ancestors. It was my humble attempt to replicate the recipe on chayote peels. But I am very much happy that I did. Otherwise I would have deprived off from a magical, vibrant chutney ever.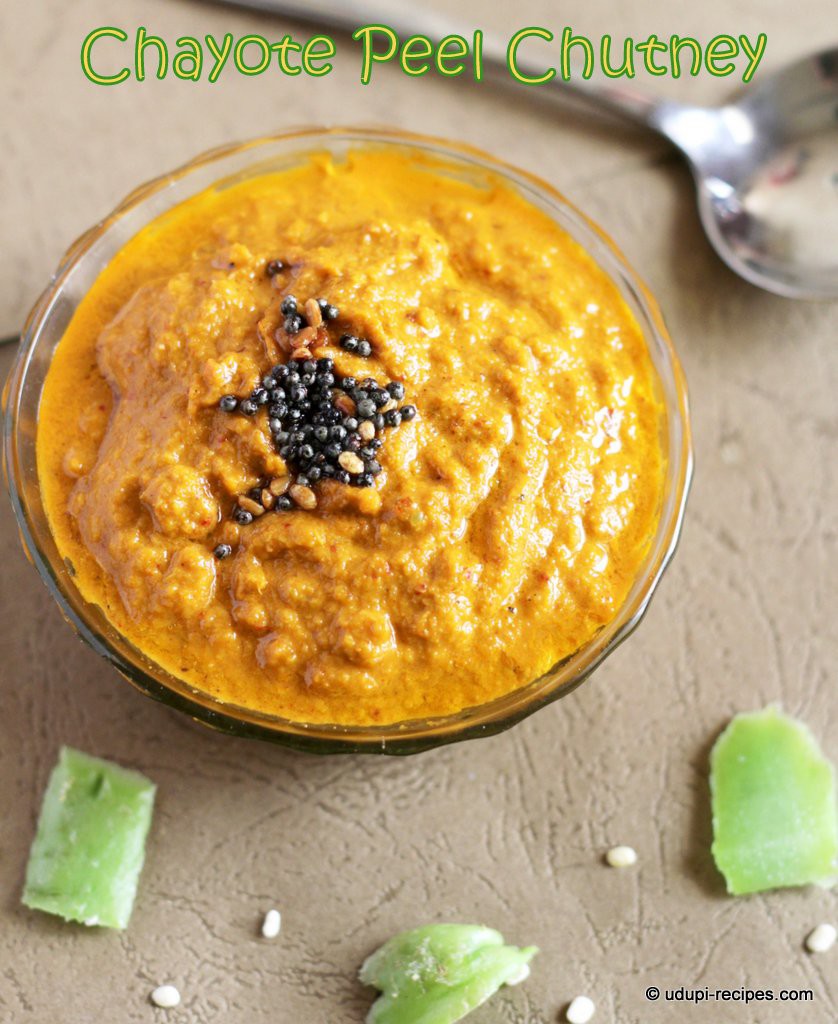 A big spoonful of chutney on hot steaming rice with a dollop of edible oil, that is how I love to eat this vibrant dip. I have also paired it with my normal dosa, rava rotti breakfast and the chayote peel chutney is a winner there too.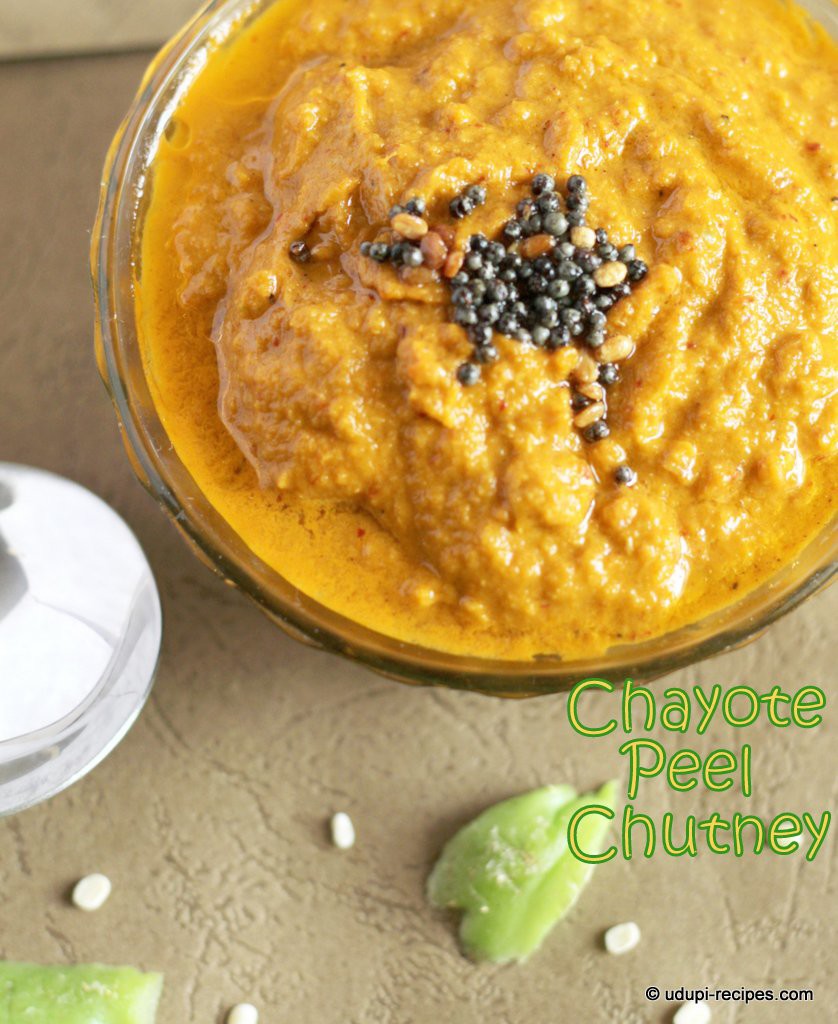 Chayote Peel Chutney | Dosa, Idli Side Dish
Ingredients
Chayote peel- 1 cup
Grated coconut- 1/2 cup
Red chillies- 2 nos.
split black gram lentils(urad dal)- 1 tsp
Tamarind- Small gooseberry sized
Salt- 1 tsp
Cooking oil- 2 tsp

Seasoning Ingredients

Cooking oil- 1 tsp
Mustard seeds- 1/2 tsp
Split black gram lentils- 1/2 tsp
Instructions
Preparation

Wash the chayote clean and peel it's skin using vegetable peeler or knife.

Method

Heat a pan or wok with oil, red chillies and black gram lentil. In medium flame roast them together till the lentils turn little brown. Right then include chayote skin and roast them for about 5 minutes. The peels wilt and deepen in color, switch off the flame.
In a blender add all the roasted ingredients, grated coconut, salt and tamarind. Grind them together to a semi coarse or fine paste adding water as needed. Transfer the chutney in to a bowl.
Heat a seasoning pan adding all the seasoning ingredients in the order mentioned. when the lentils deepen in color and mustard seeds splutter, transfer the same to chayote peel chutney.
A perfect side dish for idli, dosa and even rice is ready.

Notes

This tastes mild spicy, you can bump it up using additional red chilly or green chilly.
You can soak tamarind for few minutes, so that it turns soft and blends well while grinding.
https://udupi-recipes.com/2015/02/chayote-peel-chutney-dosa-idli-side-dish.html
All the content in this website are © Copyrighted to – Udupi-Recipes