Hi guys …..
After a series of pre-Diwali sweet and savory treats, after a  super yummy  7 course meal on the eve of festival it is now time to be back with normal day to day cooking.  The festival brought together the 4 families who belong to same region and we went crazy chatting, laughing, bursting few non-destructive crackers and then of course devoured  an elaborated meal of 7 course.  Diwali 2014 was a super duper fun all in all.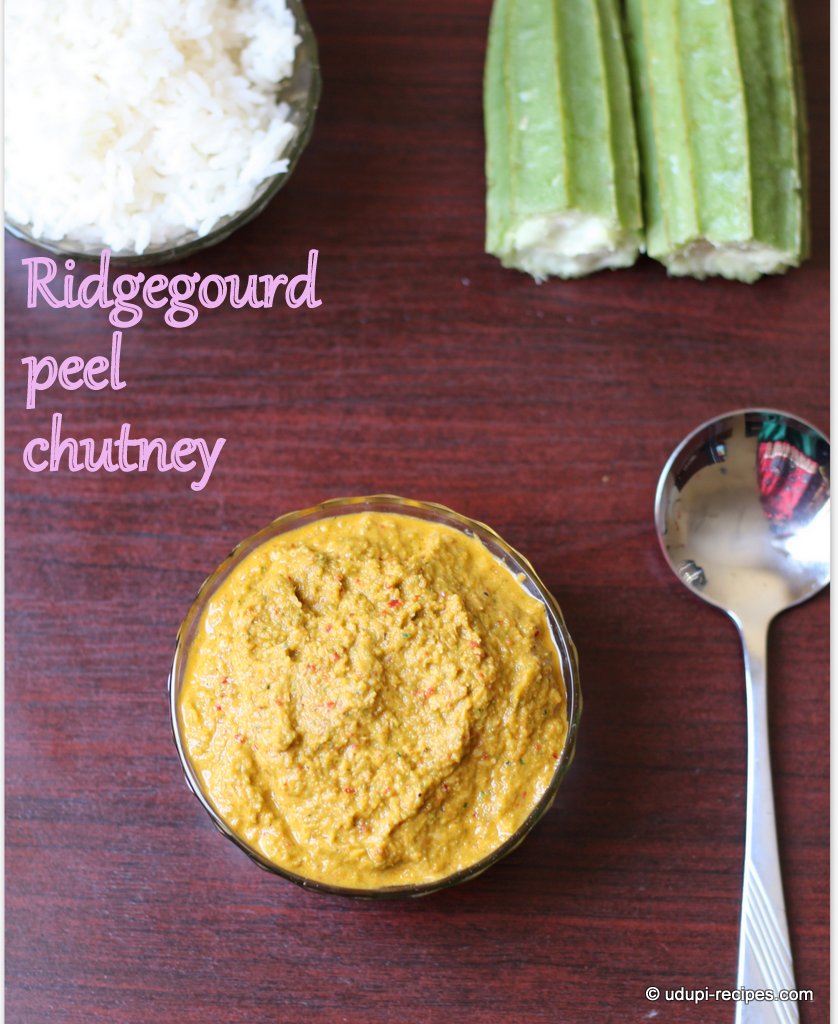 Do you use  this green, long vegetable with ridges often in your cooking ? I mean the ridge gourd?? Then I know you would surely have experienced the bitterness of it? Some times the ridge gourd tend to be bitter though you choose them carefully from vegetable store. What you would do then?? Do you throw them straight in to dustbin??? THEN PLEASE WAIT. HOLD ON.
The outer skin of the ridge gourd would definitely be useful, it will not be bitter I bet. Peel the ridges or skin from the ridge gourd and you can make this mild spicy, tasty ridge gourd peel chutney.  All it needs is roasting lentils, chillies and the skin, then grinding them together with tamarind, jaggery, salt and grated coconut.  Yes…it is that simple.  You can think of ridge gourd peel chutney powder if the peel is excessive in quantity.
Post-DIWALI day we had a simple meal of Rice, dal and ridge gourd peel chutney. It's so comforting….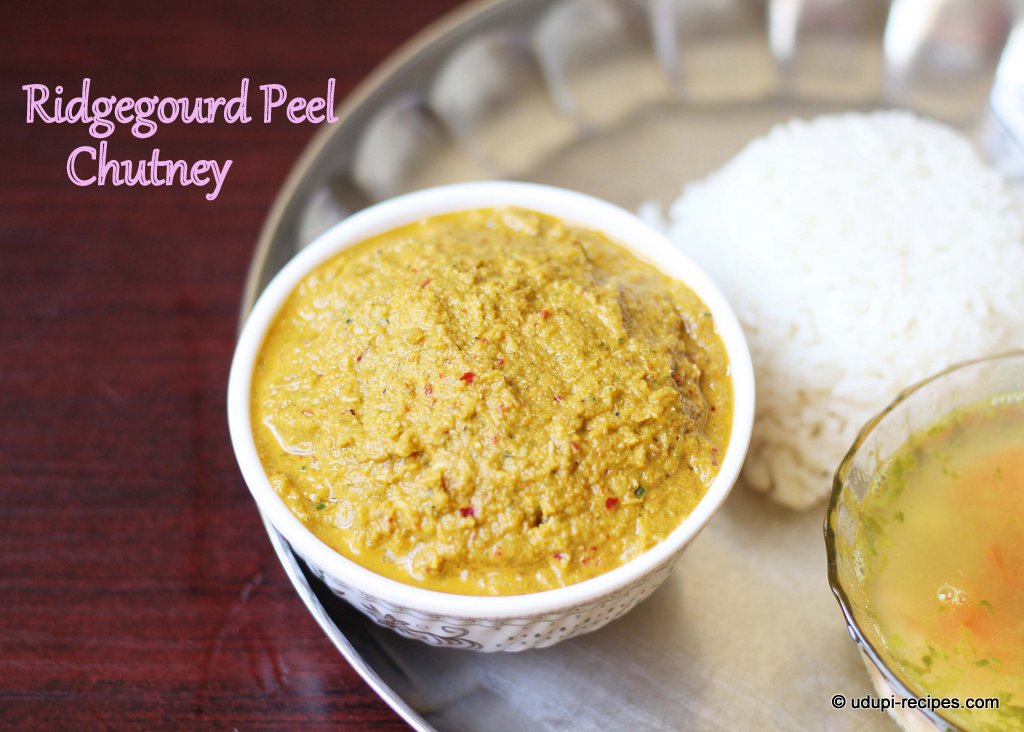 Ridge Gourd Peel Chutney | Ridge Gourd Skin Chutney Recipe
Ingredients
Ridge gourd peel- 1 cup
Fresh grated coconut- Handful
Split black gram lentil- 2 tsp
Jaggery powder- 1 tsp
Tamarind- Gooseberry sized
Dry red chillies- 3 no.s
Salt- 1 tsp
Cooking oil- 2 tsp
Instructions
Preparation

Wash and clean the ridge gourd peel with enough water. Keep aside till use.

Method

Take a wok or cooking pan adding oil, split black gram lentil and red chillies. Roast all the ingredients together in medium flame. When the lentils turn little brown include ridge gourd peel also to the pan. Roast the peels till they are crisp.
Now add grated coconut, tamarind, salt and jaggery to the same pan. Switch off the flame.
Transfer all the roasted ingredients in to mixer jar and grind together in to semi coarse paste adding water as needed.
Ridge gourd peel chutney is ready. You can serve it as side dish with rice, idli and dosa. Pairs very well with all.

Notes

You can replace red chillies by green chillies. In that case the chutney turns to green color.
Do not add more coconut than mentioned. The ridge gourd peel taste should be prominent in the chutney.
For ease of roasting, you can cut the ridge gourd peel in to small pieces.
https://udupi-recipes.com/2014/10/ridge-gourd-peel-chutney-ridge-gourd-skin-chutney-recipe.html
All the content in this website are © Copyrighted to – Udupi-Recipes