Ridge gourd is a versatile vegetable which can be used in palya, dosa, pakoda and many more. We usually peel off the ridges and use only the actual thick flesh in dishes. But do you know one thing? even these skins and ridges can be used to prepare chutney powder. In case you are cooking ridge gourd for some dish, do not discard the skin/ridges. Preserve all the skin/ridges and prepare mouth watering ridge gourd peel chutney powder. This chutney powder tastes soo good and can be used as accompaniment to dosa, idly and even rice topped with ghee.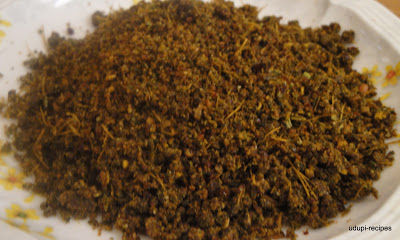 Ridge gourd skin chutney powder/Ridge chutney pudi
Ingredients
Ridge gourd skin/peel- 1 cup
Split black gram/Urad dal- 1 tbsp
Bengal gram/chana dal- 1 tbsp
Black sesame seeds- 1 tbsp
Tamarind- A very small gooseberry size
Jaggery- 1 tbsp
Red chillies(byadagi) -3 no.
Salt- 3/4 to 1 tbsp
Cooking oil- 1 tbsp
Asafoetida- A pinch
Instructions
Method

Heat a kadai/pan add cooking oil and roast bengal gram, split black gram and red chillies. When the split black gram and bengal gram change in color, then add ridge gourd skin and sesame seeds. Roast them together for 5 mins till the ridges become crisp. Now switch off the flame.
Now add tamarind, salt and jaggery to the same pan. Let it cool. Now powder all the roasted ingredients in a blender finely.
Ridge gourd skin chutney powder is ready. Relish it with idly, dosa or rice.

Note:

If the peeled ridges are one day older then it is better. Because the ridges would have become dry and moisture-less and chutney powder turns very good.
You can preserve it in airtight container for few days.
https://udupi-recipes.com/2013/04/ridge-gourd-skin-chutney-powderridge-chutney-pudi.html
All the content in this website are © Copyrighted to – Udupi-Recipes
Meet you all with one more interesting Udupi recipe. Till then bye
.