Couple of weeks ago, I found a treasure in my mail box that has a recipe with wonderful briefing. It's from one of my readers who follow me since many years. She is keen in recipes, ingredients that go in to the food, the process and health benefits. Mutual closeness between us has begun through a comment that she has penned to a recipe of mine. Since then the warmth of friendship has established and we exchanged several mails. And today I am happy that I am posting easy chakkuli recipe which she has sent across as a token of my food love.
Thank you food blog for letting every person in my life know my love towards food and recipes. And thanks to this loving friend (Bhuvana) who spent her valuable time in writing a mail with this recipe. I should appreciate her for the crystal clear explanation mentioning do's and don'ts, tricks and hacks. She  calls this snack as "Thengulu" which I renamed as easy chakkuli to match my internet and blog search terms.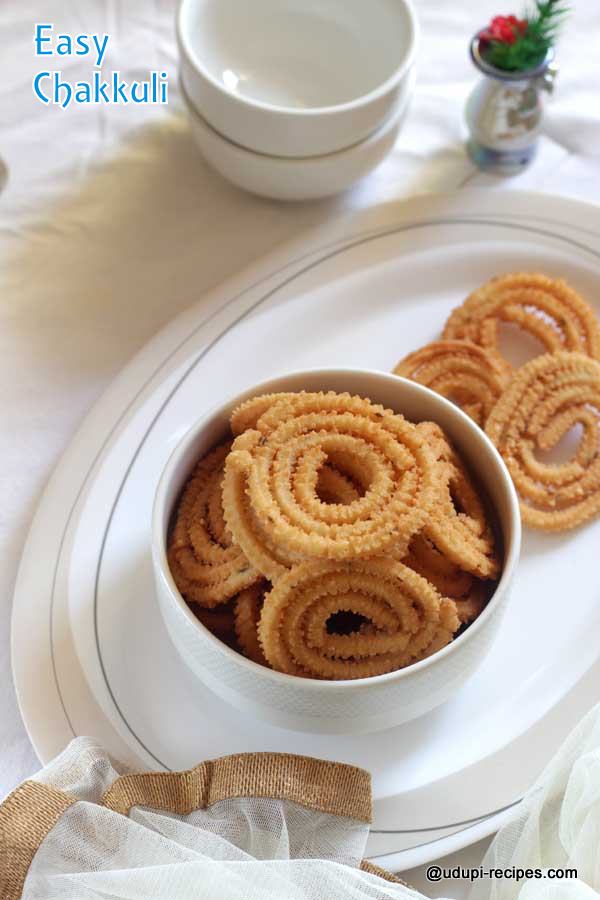 Well, to speak about the recipe, it is prepared using ready flour meaning store bought flour. When you find no time for elaborated chakli, this ready flour would ease your work. Rice flour and lentil flour(urad dal) mixed in 1:4 ratio along with some butter, sesame and cumin would be perfect for making flawless chakkuli. The consistency is very critical which should be little looser than chapati dough. And finally I would dedicate this easy chakkuli recipe to all the super women around the world who have less time but never walk away from the tradition of making Diwali snacks. Ending the Diwali series with this recipe, I wish you all a very happy and prosperous Diwali. Let this festival of lights wash away all sorrows from your life.
Watch video: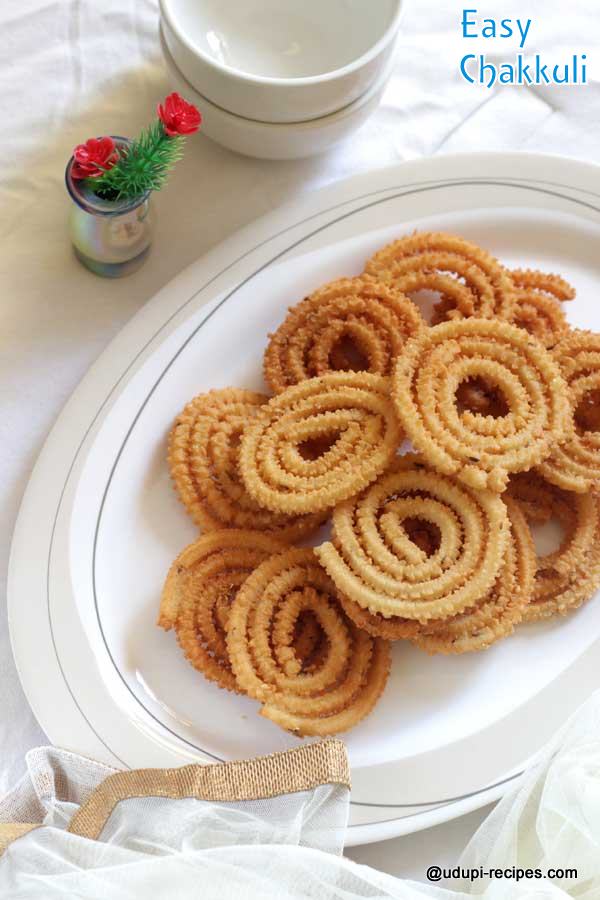 Easy Chakkuli Recipe using Ready Flour
Ingredients
Rice flour- 1 cup
Black gram lentils (urad) flour- 1/4 cup
Butter - 1 tbsp
Sesame seeds- 1 tsp
Salt- 1 tsp
Cumin seeds- 1/2 tsp
Water - 1/2 cup (as needed)
Cooking oil- Enough to deep fry
Instructions
Preparation

In a wide bowl take rice flour, black gram lentis flour, butter, salt, cumin and sesame seeds.
Give a quick mix such that butter melts and uniformly coats over the fine grains of flour. Next add water in steps, little by little and knead soft yet stiff dough. The consistency should be slightly looser than chapati dough.
Next in the murukku press, use star mould and fill it up with the dough.
On a parchment paper, press chakkuli and keep it ready. Meanwhile heat oil in a heavy bottom wok, when oil temperature is perfect, carefully drop a chakkuli in to oil. And deep fry in mediumflame till it turns little brown. Using a slotted ladle remove from oil and drain.
Very quick and easy chakkuli is ready to munch on this Diwali.

Notes

Proportion of rice flour to lentils flour is 1:4. You can use store bough flours too in the same ratio.
Butter is important in this recipe, it gives nice taste. And do not overuse it, which can make the chakkuli difficult to shape.
The consistency of the dough is very important. Too stiff dough may result in broken chakkuli and loose one may drink up lots of oil.
You can test the temperature of oil by dropping a pinch of dough in to oil. If it raises up to the surface immediately, the oil is perfect to deep fry.
https://udupi-recipes.com/2017/10/easy-chakkuli-recipe-using-ready-flour.html
All the content in this website are © Copyrighted to – Udupi-Recipes