These cute little cereals are back. After loads of sweets and deep fried oily snacks back to back have made me lean towards some comfort food.  Every year post-Diwali, this is the scenario in my food department. The sweets and snacks doesn't attract me anymore. Simple, soul soothing and comforting food is what I search for in the kitchen. Since I had some leftover millet after barnyard millet upma, I thought of using it for curd rice.  Next day after the overloaded sweet plus snack indulgence the previous night, I prepared this creamy barnyard millet curd rice. With a dollop of homemade pickle, I loved to have it for breakfast. Yes for breakfast guys…
The millets seem to be quite handy for me whenever I run out of food ideas. Because I try to fit in these cutest millets in every other recipe where I use rice otherwise. I try to find ways to include millets in my food life where even rice isn't used up. Because millets have all the goodness which my healthy self wants to incorporate. If you have some innovative recipes using millets, pass it over to me.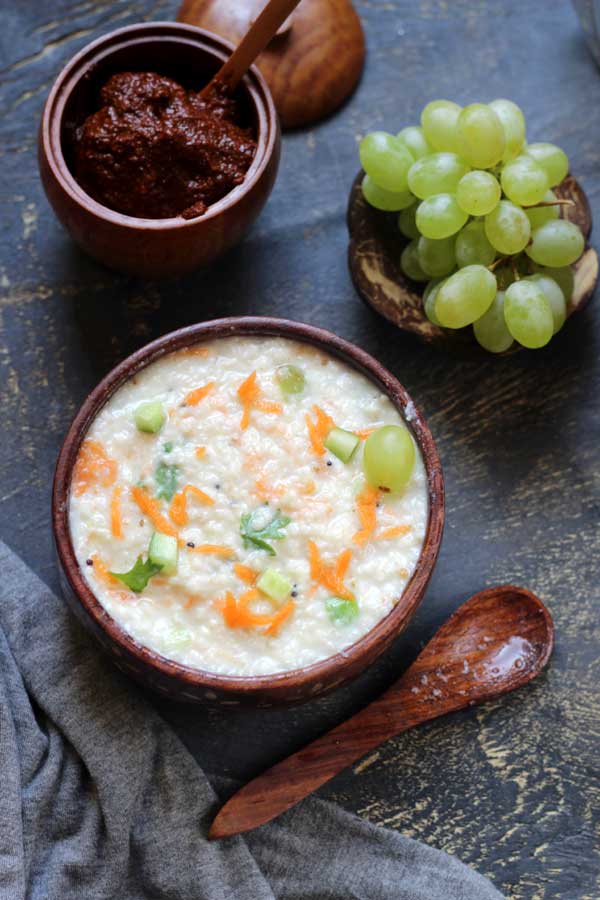 This barnyard millet curd rice is as simple as it sounds. If you have some fresh yogurt and millet in stock, then comforting food is all yours. Did you notice, I mentioned the word "FRESH" because sour one isn't appropriate here. Apart from millet and yogurt, the toppings are just fancy. You can choose to have seeds of pomegranate,  nuts like raisins and cashews. They all just enhance the beauty and taste of curd rice. The last but not least point which you have to remember is, the curd rice can thicken with time. So have some extra yogurt or milk to bring it back to actual spooning consistency.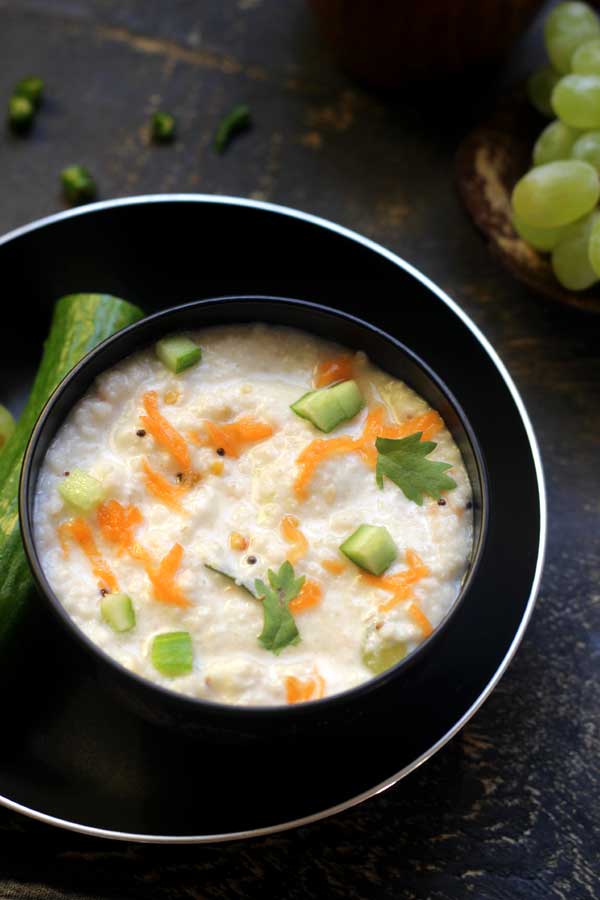 Barnyard Millet Curd Rice | Healthy and Diabetic friendly
Ingredients
Barnyard millet- 1/2 cup
Water- 1.5 cups
Yogurt- 1 cup
Milk- 1/4 cup
Salt- 1/2 tsp
Grated carrot- 2 tbsp
Cucumber- Small piece
Grapes- 5 nos.
Coriander leaves- Handful

To temper

Cooking oil- 1 tsp
Mustard seeds- 1/4 tsp
Split blackgram lentils- 1/4 tsp
Curry leaves - Few
Green chilly- 1 no.
Ginger- 1/2" piece
Instructions
Preparation

Rinse and wash the millets once or twice with enough water and keep aside.
Dice the cucumber, chop ginger, green chilly and coriander leaves finely and keep aside.

Method

Heat 1.5 cup of water in a cooking vessel, as it comes to rolling boil include rinsed millet. Let it cook till soft and mushy. It may take 10 minutes.
When the millet is all cooked and ready, transfer it to a bowl and let it cool down to room temperature. The add yogurt and milk to it.
Mix well and ensure it's not thick. If needed add some more yogurt or water to bring it to spooning consistency. Next add salt, grated carrot, grapes, green chillies and cucumber.
Heat a seasoning pan adding all the ingredients under the list "to temper", as the mustard seeds pop up pour it over the millet curd rice. Combine well, garnish with coriander leaves and serve this healthy millet curd rice.

Notes

The yogurt shouldn't be sour, fresh yogurt is preferred for curd rice.
If you keep this millet curd rice for longer it may turn sour. So serve immediately after preparation.
You can use some pomegranate seeds to garnish.
https://udupi-recipes.com/2017/10/barnyard-millet-curd-rice.html
All the content in this website are © Copyrighted to – Udupi-Recipes