Barnyard millet upma!!
This could be – has been – is currently a game changer in our collective breakfast lives. It fits anywhere and everywhere in to your life because when something is so healthy, nutritious and rich in taste, how can it not be? For example
You are getting up for office with a healthy and light breakfast in your mind, barnyard millet upma could serve the purpose.
If you or anyone of your family has diabetes and in look for a common breakfast that can fulfill the morning food, then say hi to this upma.
If you are a person like me who thinks new way of cooking millets and making it part of everyday food life, then millet upma can be the easy, best option.
The trend in today's lifestyle for those who care much about their health is to cut short polished cereals. The husk free, majorly polished cereals do no GOOD to your health. You can get them replaced by unpolished ones or millets. But since years we have been using such polished cereals in our life that we can't stay away from it. So I would say using millets once or twice a week would definitely help initially.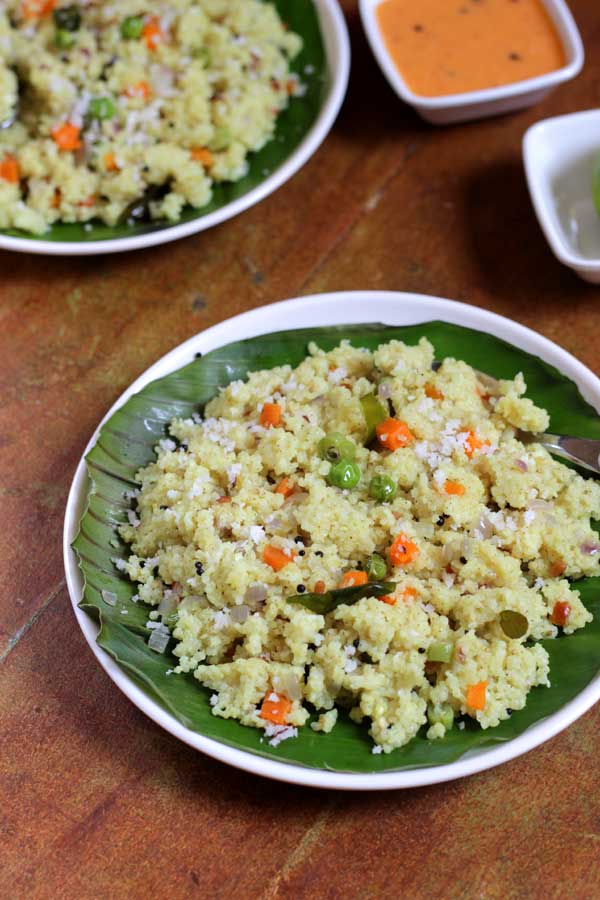 This is the point where my healthy life style journey would merge with old, trusted friend: millets. Unlike barnyard millet idli which need some kind of pre-planning, I wanted an instant version of food with millets. So here comes barnyard millet upma. It has unpolished cereal, your favorite veggies, some spices and tempering to make it eat-worthy.  The crunch of finely chopped veggies with the flavors of ginger and nicely cooked millet, the upma tastes the best. The water ratio of 1:3  works well for this millet to cook perfectly soft and fluffy. So lets get a step ahead towards healthy life style.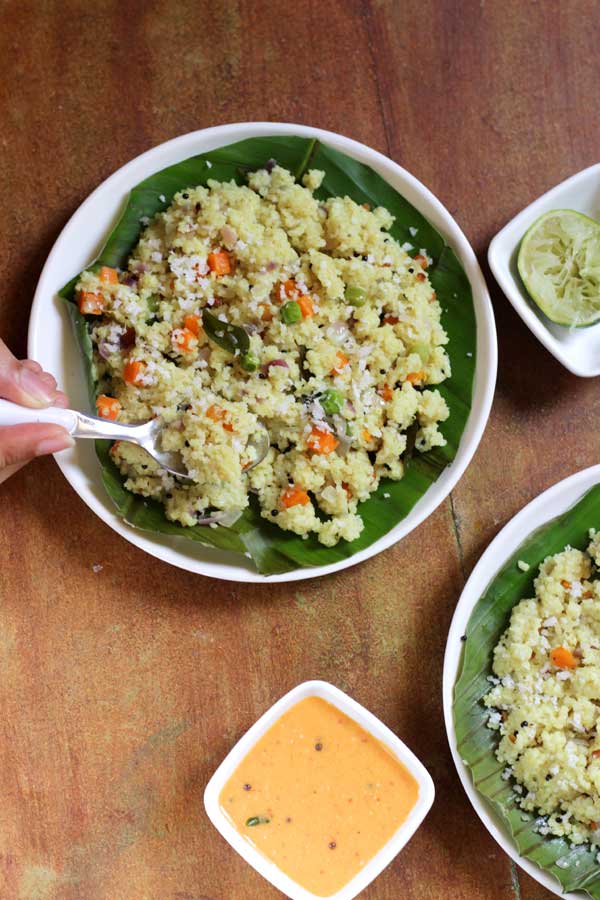 Barnyard Millet Upma | Oodalina Uppittu
Ingredients
Barnyard millet (oodalu)- 1/2 cup
Finely chopped vegetables- 1/4 cup
Fresh grated coconut- 1 tbsp
Onion- 1 no.
Green chillies- 1 no.
Ginger- 2" piece
Lemon- half
Water- 1.5 cups

To temper

Oil- 1 tbsp
Mustard seeds- 1/2 tsp
Split blackgram lentils- 1/2 tsp
Split chickpea lentils- 1/2 tsp
Curry leaves- Few
Instructions
Preparation

Rinse and wash the millets in enough water, drain and keep it ready.
Peel off the onion and chop it in to fine cubes, slit the geen chillies and crush the ginger finely and keep aside.

Method

Heat a pan adding all the ingredients under the list 'to temper' and saute till the mustard seeds sizzle. Then include onion, ginger and green chillies. Conitnue sauteeing.
When onion turns translucent, include chopped vegetables (I have used carrot, beans and green peas). Add 1.5 cups of water, salt and let the vegetables cook.
When the water boils, add the millet. Give a quick mix and keep it covered with lid. Let the millets cook in medium flame. It may take few minutes.
Once the millets get cooked completely, water would have been absorbed. Squeeze some lemon juice and garnish with grated coconut.
Amazingly healthy barnayard millet upma is ready to serve.

Notes

I have used finely chopped carrot, beans and peas. You can skip them or use the veggies of your choice.
Adjust green chillies as per your preferences.
The millet to water ratio is 1:3 because millet needs more water to get cooked.
https://udupi-recipes.com/2017/09/barnyard-millet-upma-oodalina-uppittu.html
All the content in this website are © Copyrighted to – Udupi-Recipes