A quick post on healthy and delicious black chickpea laddo. It's quite obvious to be back with a quick post because we are just two days away from Lord Krishna's birthday celebrations. The year 2017 is quite weird as some festivals have occurred twice and some have missed their normal schedule. This is because of some conflicts in solar and monar calenders.  The birthday celebrations of Lord Krishna which is popular as "Sri Krishna Janmashtami" happened this year once in the month of August and again happening in this month. And we, all people from Udupi are having gala time right now to celebrate the festival on September 13th.
Krishna Janmastami isn't an easy affair from the perspective of home maker because behind scene, lot of preparations begin beforehand. Because the festival itself implies lot of varieties of laddus and chakkuli (murukku) which gets on as offering to Lord. So the day of festival begins with a FAST and ends with  FEAST containing 7 to 8 variety of laddo.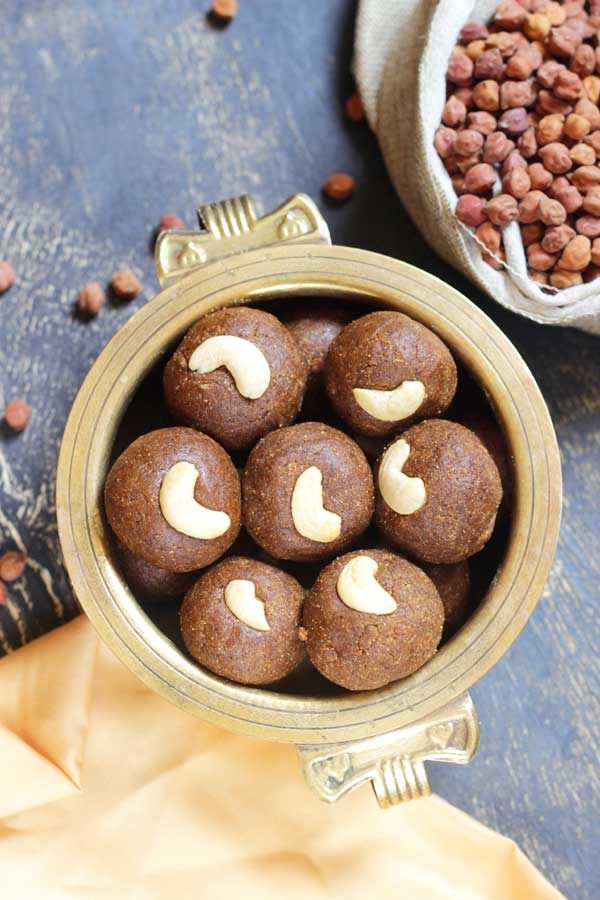 The type and variety of laddu offered to Lord differ from one household to another. But you can find generous use of lentils, legumes and nuts (Remember peanut laddo?) in each variety of laddo. Since the legumes and nuts are nutrition rich and such sweet things can be kept for long, they become ultimate after-school-snack for kids. In this space I have a long list laddo recipes posted till now. You can check them and plan your menu for the offering. This black chickpea laddo has chickpeas with their skin, roasted and mixed with jaggery syrup. The fresh coconut included to give nice crunch to your mouth while eating. If you scare that coconut can deteriorate the taste of laddu after a day or two, don't worry it will not. Because we are cooking the coconut in jaggery syrup for  a while which in turn gives life to laddu.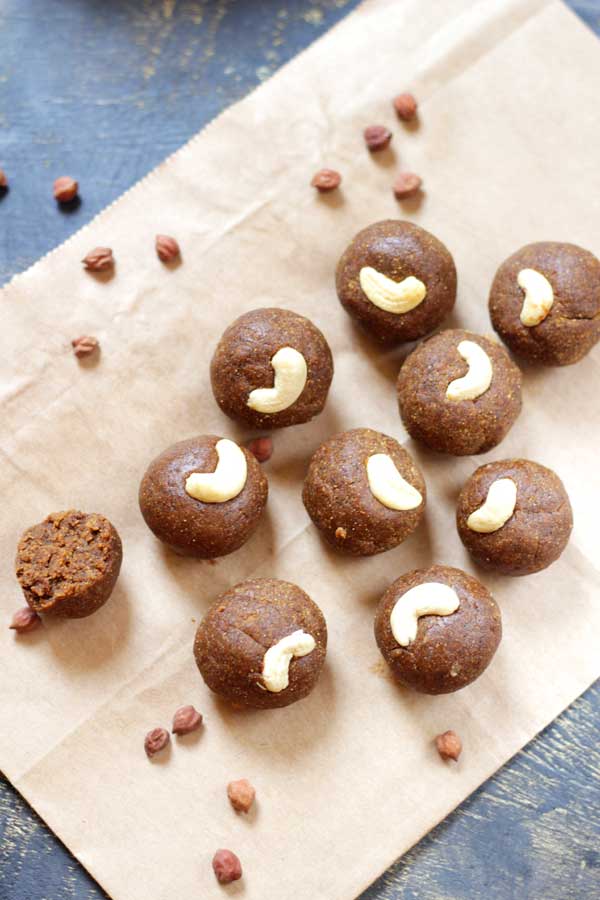 Black Chickpea Laddo | Kadale Unde
Ingredients
Black Chickpeas(Black chana)- 1 Cup
Jaggery- 3/4 cup
Fresh grated coconut- 1/2 cup
Water- 1/4 cup
Ghee- 2 tsp
Cashews- Few
Cardamom powder- 1/2 tsp
Instructions
Preparation

Heat a pan and add chickpeas in to it. In medium flame with constant stirring roast them till you find some brown spots on them. Let them cool down.

Method

Spreading the chickpeas over a plate helps it to cool down early. Once the chickpea are in room temperature, powder them in a mixer.
Sieve the chickpea flour using a fine sieve. Once again powder the residues after sieving and sieve it back. As the flour gets ready, heat jaggery in a pan.
Add 1/4 cup of water to jaggery and cook in medium flame. As the jaggery gets dissolved completely and begins to boil, add grated coconut to it.
Let the coconut get cooked in jaggery syrup for 3 minutes and switch it off. Pour it over the chickpea flour.
Combine the flour with jaggery syrup using a ladle and let it cool down. Take a lemon sized laddo mix in your hand and shape it like laddo. Include a cashew while shaping.
Very flavorful and healthy chickpea laddu is ready to be offered to Lord Krishna.

Notes

Ensure the chickpeas are roasted evenly and not burnt.
Sieving the flour helps in getting even textured laddos.
Do not overcook the jaggery and no consistency checking required.
If jaggery syrup gets in to soft ball consistency, laddos turn hard. So ensure it's switched off on time.
Coconut gives nice crunch while eating the laddo. So do not skip it.
This laddu lasts more than a week in room temperature.
https://udupi-recipes.com/2017/09/black-chickpea-laddo-kadale-unde.html
All the content in this website are © Copyrighted to – Udupi-Recipes