Peanut ladoos or any other type of ladoo for that matter is prepared in udupi region households compulsorily on Shri Krishna Janmashtami. On most other festivals the sweet that is prepared is Payasa and not ladoo. Here goes the recipe for peanut ladoo. Take a look.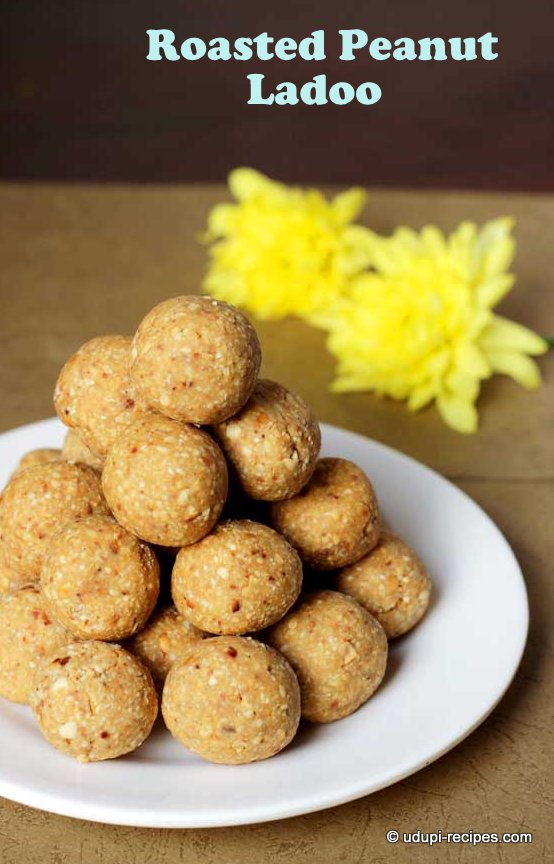 Roasted Peanut Ladoo/Groundnut Laddu Recipe
Ingredients
Peanut/groundnut-1/2 kg
Jaggery-1/2 kg
Cardamom powder- 2 tsp
Cashew nuts-handful
Ghee-5 tsp
Instructions
Preparation

Dry roast peanut/groundnut till you get nice aroma. The peel rolls out easily when rubbed with hands. Check the peanut by rubbing with your hand. If the peel rolls out, it's done. Let it cool and peel the peanuts.

Method

Grind the peeled peanuts coarsely in a mixer.
Fry cashew pieces in one teaspoon ghee till it changes in color.
Mix peanut powder, cashew nuts,3 teaspoon of ghee and cardamom powder. Now peanut ladoo mix is ready.
Place the heavy bottom pan/kadai with 1/4 cup of water. Add jaggery to it. Bring to boil in medium flame. When the jaggery melts completely, keep stirring and splash few drops of jaggery syrup into a bowl of water. If the jaggery syrup does not dissolve and you can male hard ball out of it then jaggery syrup is ready. Switch off the flame.
Pour the jaggery syrup in to peanut ladoo mixture of step 1. Mix it well.
Grease your palm with ghee and take small quantity of ladoo mix and tie ball out of it. Now peanut ladoos are ready to be served.

Note

Jaggery syrup should reach the right soft ball consistency before adding to laddo mix. Ensure it.
Do not add all syrup at once, it's better to add the syrup to small portion. Once you finish making laddos with that portion, continue adding to rest.
https://udupi-recipes.com/2012/09/roasted-peanut-ladoogroundnut-laddu-recipe.html
All the content in this website are © Copyrighted to – Udupi-Recipes
Meet you all with one more interesting Udupi recipe. Till then bye.