Each region of Karnataka has diversity in cooking methods, food habits and of course taste. Jowar and rice are the main cereals consumed in north Karnataka where as Ragi and rice are consumed in south. In Udupi region most of the brahmin sambars and curries will taste little sweet as jaggery is used in most of the rice accompaniments. The main course of udupi lunch has rice and its accompaniments like rasam/saru, sambar/huli/koddel varieties, palya/ajatno varieties. Bolu koddel/bolu huli is one of the sambar type prepared here using the vegetables like brinjal, ash gourd, ladies finger, Mangalore southe, raw banana and so on. Udupi sambar powder is used in preparing these bolu koddel has some special taste. Here goes the recipe for the same. Try it and enjoy the udupi taste.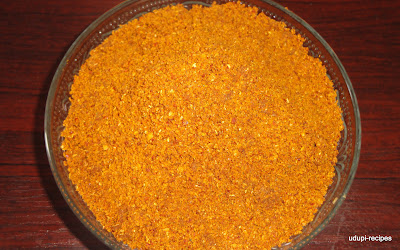 Udupi Sambar Powder Recipe-How to make sambar powder?
Ingredients
Red Chillies(Byadagi)- 100gms
Coriander seeds- 75gms
Urad Dal/Split black gram-25gms
Cumin seeds-25gms
Fenugreek seeds- 25gms
Chana dal/Bengal gram-10gms
Coconut Oil- 50gms
Curry leaves- 3 to 4 strands
Instructions
Method

Add 5 tea spoon of oil and fry red chillies, then fry urad dal/split black gram, chana dal and coriander seeds. Add sufficient oil if required.
Again add sufficient oil and roast cumin seeds, fenugreek seeds and curry leaves one after the other. Make sure the species not get burnt.Keep it aside and let it cool.
Once the roasted species reach room temperature, powder it in mixer.
Now the Udupi sambar powder is ready. Let it cool and store it in a air tight container.

Note

The spiciness of the powder totally depends on quality of red chillies.
I have given the standard measurement, based on the spiciness of red chillies you need to increase or decrease the quantity
In Udupi it is practice to use coconut oil in cooking, if you prefer can use other cooking oil.
https://udupi-recipes.com/2012/09/udupi-sambar-powder-recipe-how-to-make-sambar-powder.html
All the content in this website are © Copyrighted to – Udupi-Recipes
Meet you all with one  more interesting Udupi recipe. Till then bye.