I feel so much delighted while presenting this creamy, scrumptious and one of it's kind Paradi Payasa.  I was longing to present this deliciousness to you through this blog. And it's been possible only now, after 5 years of food blogging. This actually mean that my attempts of making paradi payasa didn't get through so well that it could be presentable here. So in order to fine tune my cooking skills as applied to this payasa, I set aside some time for food discussion with food experts of my place. And it really eased the process and I loved making the dessert with extended confidence.
The recipe of paradi payasa was in my cook book since 3 years. But I was lacking in getting the consistency right. What matters most in this recipe is consistency of rice after grinding. The key of perfect paradi payasa is just that. The rice batter should be thick, non-flowing consistency but never watery or flowing. Meaning you need to use very less water to rice while grinding to get it right. When such batter is squeezed over a perforated plate or ladle, the droplets of rice batter falls in to water which is called as "Paradi". And this is what makes the title. After every iteration of making paradi, it's good to stir them once. As you have cooked paradi ready, jaggery and coconut milk will finish up the dessert. I just dissolved jaggery in water in medium flame before including.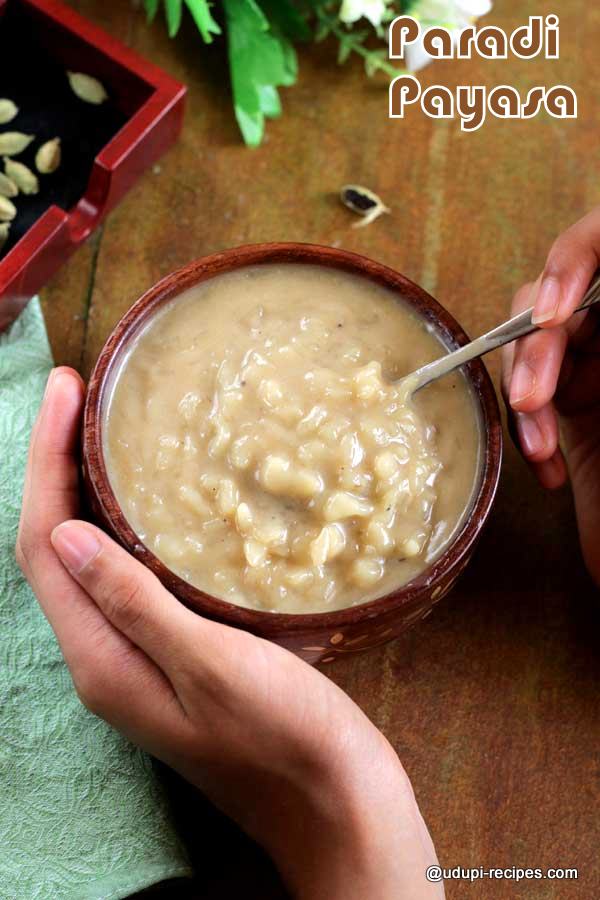 After that things are pretty basic like other payasa recipes. Creamy coconut milk and cardamom powder for flavor. Grab a bowlful of this dessert and dive to the bottom of deliciousness. Your mouth would be thankful to you for the creamy, sweet taste. And you would surely fall in love with this drool-worthy awesomeness. Get going.
Watch the video: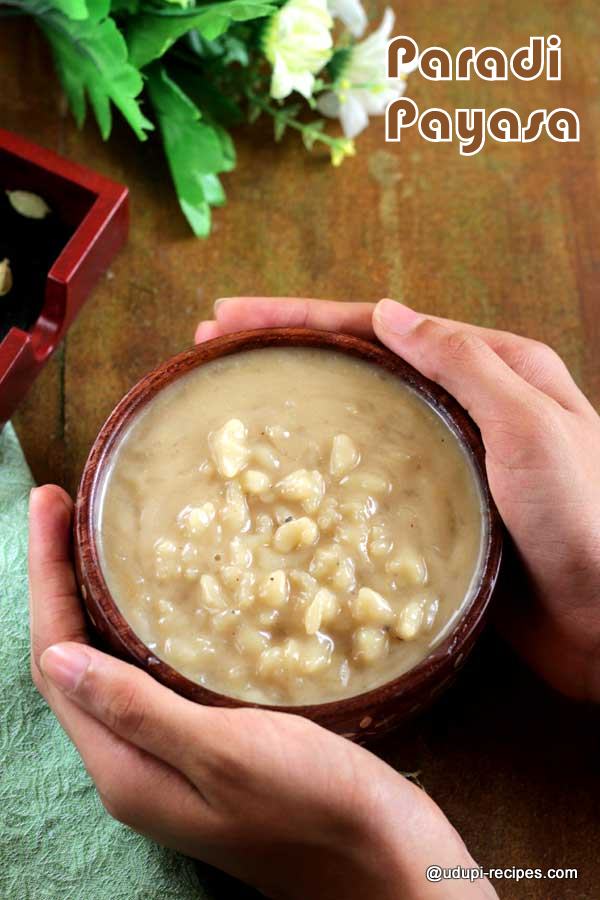 Paradi Payasa | Unique Payasa from Udupi
Ingredients
Rice- 1 cup
Jaggery- 3/4 cup
Fresh grated coconut- 1.5 cups
Cardamom powder- 1/2 tsp
Instructions
Preparation

Rinse and soak rice in 2 cups of water for around 2 hours.
Grind the coconut along with 1/4 cup of warm water and extract thick coconut milk.
Next add the squeezed coconut along with some more water and squeeze thin coconut milk as well. Keep 2 cups of coconut milk ready before you start making payasa.

Method

Drain water from rice and take it in mixer.
Adding 1/4 cup of water, grind rice to fine puree. The consistency should be thick and shouldn't be flowing like. Transfer the same to a bowl.
Next heat 2 cups of water in a cooking pan and bring it to boil. On a perforated plate add a teaspoon of rice batter and squeeze such that rice balls drop in water.
Continue the process with rest of the rice batter and let those rice balls(paradi) get cooked in water. Meanwhile in a pan take jaggery along with little water(1/4 cup) and cook in medium flame.
When the jaggery dissolves in water add that syrup to cooked paradi. Mix well and cook for some more time. Next add thin coconut milk and boil.
Finally add thick coconut milk and cardamom powder. Bring it to boil and switch off.
Unique and delicious paradi payasa is ready to serve.

Notes

You can use replace homemade coconut milk by store bought one too.
The consistency of rice batter is very important. Add minimum water while grinding and obtain thick, non-flowing batter.
In case your batter turns thin, add some all purpose flour and make it thick.
After each iteration of paradi making, stir it once so that it spreads in water to cook.
Ensure rice balls(paradi) cook well before adding jaggery syrup.
After adding coconut milk, do not cook the payasa for long.
https://udupi-recipes.com/2017/09/paradi-payasa-unique-payasa-udupi.html
All the content in this website are © Copyrighted to – Udupi-Recipes