Waking up in the morning to find no batter stocked in refrigerator makes me panic at times. Which is quite obvious because morning hours are like gem hours where every second counts. From the time I get up till I walk along with my kids to drop them to school bus, I find no time for any thinking. It means all thought process is pre-poned to the previous day itself. So Before I go to bed I program my mind for all the cooking that starts the immediate morning.  This is how my routine looks like during normal weekdays. Probably it is the same case with most of you I suppose. And once I get back from dropping children, it's like relax, take your breathe situation where I can really think and cook. One such day this ragi neer dosa was my breakfast which was incredibly yummy and healthy.
After packing the breakfast for everyone at home, I found nothing for my hungry self on a day last week. And that is when my mind pondered between some easy or healthy or wholesome food to kick start the day. And this ragi neer dosa magic happened on such a day and I loved the taste and lacy-texture.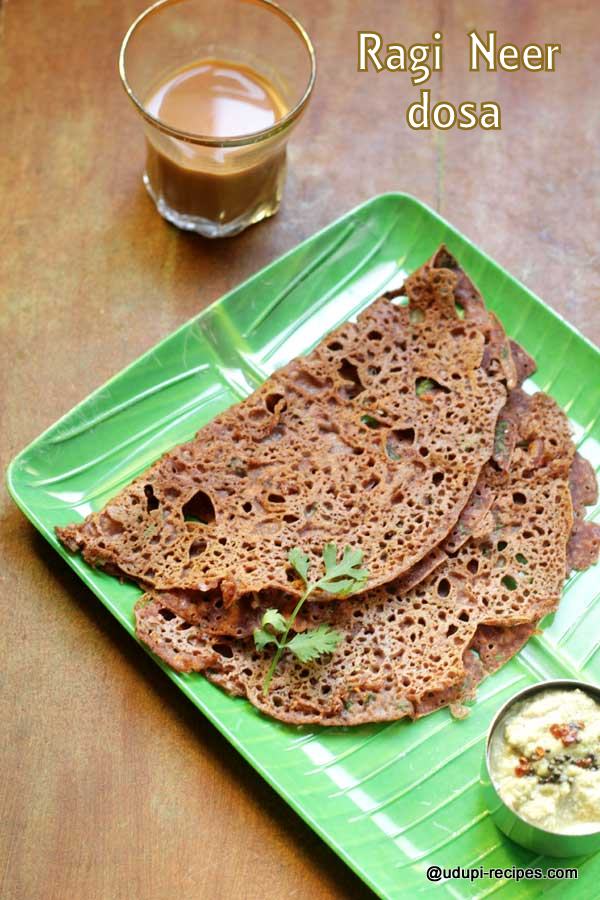 The finger millet flour or ragi is always there in my pantry for some good reasons. It comes as handy ingredient to mix with dosa batter. But here it is the hero ingredient which along with rice flour, curds and water forms thin batter. It is more or less like watery in consistency. Thin batter when poured over (like rava dosa) on a hot griddle it gets the lacy texture. But ragi neer dosa isn't crispy, it is soft and mellowy, tastes amazingly good with peanut coconut chutney and sambar of your choice. Wish you happy breakfasting. Let's relish.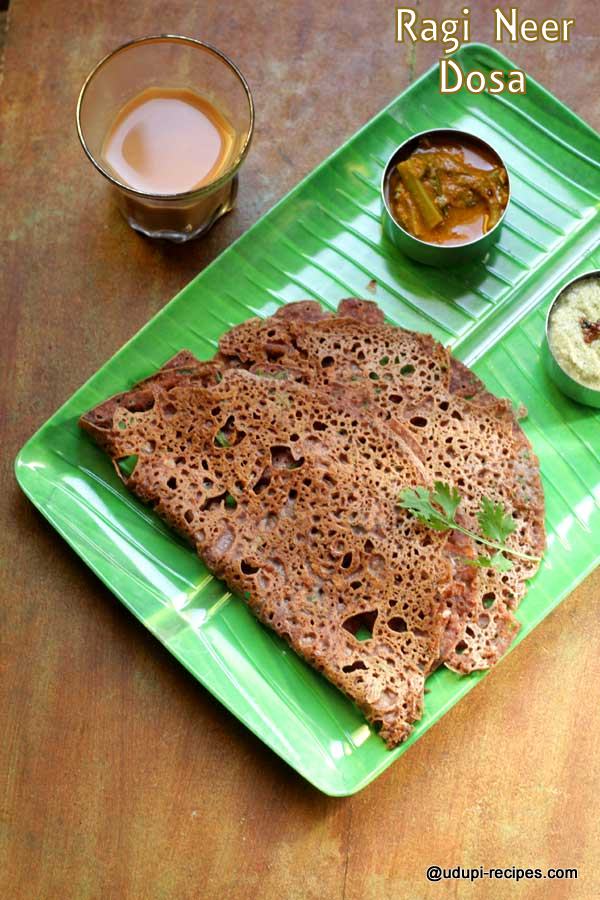 Ragi Neer Dosa | Instant Finger millet flour dosa
Ingredients
Ragi(finger millet)flour- 1 Cup
Rice flour- 1/4 cup
Sour curds- 1/4 cup
Salt- 1 tsp
Onion- 1 no.
Carrot- Half
Coriander leaves- Handful
Instructions
Preparation

Peel off the onion and chop it finely in to tiny bites. Grate carrot and finely chop coriander leaves. Keep aside till use.

Method

In a wide bowl take ragi flour, rice flour and curds together. Give a quick mix.
Add a cup of water and mix to get thin batter. Add chopped onion, coriander leaves and grated carrot to the batter.
Combine the veggies with batter and check the consistency. If needed add some more water. Heat a dosa griddle and pour the batter just like neer dosa. You need to hold the ladle 2" above the griddle to pour thin dosa.
Cook this dosa covered for about few minutes. Then using a flat ladle, carefully loosen the edges and remove it from griddle. No need to cook the other side.
Soft and healthy ragi neer dosa is ready to serve with chutney and sambar.

Notes

Before making every dosa, stir the batter once so that it doesn't settle at the bottom.
Ensure the veggies that you add are very very fine otherwise neer dosa will not be thin.
Like normal dosa, it doesn't need spreading and cooking the other side.
https://udupi-recipes.com/2017/09/ragi-neer-dosa-instant-millet-dosa.html
All the content in this website are © Copyrighted to – Udupi-Recipes