This creamy peanut coconut chutney is a hit. Perfect for idli, dosa or anything you might want to pair with peanut goodness. Because peanut does a magic here bringing in the creamy thickness to chutney. I have been in to chutney department since years meaning I might have prepared coconut chutney billion times, yet the use of peanut didn't popped in my mind. It never really happened in my kitchen but today as I sat down to plate my breakfast, chutney wasn't enough. It was too little for the two rava rotti which was on plate. So I walked to the refrigerator looking for coconut to whip up a fresh  batch of chutney for my hungry self. Alas..I found the coconut much less for a full course coconut chutney. Uh..What next?
Unknowingly, laziness wrapped me up to make a trip to grocery shop and buy the coconut. But I did not give up, instead made my mind to create something new. I thought of using an ingredient in my chutney which never been part of it. It took me some while to be back and forth to choose, also I referred some cook books to finalize the ingredients that go in to chutney. So here it is peanut coconut chutney.
Fast forward an hour, I found myself indulging in food on breakfast table and it was absolutely, amazingly awesome. Overwhelmingly satisfied by the end product, I decided instantly to keep a jar full of roasted peanut in my pantry. Because if it saves few minutes of my morning hours, it is very much critical for home maker self. And it is the indication that peanut coconut chutney is going to happen many times a week henceforth. The creamy, spicy and flavorful accompaniment ever. Wouldn't it be incredible? awesome? yummy? creamily delicious?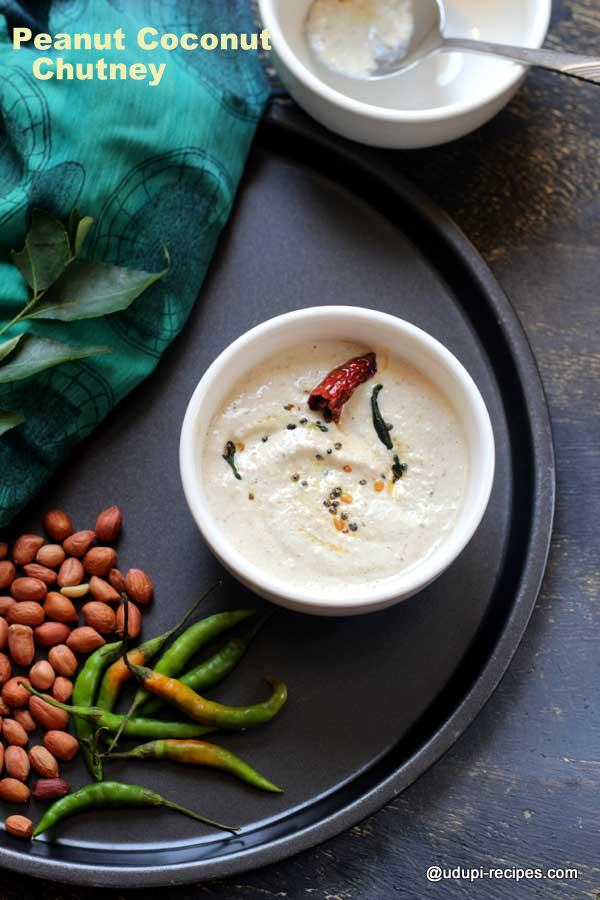 Watch the video:
Peanut Coconut Chutney | Best with Idli, Dosa
Ingredients
Peanuts- 1/2 cup
Fresh grated coconut- 1/4 cup
Green chillies- 3 nos.
Garlic cloves- 2 to 3 nos.
Cumin seeds- 3/4 tsp
Tamarind- Marble sized
Salt- 1 tsp
Cooking oil- 1 tsp

To temper

Cooking oil- 1 tsp
Mustard seeds- 1/2 tsp
Split black gram lentils- 1/2 tsp
Broken red chilly- 1 no.
Curry leaves- Few
Instructions
Method

Take peanuts in a pan and dry roast them till they shed their skin off. It may take few minutes. Let it cool down, then crush them between your palms to remove the skin off.
Heat a pan adding oil, green chillies and garlic cloves. Roast them in medium flame and switch off. Add roasted peanuts, garlic, coconut, green chillies, cumin, salt and tamarind in a mixer and grind them together to little coarse puree. Add water as needed.
Yummy peanut coconut chutney is ready to serve with dosa and idli.

Notes

You can use the roasted peanuts with skin too. In that case the color of the chutney would differ.
Do not skip garlic, it adds unique flavor to the chutney.
While grinding the chutney, add water as per the desired consistency.
https://udupi-recipes.com/2017/07/peanut-coconut-chutney-best-idli-dosa.html
All the content in this website are © Copyrighted to – Udupi-Recipes