I feel blessed and fortunate when I think about my childhood.  I grew up in a small town in northern part of Karnataka where there were no fancy, donation demanding schools at that time. My father had a small hotel business in which he himself used to cook all the dishes alone. My mother too used to extend her helping hands in grinding  batter, chutney and steaming idlis.  The buzz of grinder in early morning  and late evening hours was my companion of studies in those days.
The creamy chutney that was paired with Idli or dosa at my father's hotel was made with just 4 ingredients i.e roasted gram, chilly, ginger and salt with tempering of mustard seeds and curry leaves in coconut oil made the chutney taste more delicious. I always try to make variations and hook on to the coconut chutney recipe that is loved by me and my family. Today one such colorful red coconut chutney is here for you.  I have soaked red chillies in hot water so that it easily blends with coconut, releasing it's red color to the dip. Now read on the recipe.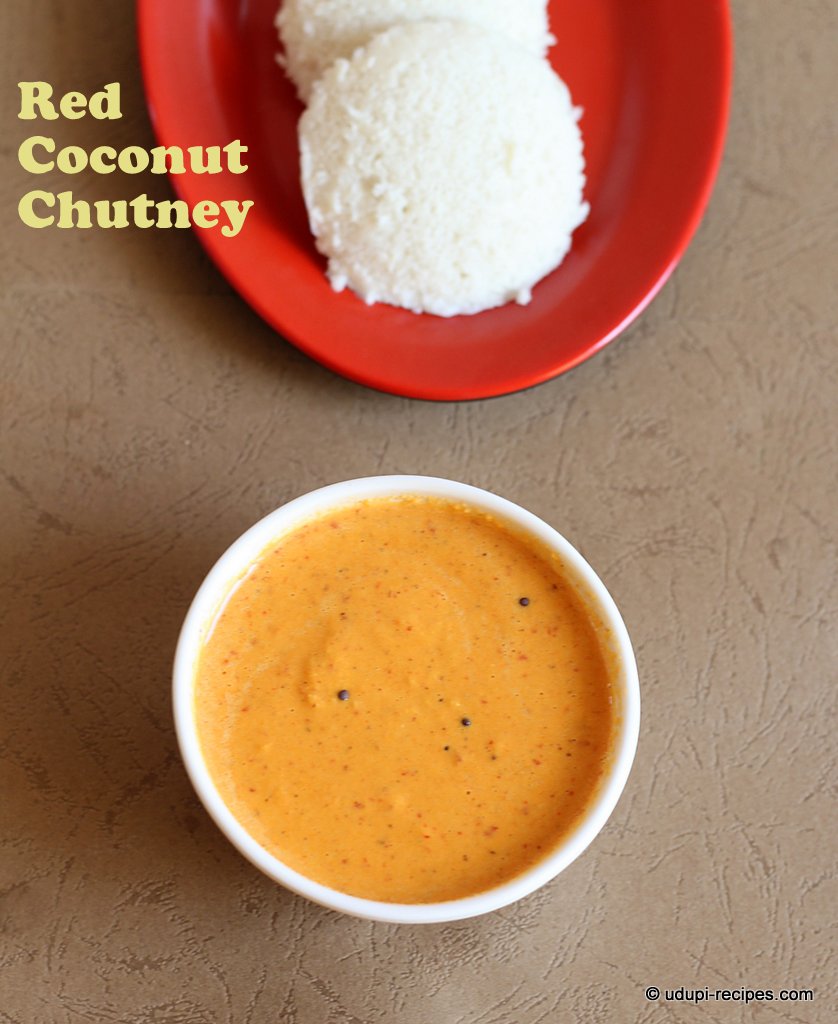 Red Coconut Chutney Recipe | A Sidedish for Idli Dosa
Ingredients
Grated coconut- 3/4 cup
Roasted gram- 3 to 4 tsp
Red chillies (byadagi)- 2 no.
Tamarind- Small gooseberry sized
Salt- 1/2 tsp or to taste
Ginger- 1/2" sized
Asafoetida- Chickpeas sized

Seasoning Ingredients

Cooking oil- 2 tsp
Mustard seeds- 1/4 tsp
Split black gram lentil/ urad dal- 1/4 tsp
Curry leaves- Few
Instructions
Preparation

Soak red chillies in hot water for 10 mins.

Method

Add all chutney ingredients in to mixer and grind to coarse paste.
Heat seasoning pan adding oil, mustard seeds, urad dal and curry leaves. When mustard seeds start to sizzle and pop, transfer it to red coconut chutney.
Red coconut chutney is ready. Enjoy lip-smacking side dish with Idli and Dosa.

Note

If you have abundant coconut, then use it alone for chutney and skip roasted gram.
I like to add few curry leaves while grinding this red chilly chutney to make it more healthier.
Soaking red chillies helps it to blend well with other ingredients and make the chutney colorful.
https://udupi-recipes.com/2014/03/red-coconut-chutney-side-dish-for-idli-and-dosa.html
All the content in this website are © Copyrighted to – Udupi-Recipes