Yesterday was Women's day and a wonder woman in my life is none other than my mother.  She is everything to me… my role model, my mentor and my most respectful lady in this world. Whenever I meet trivial to substantial hurdles in my life I just think of my mother.  She has crossed all mountains and valleys without seeing the storm and heat to make me a person presentable in this society today.  My problems seem to be just negligible to me when I glance what all she has gone through in life. I LOVE YOU MOM…
Today  I am shedding light on a  breakfast recipe which is traditional and authentic to Udupi. I call it as methi leaves dosa, an extension of a recipe that I had posted long back named uppu huli dosa. Methi leaves dosa- perfect blending of sweet, spice and tanginess with the  flavor of cumin and coriander seeds is just too appetizing and healthy too as it has the goodness of fenugreek leaves.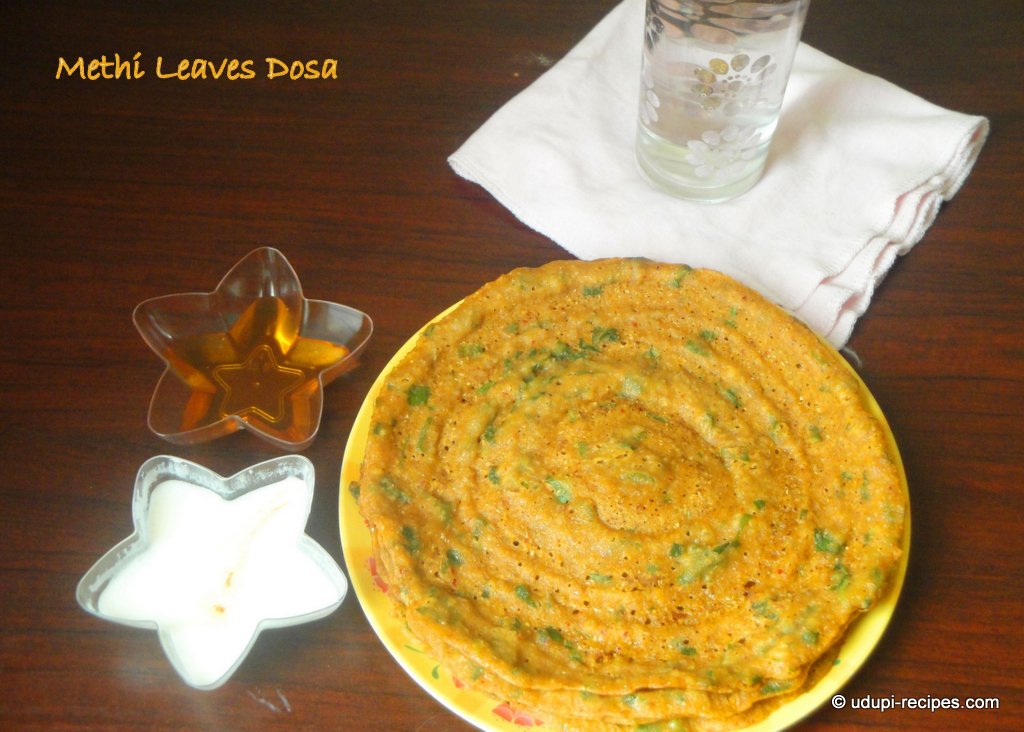 Ingredients
Dosa rice- 1 cup
Split black gram lentil(urad dal)- 1 tsp
Fenugreek seeds- 1/2 tsp
Grated coconut- 1/2 cup
Coriander seeds- 6 tsp
Cumin seeds- 3 tsp
Red chillies(byadagi)- 5 no.s
Powdered jaggery- 4 tsp
Salt- 3/4 tsp or to taste
Tamarind- Gooseberry sized
Methi(fenugreek) leaves- 1 bunch
Cooking oil- 6 tsp
Instructions
Preparation

Soak dosa rice along with fenugreek seeds and urad dal at least for 2 to 3 hours or overnight.
Wash and clean methi leaves with ample amount of water. Discarding stem chop the leaves finely and set aside till use.
Soak tamarind in water for about 10 minutes. Extract thick juice and discard residue.

Method

In a mixer add grated coconut, coriander seeds, cumin seeds, red chillies, tamarind juice, jaggery and salt. Grind it finely adding water as needed. Once it's done, include soaked ingredients also and grind them finely together.
The consistency of the batter should be just same as dosa batter.
Transfer the dosa batter to a wide bowl. Now mix finely chopped fenugreek leaves with the batter. Methi leaves dosa batter is ready now.
Heat a dosa griddle, smear half tea spoon of oil on to it. Spread a ladle ful of methi leaves dosa batter on the griddle in clockwise circular motion. Let it cook with covered lid till done.
Once the dosa is cooked, remove it using flat spatula. Turning over dosa is not needed.
Serve methi leaves dosa with honey or curds and pickle. Delicious and healthy methi leaves dosa is ready.

Note

You can substitue methi leaves by any other greens of your choice like palak.
Stick on to the recommended quantity of ingredients, do not skip any of them.
Without any side dish also the dosa tastes good as all spices are included in the batter.
https://udupi-recipes.com/2014/03/methi-leaves-dosa-recipe.html
All the content in this website are © Copyrighted to – Udupi-Recipes
Meet you all with one more interesting recipe. Till then bye.