Let me list down the reasons for you to cook this banana muLuka.
If you are a person with sweet teeth and crave for something sugary in the evening then this banana muLuka is for you.
If you are a home maker who is looking for some instant sweet thing to cook, then this muLuka is for you too.
Besides, if you are like me who wants to get rid of some over ripe bananas, then you would love making these wonderfulness.
And it just takes your will and time to whip up the deep fried appam because there are no fancy ingredients. All in all, this recipe has 5 ingredients which are already in your pantry.
Banana is that single most fruit which you can find on all the days of year. And in sync with it's availability, I stock the fruit for an entire week. Because it comes very handy during some sudden hunger cravings of my kids. Above all, I feel banana is healthy, sweet and wonderful which it is. Though the fruit basket gets cleared off by the end of week,  occasionally they get overripe, skin turning black and wrinkled. Which is when, the kids get reluctant to eat the fruit. And this is the situation my food blogger mind considers to cook something new making better use of banana.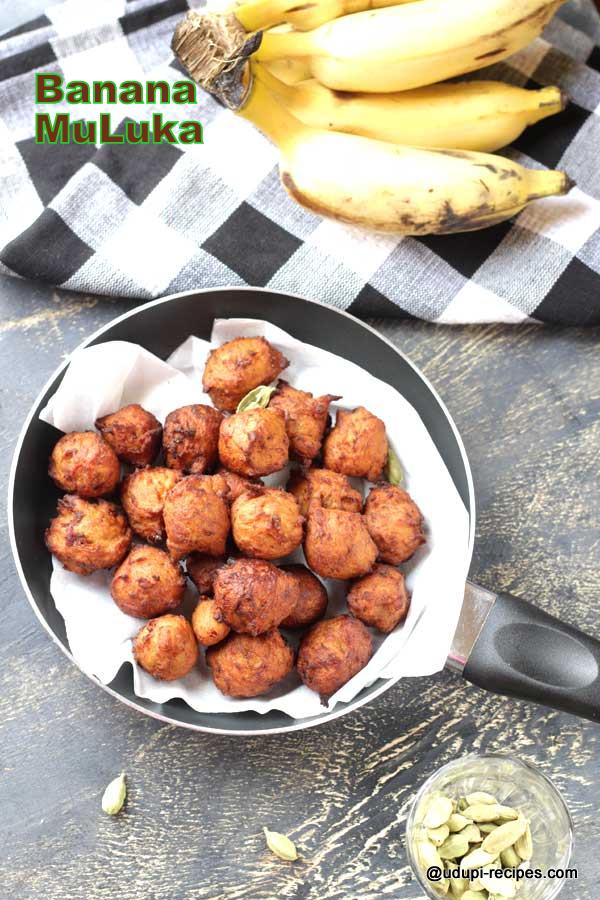 Banana muLuka happened accidentally like this. The scorching summer made my stock of bananas to overripe too sooner than ever.  I converted few of them in to this awesome banana dosa couple of months back. Do you remember? It was equally as good as these banana muLuka, but I love the latter lot more than former. Because the deep fried appam is mellow-y soft, has wheat flour goodness and it's travel friendly. It would be an awesome snack on picnic days where kids hunger pangs roar intermittently. How you guys make the better use of over ripe bananas friends??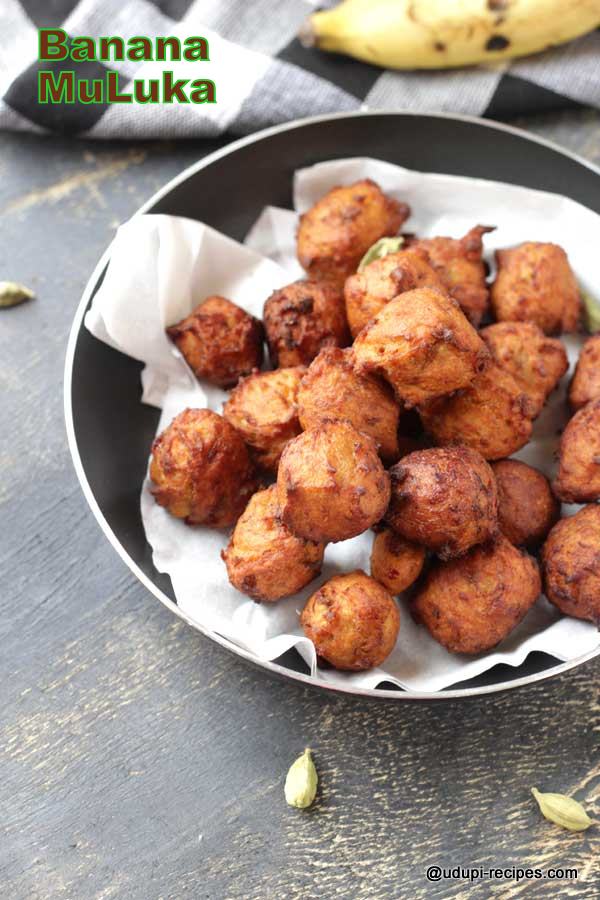 Banana MuLuka using Wheat Flour
Ingredients
Over ripe banana- 4 nos.
Wheat flour- 1 cup
Jaggery- 1/4 cup
Salt- A pinch
Cardamom powder- 1/4 tsp
Instructions
Method

Peel off the bananas and mash together in to free flowing puree with no lumps.
Next add powdered jaggery and mix well. The mixture may become little runny now. Include salt, cardamom powder and stir. Then add the wheat flour.
Combine the wheat flour such that it turns little sticky dough. The consistency should be thick enough to make balls out of it. Heat cooking oil in heavy bottom wok and drop small balls of dough in to the oil.
In medium flame deep fry them till the color changes to little brown. Once done, using slotted ladle remove from oil and drain over kitchen tissue. Repeat the process with rest of the dough. Yummy banana muLuka is ready to serve.

Notes

The bananas should be over ripe so that you can easily mash up in to free flowing puree.
After adding wheat flour if the dough turns little runny, go ahead and add some more flour to make it thick and stiff dough.
The sweetness was just perfect for our taste buds. If you like more sweetness, add some more jaggery.
https://udupi-recipes.com/2017/07/banana-muluka-using-wheat-flour.html
All the content in this website are © Copyrighted to – Udupi-Recipes