Greetings. Saying this from my loving home land India. You guessed it right, I am vacationing and in 100% holiday mood. This time of the year is what I enthusiastically look for to get a desired break from this online world. Because it's relaxing, refreshing and quite soothing feeling to be with my parents after a long year.  Like every year, heavy down pour of monsoon welcomed me here which was extremely awesome feeling after 3 months of sunny life in UAE. Above all, my kids have much excited buzz running through them to meet and play with grand parents. So all in all, happiness all around. Having said this, I don't give up my readers with no recipe posts during my vacation and now lemon shavige shows up.
Do you remember instant shavige recipe which I shared couple of weeks back? If not, go check right now. Because this lemon shavige is kind of extension to that. The instant rice flour shavige is not a complete breakfast, it does need some side dishes like chutney or sambar to become a complete tiffin. Or else you can give massive makeover to the bland instant shavige with some spices like this lemon shavige.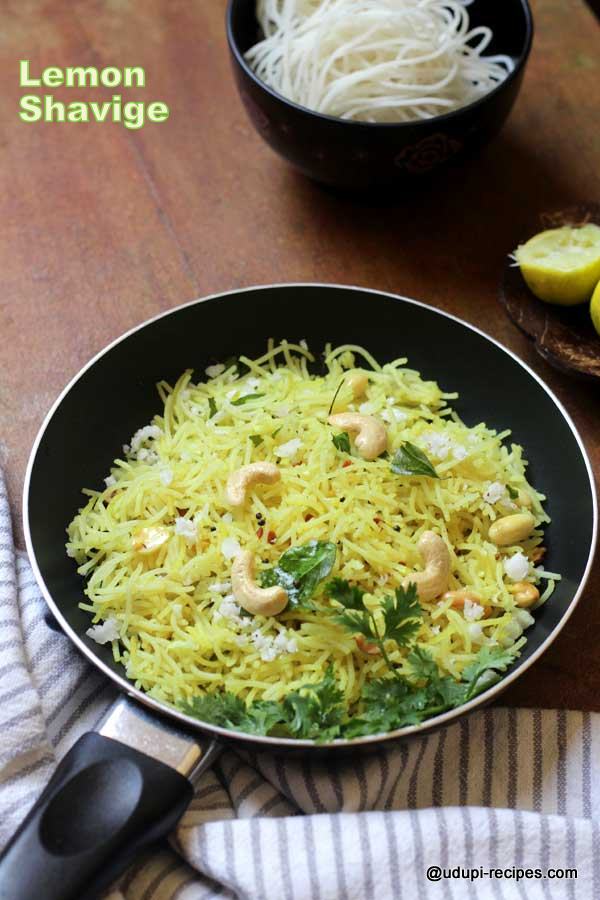 The lemon-y flavored, attractive yellow shaded lemon shavige gets a perfect breakfast badge from kids. Because kids love noodles kind of stuff and probably this breakfast looks similar to rice noodles. And you have all the liberty to play around with recipe to match it with your kids taste preferences. Like you can throw in some crunchy vegetables like capsicum, onion or grated carrot so that the food seems appealing and colorful to them. Also this food can stay fresh in tiffin box and can keep the kid's tummy full.  I am already scheming to consider this as kid's lunch box recipe for the after-vacation schooling.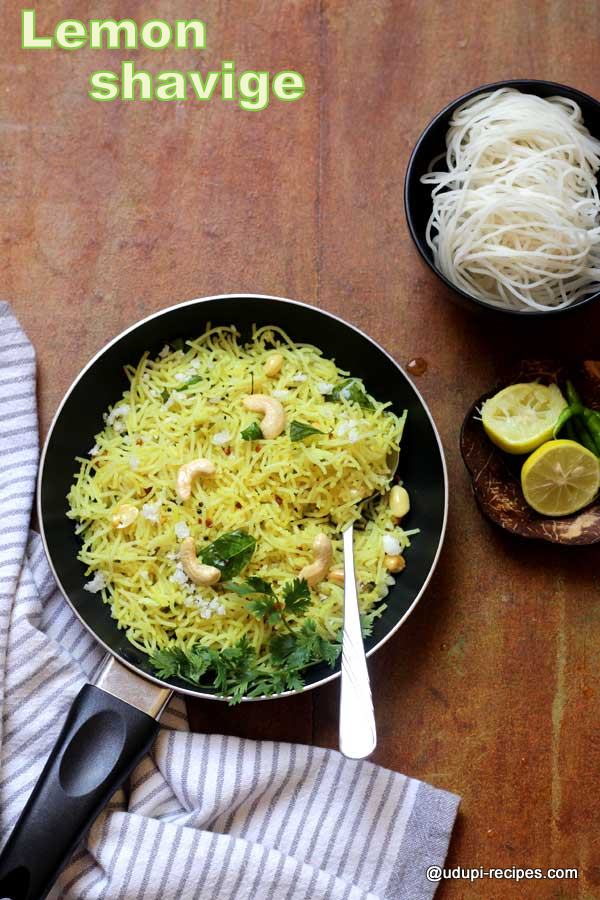 Lemon Shavige Recipe | Instant Breakfast
Ingredients
Instant rice shavige- 3 cups
Lemon- 1
Peanuts- 1/8 cup
Turmeric powder- 1/4 tsp
Green chillies- 2 nos.
Salt- 3/4 tsp
Fresh grated coconut- 1/8 cup
Finely chopped coriander leaves- Handful
Cashews- Few (optional)

To temper

Cooking oil- 3 tsp
Mustard seeds- 1 tsp
Split black gram lentils- 1/2 tsp
Split chickpea lentils- 1/2 tsp
Curry leaves- Handful
Instructions
Method

Keep the instant rice shavige ready by breaking them using your hand. Heat a pan with all the ingredients listed under "To temper".
When the mustard seeds pop out add peanut and saute till they get roasted in oil. Add slit green chillies, turmeric powder and salt. Swicth off the flame and include broken rice shavige and give a good mix. Finally squeeze lemon and garnish with grated coconut, fried cashews and coriander leaves.
Easy and tasty lemon shavige is ready to serve.

Notes

The rice shavige should be non-sticky for the perfect tasting lemon shavige.
You can use onions too for enhanced taste.
https://udupi-recipes.com/2017/07/lemon-shavige-recipe-instant-breakfast.html
All the content in this website are © Copyrighted to – Udupi-Recipes