It's July first week which literally means mango is off season. Isn't it? But right now, I am presenting raw mango curry which suppose to happen during early summer. But guess what? I got hold of few not-so- sour raw mangoes last month which generated real food excitements deep in my food spirit. Meaning cooking something new curry from the scratch stuck in my mind and just after few minutes of this thought, this amazing recipe shaped up. The intense, thick raw mango curry in Konkani style has all the flavors that can perfectly harmonize with plain rice.
Unlike raw mango gojju, this curry tastes uniquely different.  The farmer has strong flavors of roasted sesame seeds but latter hasn't. In this Konkani style of cooking raw mango curry the spices are minimum which are roasted and ground with coconut. Having said that, you cannot convert any raw mango in to this curry. You need to be selective on that. The ones which are not overly sour or the ones that are about to ripe go well in to this curry.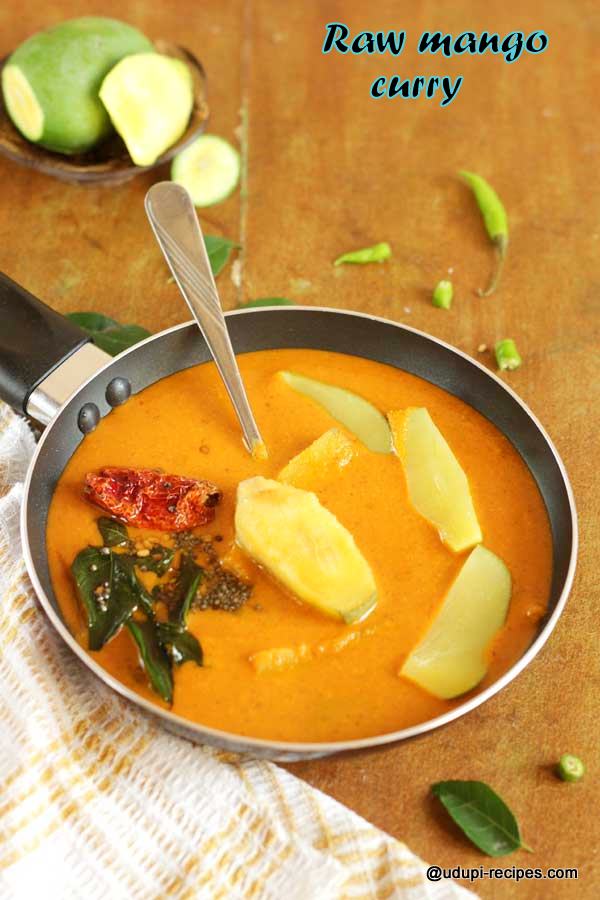 When this post publishes and shows up on your browser, I would be on the other side of this SUNNY land. Yes, I would be in my motherland holidaying with my family where monsoon is already onset. Monsoon in Udupi is terrifying with heavy downpours and thunderstorm. But still the weather is very much pleasing with cool breeze and earthy aroma of mud. And it's fun and happy time for me to relish the wholesome food cooked by my mother with all love and affection. She is a master cook who can give massive makeover to turn any pale, uninteresting veggie in to something delicious. Right at this moment, I feel so much blessed and content about life. Every one would feel the same about their parents. Isn't it so?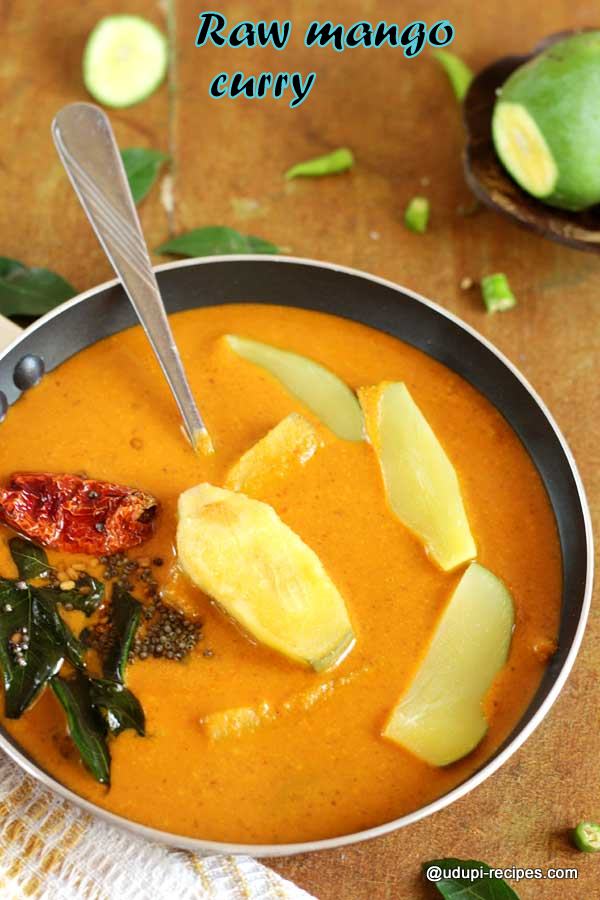 Raw Mango Curry in Konkani Style
Ingredients
Raw mangoes (small)- 3 nos.
Powdered jaggery- 2 or 3 tsp
Salt- 1 tsp

To grind

Fresh grated coconut- 1/2 cup
Red chillies- 2 or 3 nos.
Split black gram lentils- 2 tsp
Coriander seeds- 2 tsp
Fenugreek seeds- 1/2 tsp
Cooking oil- 2 tsp

To temper

Cooking oil- 1 tsp
Mustard seeds- 1/2 tsp
Split black gram lentils- 1/2 tsp
Broken red chillies- 1 no.
Instructions
Method

Chop the raw mangoes in to lengthwise pieces. You can include the mango seed too. In a cooking vessel add raw mango pieces, water, jaggery and salt. Let it cook covered till the mango turns soft.
When the mango is cooking, in a pan add oil, lentils, coriander seeds, fenugreek and red chillies. Roast them together till the lentils turn little brown. Switch off once done. Take these roasted ingredients in a mixer along with grated coconut and grind to fine puree. Add water as needed.
Include the ground spice puree in to cooked mango pieces. Add water to get the curry to the desired consistency. Adjust salt and bring it to boil. Once done, switch it off.
Yummy raw mango curry in Konkani style is ready to serve with hot steamed rice.

Notes

Choose the raw mangoes that are not too sour. In that case you may have to add more jaggery to balance the tang.
The mangoes get cooked very fast, so you can make this curry in a jiffy.
The curry turns little thick after cooking, so adjust the consistency by adding water initially.
https://udupi-recipes.com/2017/07/raw-mango-curry-konkani-style.html
All the content in this website are © Copyrighted to – Udupi-Recipes