Jackfruit as a fruit itself is so much good that it's always been my friend. The huge spiky exterior containing sweet golden yellow pods doesn't fascinate anyone by it's look but by taste it definitely does. Paring and seeding the fruit, removing sticky glue to separate the flesh seems so much daunting task, but once you taste it, you feel worth the effort.
A decade ago when my parents newly built their home, there were no home-grown fruits. The mango, coconut and jackfruit trees were in growing stage then. My father nurtured them with water and manure like his own children. Due to his extreme passion in plantation, all the plants have turned currently in to fruit bearing trees. My home now is surrounded by a mini yard with many fruits, flowers, areca nut and coconut. The deliciousness of pure and fresh fruits from our home garden is absolutely heaven feeling. Because there are no pesticides, no preservatives and no artificial ripening happens here. It's a REAL bliss of life. When I prepared this brown jackfruit appam, I missed the fruits that are hanging in abundant in my parent's home and the tasty jackfruit halwa lovingly cooked by my mom.
Jackfruit appam or jackfruit guliappa as we call in TULU is a very very easy recipe. All it needs is handful of golden yellow jackfruit pods or sheaths, rice, jaggery and coconut. The perfect consistency batter is made by grinding all of them. This batter then cooked to perfection as appam in a respective pan.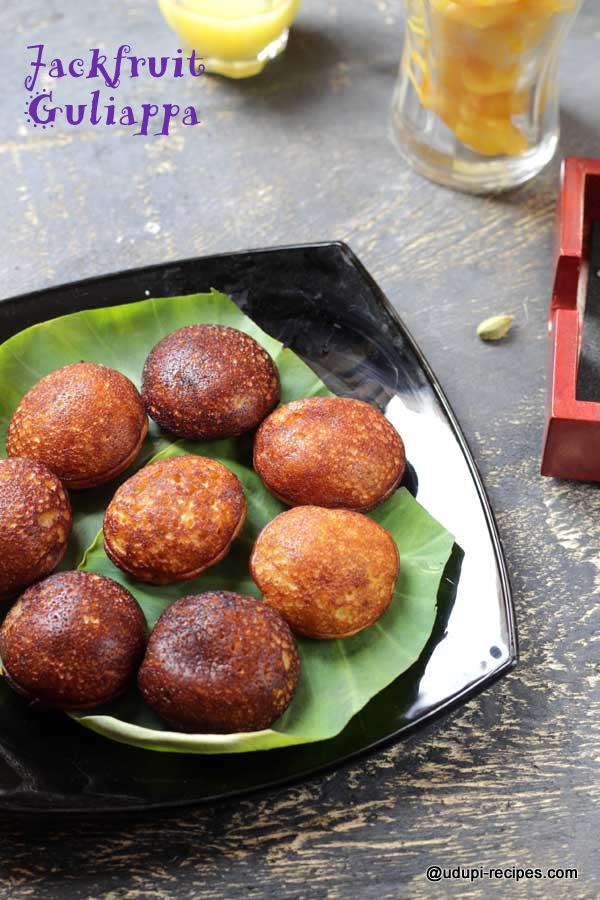 As I poured the batter in to appam pan, the flavors of jackfruit wafted my house. The house was smelling fruity and I couldn't resist myself from eating the appam straight from the pan. The bites of coconut in it were too yummy for my hungry self.  I am not at all exaggerating here, you can try yourself to believe.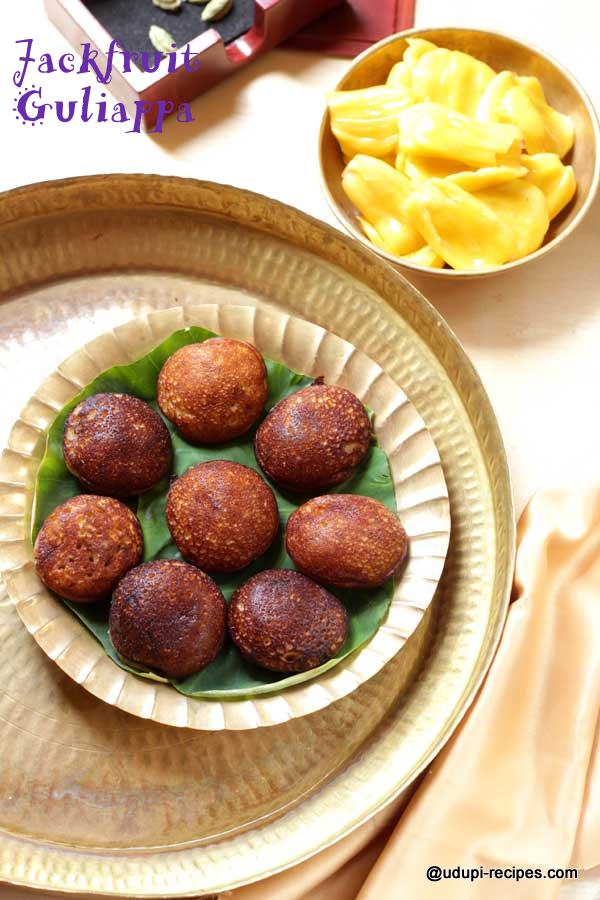 Jackfruit Appa | Jackfruit Appam | Guliappa
Ingredients
Uncooked rice- 1/2 cup
Jackfruit Pods- 1/2 cup Pressed
Jaggery- 1/8 cup
Coconut pieces- 1 tbsp (optional)
Salt- A Pinch
Cardamom powder- 1/4 tsp
Baking soda- A pinch
Instructions
Preparation

Rinse and soak rice in enough water for about 3 to 4 hours or overnight.

Method

Drain the water from soaked rice and grind it along with jackfruit pods to fine batter. You can include 1/4 water for grinding.
Let the consistency be like dosa batter. Add salt and coconut pieces. Combine well. Fermentation is not required, you can instantly make the appa.
Next, heat a appam pan and fill each depression by batter. Close the lid and cook for few minutes.
Flip and let the other side cook for few more minutes.
Delicious and jackfruit flavored guli appa is ready to relish.

Notes

Adjust jaggery depending on the sweetness of jackfruit.
Do not make the batter watery. I have added 1/4 cup of water to bring the batter to the right consistency.
https://udupi-recipes.com/2017/07/jackfruit-appam-jackfruit-guliappa.html
All the content in this website are © Copyrighted to – Udupi-Recipes